"There's a dance in the old dame yet"
It's the time of year for out with the old, in with the new. Winter blahs are fading, mud is disappearing; tentative blades of grass and leaves are showing.
May is my birthday month and I adore it. As I reflect on my 80th, I think of the changes that have taken place in my lifetime. Quite apart from music, fashions and moral values, technology might be the biggest change. Over the years, I've welcomed each improvement that came on the market.
When my ancestors first came to this country, specifically to PEI, the Industrial Revolution was just beginning. How different their lives must have been from mine. Communication with those left behind in Scotland was by letters that could take months by ship to reach their destination. Food preservation was primitive. Life expectancy was half my current age. Medical treatment included bloodletting and the use of leeches. Feared diseases included cholera, typhoid and dysentery. I often wish my g-g-g-great grandmothers had kept diaries for future generations to read.
Times changed, not just between the six generations then and now, but also since I was a youngster. As a kidlette I listened every evening to The Sleepytime Storyteller on a radio taller than me. I would wait for the little V in the magic eye to open wide indicating the radio tubes were warm enough to tune in the program.
Back when I was a teenager, girls didn't phone their boyfriends. I would sit by the phone willing it to ring. When it didn't, I would take the receiver off the hook, ring the handle that triggered a response from Central (the telephone operator), and speak into the separate mouthpiece. "Patsy," I'd say to Central, "can you hint to David that he should call me?" That usually worked!
It was a sad day when we didn't have a Central any more. She usually kept folks up to date on what was happening in town—who was sick or died, where the fire was, or other exciting news. She would never gossip about others (for neighbourhood gossip we would listen in on the party lines!)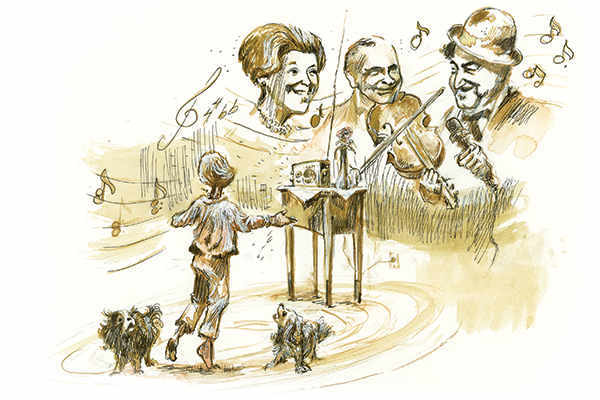 Then phones changed drastically. First there were the rotary dial telephones, still hard wired to the wall so a teenager couldn't slip out of parental earshot. Then touch-tone phones gained popularity in the 70s. After that, changes came quickly. Now I walk around with my multi-communication device in my hand.
I was five or six years old when I saw my first portable radio. It was so big that there was only room for it and me on the back seat of the car when a family friend took me on a picnic. Now my portable radio fits in my pocket.
I started typing on an old Underwood then moved to an electric typewriter. Copies were made by putting carbon paper between the original and onionskin sheets—maximum five copies at a time. From there to computers and printers. My first laser printer cost $7,000 and needed two people to lift it!
My first job was as a secretary with Trans-Canada Airlines, now Air Canada. Surprisingly, in my first evaluation I was told that I was to wear higher heeled shoes to show off my attractive ankles. Try that today.
Married women employed by government were legislated out of it. As TCA/Air Canada was a government operation, I left that employment shortly before I was married.
Times have changed thank heavens. In a capsule—I've been a wife (twice), mother (four times), grandmother (seven), lover (none of your business), dog owner (six), secretary, administrator, educator, entrepreneur, fishing lodge owner/operator, and a writer. I lived on my own before I married, and again for the past 20-plus years. I've lived in four provinces in almost every type of accommodation. I've been well-to-do and on the edge of poverty, and I have friends from my childhood as well as recent buddies.
The only list that's longer than the things I've done is the list of things I've yet to do—deep sea dive, learn to play the guitar, spend time in the Arctic, kayak, do some courses in biology, have a lover who speaks only another language, visit Greenland, raft a northern river. I revise the bucket list periodically. Apart from my curiosity about the North, one thing is constant: I would rather spend time in the Atlantic provinces than travel elsewhere.
Now with 80 years under my belt it's time to move on from this regular column. Saltscapes has introduced me to some spectacular people and places over the past 14 years. When I was the Biker Chick my biker buddy Billy often said, "We'll go to Vancouver for a coffee." We lived on the bike and we met Atlantic Canadians throughout the country. Our favourite places though were the toots on the back roads of the Maritimes and Newfoundland.
I enjoyed writing about courtesy and manners—and people have told me a copy of the article is pinned to their fridge as a reminder to others.
The North Shore of New Brunswick has been central to several articles. I can still rant on about the charms and beauty of that part of the province. Perhaps I can be forgiven; it is my home territory.
I've also written about exciting adventures with my Powwow pals—we heli-hiked in the Bugaboos, fly fished together, and explored Fogo Island. We've had other adventures that don't bear description in print! I cherish my relationships with these women—they keep me full of zip, sometimes sane, and always grounded.
My fishing pals are in a special category. Fly fishermen are fun, and interesting, as long as we are talking about fishing! Most are males. One of my most favourite sounds in the world is a group of men laughing.
Once in a while my sons and their families have crept into my articles, usually as a reference to their living elsewhere but still tied to home roots. I treasure the people I've written about and miss those gone on to their spots in the sky—Rocky Jones, Margaret Labillois, my son Ken Miller, and most recently my biker buddy Billy Stewart.
This has been all about me, but perhaps I've caused you to reflect on your own life. Write it down: future generations will thank you.
It's time to say farewell to this column. I'll continue to read Saltscapes cover to cover, and look forward to a new face and style to replace me.
Don Marquis wrote Archy and Mehitabel—one of my favourite reads—about an alley cat (Mehitabel) and a cockroach (Archy). This excerpt from the song of mehitabel (all lower case because Archy jumps on the keys of the typewriter to write) sums up my thoughts about my future:
"my youth i shall never forget
but there s nothing I really regret
wotthehell wotthehell
there's a dance in the old dame yet
toujours gai toujours gai"