"You have to do different things to survive"
Keith Boates and his son, Brian, run a 30-acre apple farm in Woodville, in Nova Scotia's Annapolis Valley. A constant innovator, Boates has managed to keep farming for more than 50 years, introducing the province's first apple U-pick and capitalizing on the local food movement through high-end products like gourmet vinegars. For the last 42 years, the farm has also hosted an annual barbecue chicken dinner fundraiser for the local community centre. Last year, 3,600 people were served.
Most Saturdays you can find Boates at the Brewery Market in Halifax, where I sat down to chat with him near the end of a busy Saturday morning.
I WAS RAISED on the outskirts of Kentville, with a dairy farm next door. Most of that area was turned into real estate after the war, when soldiers came back and needed housing.
I hadn't planned to get into farming. I went to college and took commerce, and then I worked with my father for awhile. He had a brokerage firm and was in farm products and sales, but he ran into some financial difficulty. We tried to recover from those losses, but... some people decided he should go bankrupt. After that I went into the insurance adjusting business for a few years, but I wasn't too enthused about it. I'd been growing some apples on the side, so in 1960 I bought the farm.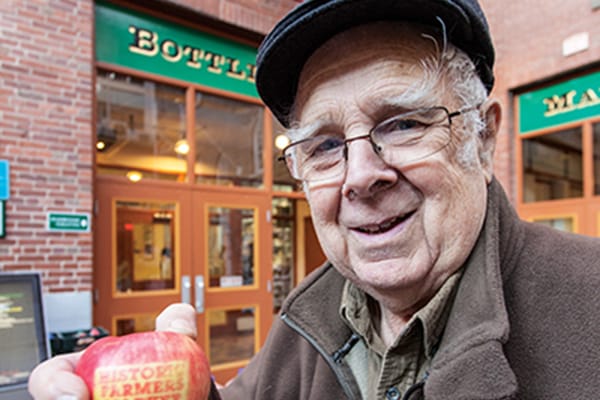 The apple business in Nova Scotia had been vibrant until the Second World War, with a lot of exports to the UK, and we hoped that it would be revived. Before the war, the main market in the UK was for cooking apples used to make pie—varieties like Ben Davis, Stark, Wealthy and Northern Spy.
When we first owned the farm, a lot of it had already been converted from the old culinary apples, but I realized we couldn't make a living from big old trees that had been grafted over, and we had to keep up with the new varieties. I almost went broke planting new orchard—a lot of McIntosh, Cortland and Red Delicious. Most of that orchard is gone now, because we've redeveloped it again with new varieties like the Honeycrisp.
Well, our plan to supply the UK didn't work out the way we had expected. Once they joined the European common market (in 1973), we faced a serious tariff and it became uneconomical to ship there.
We did have some other markets, but they were a bit iffy.
One of them was the West Indies. There were vessels that would haul explosives to the Caribbean, and they would stop quickly in Halifax, pick up some apples and then streak to Trinidad. The ships weren't refrigerated, so the apples were in the heat going down—but if the boats were fast enough, it worked out. That market ended for us when they started having wildcat strikes. If there was a strike and your apples sat in the heat waiting to be unloaded, they were done for.
So eventually we got into selling our apples directly, and we opened up the U-pick. It took off quite well. I was amazed—we just opened the gates, and then we couldn't keep up with it. We spent a lot of money on advertising—in the newspaper, a bit of radio and a little bit of TV. For a few years, I think we spent more money on advertising the U-pick than the whole province spent on selling apples.
As producers in Nova Scotia, we really only have the province. PEI is a nice little market but it's only about 140,000 people. The reality in Canada is that large-scale production has to pretty much be in the centre of the country, so you can ship both ways. To add to the agony, we're balkanized in so many things in the Atlantic provinces, with so many regulations on what we can ship from one province to another. We had federal inspectors haunting the ferry docks at one point looking for illicit apples going to PEI. Some of our good U-pick customers got apprehended.
Newfoundland was worse. We got involved over there and we wound up with a bunch of apples seized. I'm telling you, it's a high-stakes game.
It all started out quite innocently. I called the food inspectors and said I wanted to take a load of apples over to Newfoundland. They told me I should be able to get an exemption and sell them there. So I got the truck loaded up, and then the inspectors told me I couldn't go. I said well, it's too late. I couldn't unpack it all. They didn't know what the penalty would be, and I said I hoped it wouldn't be too severe.
First I took over one shipment—they were nice apples. I sold a whole 40-foot trailer load in a week at Churchill Square in St. John's. We didn't have any problems with our second load, but when we took over a third load, in December 1983, they seized our trailer. It was front page news in the St. John's Evening Telegram. I went to the motel and had a nap. What else could I do? The government had the apples. Eventually, somebody broke into the trailer and spewed Varsol around, so you couldn't sell the apples.... I just packed up and went home.
They charged me the next August. I just went along, got a lawyer, pleaded guilty and paid a bunch of fines. That was the end of the St. John's adventure.
In the early '70s, when Ken Butler was developing the Bayers Road shopping centre in Halifax.... I said I would take some apples down and see if we could interest the public in them. I wound up having quite a long career there, selling bins of apples and cider on Fridays and Saturdays.
I had a friend who figured I should be in the cider business and he'd made me a cider press. At that time, people equated cider with hard cider, not the sweet cider we were selling. We gave away a lot of samples. I found that was the best way to promote it. We would give away $20 or $30-worth of cider a week—but that was better than advertising: you got a better return.
In the Annapolis Valley we've always—well, I shouldn't say always, but we were one of the first areas in the world to recognize the futility of throwing more and more chemicals at pests. You can't sanitize everything. The pests get ahead of you. So you have to use a variety of techniques.
The pests are always changing.
A few years ago we started some organic orchards. My son was interested in organic, and we had a block of Rhode Island Greening trees that I had planted with the idea that they were going to be picked early for processing, for apple pies. I said, "Why don't you start in with that block and see what you can do with it?" They were hard culinary apples... and I figured the bugs should be a little easier to manage than some of the McIntosh, which have a very soft skin on them and scab up easily. He started playing with them and we developed a little market among pie makers and bakers and so on. Now we have more varieties, and we learned some good techniques for bug control.
You have to try and move with the times, and you have to do different things to survive.