Littering is a huge and growing problem being addressed mostly by volunteers
What, we wonder, goes through the tiny mind of someone who heaves a whole bag of fast food containers and two empty Coke cans out of a car window? What's so difficult about simply taking the rubbish home and properly disposing of it? Go anywhere in Atlantic Canada, anywhere a human has been, and you will see litter. And it's getting worse—much worse.
How can this be? When the 21st century mantra is reduce, reuse, recycle, you'd think humans would have evolved beyond the litterbug stage.
But we have not, as Janet Irwin can attest. Irwin lives near Bayswater Beach on Nova Scotia's South Shore and walks her dog there every day. Despite anti-littering laws, and the best efforts of Irwin and her neighbours, the steady supply of trash seems endless.
Monday mornings are the worst, especially in the summer. "There's gross stuff, as well as lots of plastic, but the thing that gets me most is the number of cigarette butts," Irwin said. "I did a rough count last year. I picked up more than 2,000. People seem to think that because it's sand, it's an automatic ashtray."
On some days, she's picked up as many as 30 butts—which are full of toxins and take as long as 12 years to biodegrade. This isn't some busy urban smoking station, it's a beautiful natural setting which makes littering with apparent impunity even more of a travesty. "For a few people, it doesn't seem to matter to them." Irwin said. "They don't respect nature."
There's an assortment of garbage that washes ashore from the sea—lobster bands and shotgun shells—and the usual array of styrofoam, cups, plates and plastic bags.
Irwin picks up the litter because she cares about the beach. "If I don't do it, does a fish consume it and what happens then?" Irwin asked. "We live in a beautiful province. I don't want it to look like a garbage dump."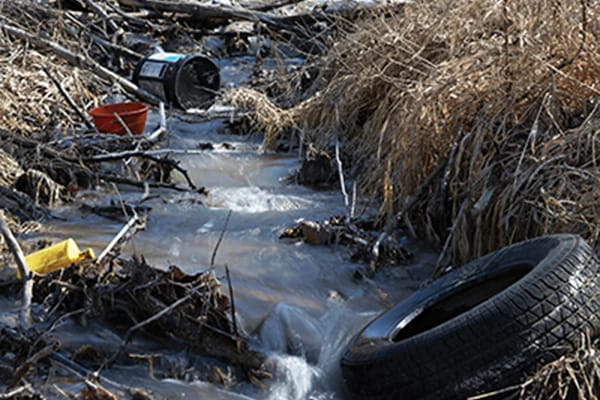 The most vile bit of trash she's stumbled upon is dirty diapers. "That is disgusting that someone would leave those on the beach," she said.
Chris Morrissey, executive director of the Clean Foundation (formerly Clean Nova Scotia), reports a disturbing trend. "There's a lot more garbage being picked up," Morrissey said. "There's a 20 per cent increase in garbage and litter in the last five years."
This year, the Clean Foundation helped organize 270 litter clean-ups that involved 18,500 participants. In the first half of 2014, volunteers picked up 7,000 bags of garbage and 650 blue bags of recyclables.
Morrissey said two reasons for more litter is more product packaging and how consumers purchase food. "With increased packaging comes increased opportunity to dispose of the packaging in the wrong way," she said. "With fast food and quick coffee, there's more of an opportunity for people to throw their garbage somewhere where it doesn't belong."
In Newfoundland and Labrador, the environment department has not issued fines for littering since repealing a provincial statute in 2002. Enforcing litter by-laws is now left up to the municipalities.
To reduce litter, the province has begun to introduce the concept of Extended Producer Responsibility (EPR), which has become more prevalent around the world. This concept encourages the producer to take a greater responsibility in ensuring the product they sell ends up being properly disposed of.
To create a baseline as the province tries to reduce litter, Recycle New Brunswick did a roadside litter survey in 2012 that examined 424 sites across the province and spanned 8,400 kilometres of highway.
The most common item found in the survey was the take-out container, which amounted to nearly a quarter of the total amount of litter, most of it branded and easily traced to nearby drive-thrus.
Like New Brunswick, Prince Edward Island also did a roadside litter survey to try to identify the source of the problem. Cups are the most common single item in PEI, with beverage-related items making up the top seven items on the list: cups, lids, cans, plastic, straws, glass and caps. When broken down by category of origin, the fast food industry was labelled as the source of 47 per cent of litter, while beverage containers were a distant second with just 17 per cent.
One of those discarded beverage containers caused a bizarre incident this past summer, showing the detrimental effect litter can have on tourism. With its relatively flat terrain, PEI is a popular destination for cyclists in the summer. Last August, Betsy Morehouse of Cambridge, NS, was cycling on a rural highway when her friend's front bicycle tire struck an empty beer can. The can locked the wheel and as her friend was moving along at a fairly good clip, the momentum threw her over the handlebars.
The woman suffered serious injuries and had to be taken to hospital in Halifax.
In Nova Scotia, the Clean Foundation talks to people who do clean-ups to get an idea of what kind of litter is most common: 1) coffee cups; 2) fast-food containers or wrappers; 3) plastic bags; 4) beverage cans and 5) cigarette butts.
With information like this, the Clean Foundation gets a more accurate picture of the source of litter to better hone its education and prevention efforts. It also helps to identify problems, such as not enough garbage bins, or bins placed in the wrong location, or even bins not being emptied often enough.
One way to target the top item on the list and reduce the amount of coffee cups people throw away, for example, would be to help promote the cup-to-tray program at Tim Hortons and encourage more franchisees to adopt it. You can't recycle Tims coffee cups at home, and they're not biodegradable, but you can return them to a recycling bin at a participating Tim Hortons where they'll be recycled into cup trays.
"The cup-to-tray program helps demonstrate to guests that hot beverage cups can be recycled and remains an important part of the work we are doing to increase the acceptance of hot beverage cups in other recycling programs," said Katherine Galley, a spokesperson for Tim Hortons Inc.
This program is not well known, Morrisey said, pointing to the amount of litter as evidence. "If more people know about what they have to do, more people will be compelled to do the right thing."
Of course, the best way to reduce litter from coffee cups is to encourage more people to bring a reusable mug. Most coffee shops offer a discount to customers who do.
Walter Regan, president of the Sackville Rivers Association, an organization which works to protect the watershed of two suburban rivers near Halifax, says there are barriers that, if removed, would discourage littering—especially illegal dumping. "We've got to make it easier for people to dump," he said. "What I'd like to see is free dumping where you're allowed an exception once a year to take it to a transfer station."
Regan said tipping fees at these transfer stations discourage some people from disposing of waste properly, especially used construction materials such as wood or shingles. The amount of solid waste going into landfills has dropped, but the amount of litter and illegal dumping has gone up because people are likely to find a secluded dirt road in the woods and dump their garbage to save the $125 per tonne tipping fees.
Valda Walsh, the regional co-ordinator for solid waste management in the South Shore-West Hants region of Nova Scotia, said by-laws only work as a deterrent if people are caught littering. That rarely happens as people usually only litter when no one is looking.
In Nova Scotia, seven statutes contain infractions that might be considered littering. Those statues run the gamut from the Beaches Act and the Environment Act to the Public Highways Act and the Motor Vehicle Act. Despite the vast array of laws outlawing litter in Nova Scotia, few charges are ever laid. Information obtained from the provincial justice department shows that only 55 charges were laid in 2012, 57 in 2013 and 41 in 2014 (up to September).
Walsh said the provincial government is responsible for prosecuting litterbugs, but they don't have sufficient staff, nor do municipal police forces or the RCMP, so it often falls to municipal staff, who generally don't have extra workers either.
"It is more on the individual," Walsh said. "It becomes one of these true social conscience and civic pride issues."
Walsh conceded that it is difficult to change the behaviour of litterbugs. "People know it's wrong to litter," Walsh said. "It's a matter of staying on top of the message and saturating markets with the message that it's wrong."
There are a minority of people who will never change, and for them, we'll need to rely on the saints—the volunteers who do the clean-ups.
Gina Bain is program co-ordinator in Nova Scotia for Adopt-a-Highway, a non-profit group that started in Texas and operates in most of Canada, including the Maritime provinces. (In Nova Scotia, it's funded by the Resource Recovery Fund Board.) Newfoundland and Labrador is not yet part of this program. Its founder started the program when he saw someone littering and realized how wasteful it was to have government highway workers, who should have been doing more important work, picking up litter.
"It was slow to get started, but now there are thousands of groups," Bain said. There are 185 groups in Nova Scotia that cover 955 kilometres of highway and 10 exits. Groups will adopt a five-kilometre stretch of highway and it's recommended they do two clean-ups a year—in the spring and fall. If a group can only do one, it's usually in the spring to clean up all the waste that accumulates over the winter.
Walsh encourages the use of social media to bring attention to the problem and sees this as a more effective deterrent than fines. She thinks another good way to discourage litterbugs would be to make them clean up litter as a way to punish them. "It would open their eyes to the problem where they might be closed to it," she said. "That's a proven method to change behaviour."
Janet Irwin has never seen anyone ticketed for littering at Bayswater Beach. "It's got to come from us, from people realizing that it's not a good thing to do," she said, adding that it should be in the form of peer pressure, not confrontation.
"You can't get angry with people, because you're not going to get the response that you want," she said.
Every new generation needs to be educated about litter and the environment. It's up to parents, and to a lesser extent teachers, to teach children because it's difficult to change someone's mindset when they're older.
The Clean Foundation recognizes this.
"The education piece is critical to us," Morrissey said. "We are at schools in classrooms from Primary to Grade 3."
The foundation's Eddie Lewis Road Tour is a puppet show that has visited 300 schools and taught 30,000 students about how people can prevent litter.
But more than teaching people right from wrong, the education has to nurture something more, said Gina Bain. "Litterers do know that it's wrong," she said. But instead of doing the right thing and finding a garbage can or recycling bin, they'll go to an area with no people or no houses so they don't get caught.
It's no longer a matter of effort or inconvenience, she said. "It's a matter of public pride."