New Brunswick's extensive snowmobile trails powering a lucrative second tourism season
If it's a weekend in the winter, you'll likely find Karen and Barry Publicover on a snow-covered trail in the woods, each bundled in a thick snowsuit and riding atop a roaring high-tech snowmobile.
In a typical winter, the Halifax area couple log 5,000 to 8,000 kilometres on their snow machines."It's beautiful," Karen explains. "We see things you could never see from a car."
The Publicovers snowmobile most often in the area around their East Dalhousie, NS, cabin; but they also sled on trails throughout the region—in Prince Edward Island, Cape Breton, Newfoundland, Quebec and northern Maine.
"We can leave Nova Scotia and go right through to Quebec and into the States. It's amazing how far you can go," Karen says. "We considered going across the country at one point."
Much has changed in the sport in the 30 years they have been snowmobiling, particularly in the technology. "There was not much (back then). A pull-cord and handlebars and a pair of skis and that was it. There were no creature comforts whatsoever," Barry says.
Karen concurs.
"The machines are very comfortable these days. They're not like the old machines, where you felt like you'd been beat up after a day on the trails. We can do 250 or 300 miles a day and still be in great shape when we get in," she says, noting the improved shocks, heated seats, heated hand grips and insulated suits. "We go out in all weather. We've snowmobiled in some pretty big storms."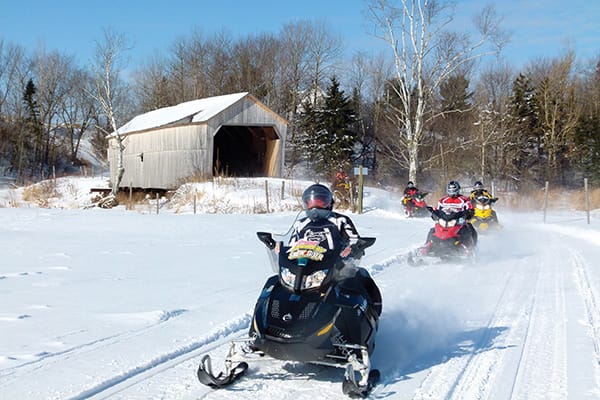 Adds Barry: "We can go comfortably for six or seven days with no trouble at all."
How do the Publicovers choose their routes? "We travel to the snow," Karen says.
That pursuit of snow often takes the couple to New Brunswick, particularly that province's snow-piled north. Karen estimates she's snowmobiled in the Picture Province as many as 30 times. "They groom trails right to the hotel," she says. "If you go there in the winter, it's full of snowmobilers."
Simply put, New Brunswick has become the snowmobiling hub of the Maritimes.
Ross Antworth, general manager of the New Brunswick Federation of Snowmobile Clubs, rolls off an impressive list of figures.
His province boasts 51 snowmobiling clubs with a total paid membership of 17,000 people. Those riders enjoy New Brunswick's 7,600 kilometres of interconnected trails, including four trails to Maine, four connections to Quebec and routes that extend into Nova Scotia.
New Brunswick's trails also connect a web of cities and small communities; the only major exception being Saint John. One popular loop takes riders from Fredericton to Edmundston and Campbellton in the far north, then down to Miramichi and back to the capital.
"That's one of a hundred different routes. You can literally go from place to place to place, just as if you were in a car. That's how well the trail system is connected," Antworth says. "I can leave my home in Fredericton and snowmobile to Rivière-du-Loup in Quebec in a day."
Riders in New Brunswick can easily travel 200 kilometres a day while moving between communities, many of them right on the edge of a trail.
"They literally travel from hotel to hotel to hotel," Antworth adds. "We have a consistent winter. We have a lengthy season. And we have quality trails that are only rivaled by the province of Quebec, which is the leader in the world."
The result: New Brunswick attracts roughly 2,000 out-of-province snowmobilers each year, mainly from Nova Scotia and PEI, but also from the New England states and, increasingly, Quebec.
Since 2007, the province's snowmobiling tourism sector has grown by five to seven per cent annually. Last winter marked the sector's strongest year to date, with records set for members, number of trails and revenue. According to the province's tourism department, snowmobiling tourism generated $25 million in economic activity in New Brunswick in 2012, as well as an estimated $1.57 million in provincial tax revenue.
"You go into a little town like Saint-Quentin in northern New Brunswick and you see 20 snowmobiles parked outside a hotel on a Thursday night in January," Antworth says. "It means all of a sudden there's a whole bunch of money coming into parts of the province that traditionally have been desolate. That's why it's so important…"
Among New Brunswick's best-known snowmobile routes is the Northern Odyssey, a trail that connects the northern communities of Edmundston, Campbellton, Bathurst and Miramichi (which is also home to the annual White Gold snowmobiling festival, held every February).
Peter Murphy, Miramichi's director of tourism, notes that the four cities partner in promoting the Northern Odyssey route online, in print and at trade shows. Hotels along the route often offer special rates for snowmobilers.
The partnership was formed nearly 15 years ago and Murphy says it is now "vital" for local tourism. "We get more sledders coming because of the program."
The Atlantic Host hotel is situated on the Northern Odyssey trail near Bathurst. "The trails go right through our backyard," says owner Keith DeGrace. The hotel often serves as a point of departure for snowmobilers headed to Quebec and the US, offering trail assistance and a heated garage for storing snowmobiles out of the elements.
The traditional tourism season is a mere 90 days or less, DeGrace notes. Thus snowmobiling traffic provides a much welcomed boost and, in the case of the Atlantic Host, a solid portion of the hotel's annual revenue.
"It's very good for us. On a lot of weekends in the middle of the winter you'd see over 150 trailers around our yard," DeGrace says. "It's a very big part of our overall business."
DeGrace has been in the hotel business 40 years. Early on, snowmobilers would head out for a few days. Now they often stay on the trail for a full week. "It's a tourism product that's really developed," he says. "It's come a long way."
Stephen Rafuse looks to New Brunswick with envy.
Nova Scotia's snowmobiling scene, while robust, is limited by factors beyond Rafuse's control, including less consistent snowfall and government policy.
Rafuse is a director with the Snowmobilers Association of Nova Scotia, and president of the Crossburn Snowmobile Club.
The club, with more than 60 members, maintains and grooms trails (made up of abandoned railway lines and fire roads) from New Germany to Middleton to East Dalhousie. On busy winter weekends it's not unusual for 150 to 200 snowmobilers to stop in East Dalhousie for fuel or food.
Rafuse, 33, bought his first snowmobile while in his late teens with money he earned mowing lawns. He usually travels to New Brunswick two or three times a year, often to the Campbellton and Bathurst areas. "Two years ago I found a sweet little hole just outside Moncton called the Caledonia mountain range," he reports. "That is equally as nice as Campbellton and Bathurst. It's not quite as big, but I can be in Moncton in two and a half hours."
Rafuse marvels at the amenities available along New Brunswick's trails. There's consistent and easy access to food, fuel and accommodations, right on the main routes. "New Brunswick, Quebec, Ontario and most of the Prairie provinces welcome you with open arms," he says.
Hotels, restaurants and gas stations are not as prevalent along Nova Scotia trails. Plus, snowmobilers are banned from driving parallel to Nova Scotia roads or on road shoulders. Rafuse is attempting to lobby the provincial government for changes, to ensure snowmobilers can access businesses that lie within riding distance of a trail.
Nova Scotia also lacks the network of warming huts and clubhouses (which offer food and hot drinks) that are common along New Brunswick trails. The end result, he argues, is that there's a gap in the amenities and stops that snowmobilers crave when planning journeys.
"In the snowmobiling community everything is routed around a destination. You're not just going out there to drive in circles," he says.
Karen and Barry Publicover expect they'll make a trip or two to New Brunswick this winter, in additional to time in Quebec, where they usually purchase annual trail passes.
The couple has been married 27 years and has been snowmobiling that entire time.
"I taught her to snowmobile," Barry says proudly—before catching himself and quickly changing his tune with a chuckle: "I mean, I introduced her to snowmobiling."