An icy cold journey of self-discovery
Character-building: every year in February, 18 army cadets test their mettle on an outdoor expedition in the hills outside Happy Valley-Goose Bay, NL. The cadets haul their gear on sleds; melted snow is their only source of drinking water.
On Thursday, February 23, 2012, I stepped onto the tarmac of Goose Bay Airport for the second time in as many years. It had been a balmy 10ºC in Halifax just a few hours before, but here, it was a bone chilling -17ºC, and the wind was blowing powdery snow into my face. As I wrestled my computer case and camera equipment into the airport, I wondered what I had been thinking when I'd volunteered to go on this mission.
I was there for Exercise Sub-Zero, the Army Cadets' regional winter expedition that takes place every February in Happy Valley-Goose Bay, NL.
As a member of the Cadet Instructors Cadre (the branch of the Canadian Forces dedicated to the supervision, administration, and training of cadets), I had taken part in the expedition for the first time the previous winter, in 2011. As a woman in her (cough) middle years, I can honestly say this was the hardest thing I had ever done in my entire life. The achingly cold weather, the painful hours of snowshoeing, the setting up of tents with icy fingers and breaking them down in the wee morning hours—but despite all of that, I was back for Round Two.
I'm the commanding officer of the 2688 Army Cadets in Bridgewater, NS, and also work on a part-time basis as a public affairs representative within the Cadet organization. It was within the scope of the latter role that I offered to go along, camera and notebook in hand, to chronicle the expedition for the army cadet Facebook page; the cadets' families and friends could then follow from home.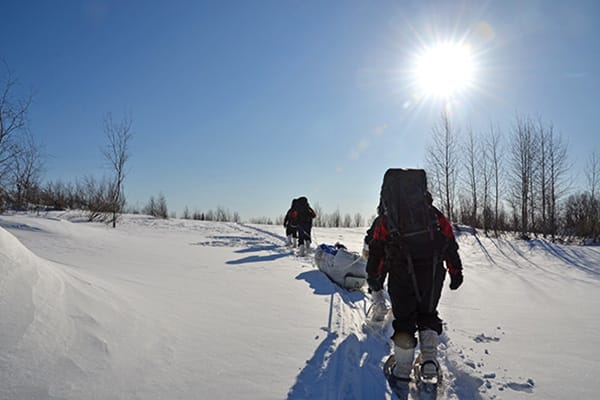 These young people were about to take a journey of self-discovery. Exercise Sub-Zero, part of a larger expedition program within Army Cadets, tests the cadets' personal limits and increases their self-confidence in a truly stunning way.
That, I came to realize, was why I was tagging along—so I could bring that story to the rest of the world.
Top performers
Eighteen army cadets from Atlantic Canada had been chosen to take part in this adventure—and getting selected hadn't been easy. The cadets not only had to have superior fitness and leadership skills; they also needed to have excelled in the expedition program at their home cadet corps.
Army cadets are required to take part in a two-day expedition in their third year and another in their fourth year, during which they travel by mountain bike, canoe, and on foot. They learn navigation by map and compass, survival skills, bushcraft, and how to lead others. Only the top performers on these treks get selected for Sub-Zero.
Four cadets who had completed the trek previously also competed to come back to do it again, this time to mentor the new participants. Justin Acheson from Sheet Harbour, NS, was one of those cadets who returned.
"The first time, it was challenging, but cold!" he jokes. "But I wanted to pass on my experience to the younger cadets, to help them achieve their goals," he adds. "It's tough, but it's fun, and it's good to challenge yourself."
The officer-in-charge of the expedition was Captain Adam Gale from St. John's, NL, who has several years of experience in various expedition activities, including Sub-Zero. The training officer was Captain Lee English, who has worked for the Regional Cadet Land Training School for more than five years. However, this was Capt. English's first time taking part in a winter expedition.
"This was an eye-opening experience, for sure," he says. "You don't realize how much longer [things will take] and how much more difficult things are going to be in the cold."
Gearing up
When the cadets landed in Goose Bay, the snow was falling heavily and the wind howling; they wrestled their luggage through the snow to the waiting vans and were soon whisked off to CFB Goose Bay, which hosts the participants.
The cadets had two days of prep for the actual expedition; they spent those days on the base learning how to snowshoe, pull a sled and conduct basic cold weather first aid. They also learned how to dig their tents into the deep Labrador snow.
Participants were divided into three groups, or syndicates, consisting of six cadets, one senior cadet, and one officer. They were issued quite a bit of gear for their adventure, including Gore-Tex and fleece clothing, heavy mitts and mukluks. They would be sleeping in unheated tents and military-issue winter sleeping bags. Each individual would have their own knapsacks, and take turns pulling their group's equipment, such as stoves, shovels and tents, on sleds. All water would be obtained by melting snow, and ration packs would be their only food.
As the first morning of the trek grew closer, a few of the cadets started to have an attack of nerves. "I'm scared out of my mind!" said Samantha Meade, from Fredericton. Audrey Mallet, who hails from Shippagan, NB, echoed that sentiment. "I'm scared of what's coming," she lamented.
Others were in high spirits as they boarded the bus that would take them to their start point.
Digging in
The first day dawned bright and sunny, but bitterly cold. Despite temperatures well below -20ºC, the cadets were sweating hard as they laboured up the steep slopes leading away from the base. Ice formed quickly on their eyelashes as the wind worked its way through their scarves and balaclavas. The cold, moist air also caused ice to form on the lens of my camera as I followed behind them.
Progress on the first day was fairly quick, as we were starting out fresh and rested. However the cadets learned the hard way that lighting a stove in a heated truck bay is one thing; trying to light it in a snow bank when your hands are cold is another kettle of fish entirely. Breaks for meals took longer than expected; the cadets had to keep moving to keep warm as they waited for their meals to heat.
By the time I left them and headed back to the base by snowmobile to sort and upload my photos, the cadets had "dug in" their tents, and some were already talking about crawling into their sleeping bags, even though the sun had barely set. Clearly the eight hours of steady travel was taking its toll.
The morning of the second day was harder. The wake-up temperature was a brisk -30°C. As I rejoined the group just after dawn, the mood was not quite as ebullient as it had been the day before. The cadets as a group were still pretty cheerful, but the cold was clearly starting to have an effect, along with the aches and pains of pulling the heavy sleds.
"I can't do this anymore," one cadet insisted at mid-morning. "I can't go on. I don't know why I came here." He seemed to be on the brink of tears, but after a pep talk he reluctantly agreed to keep going. A few other cadets, although not complaining out loud, looked pained and glum as they quietly ate their rations at midday. Others did their best to motivate their team members who were struggling.
Day three, the last of the trek, was perhaps the coldest yet. The cadets packed up their gear in the dark so they could get an early start on the last and most difficult day. They began their ascent to the summit of Dome Mountain, a long, relentless slog up hundreds of feet of switchbacks. The cadets knew that when they made it to the top all that remained was a short downhill run to end their journey, but almost all said afterwards that this was the lowest point for them psychologically.
Kevin Etheridge, from the 1916 Beaumont Hamel Army Cadets in Grand Falls, NL, who ended up being one of the top participants on the course, agrees.
"That definitely was the moment when I said, 'What am I doing here?'… That was tough." Other cadets concur that Dome Mountain was by far the hardest part of the entire journey. "That was definitely harder than I expected… It was a challenge for my head and my body," says Samantha Meade. That moment of truth is really the point of what Exercise Sub-Zero is all about: to challenge people to give all they think they can give—and then to give some more.
About four hours after the ascent was begun, any aches and pains were offset by the elation of reaching the summit. There were shouts of joy, fist pumps and congratulatory hugs as the cadets celebrated with the gorgeous panorama of Happy Valley-Goose Bay all around them. The euphoria settled down into a quiet hum of satisfaction as they headed down the other side of the mountain, in one last push to the finish line.
The last few hours required teamwork and muscle as the cadets had to lower and follow their sleds down some challenging slopes, but spirits were sky high as the end was in sight.
The gruelling trek—about 40 kilometres—was behind them; there were shouts of elation all around as they caught sight of the bus that had come to take them back to CFB Goose Bay.
Post-expedition high
After having much-needed showers and a good sleep, the cadets had a cultural day in store for them. They checked out Inuit artwork, bought some handicrafts to take home, and indulged in a few drinks of Pineapple Crush, a soda pop that is sold almost exclusively in Newfoundland and Labrador. They were then transported by snowmobile and komatik (a traditional sled) to a wilderness lodge, where they were treated to local delicacies like caribou stew and trapper's bread.
Local legend Joe Goudie, a former Member of the House of Assembly and a Labrador icon, regaled them with tales of struggle and survival in the Labrador of his youth. Mr. Goudie also invited the cadets back to his shop, where he's been building handmade canoes and snowshoes for 22 years.
It was a very different group of young people who packed up and headed home at the end of their adventure. All admitted that the trek was the most gruelling thing they had ever done, but every single one was glad to have done it. These cadets now know they can handle a crisis or a real survival situation—which is a tremendous boost to their self-esteem.
"It was the best feeling in the world to have completed that," says Kyle Spates, from Yarmouth, NS. "There are a lot of points when you feel like you want to give up, but you keep on pushing through."
Arthur Blake, from Grand Falls, NL, echoes that sentiment. "It felt really, really good [to reach the end]. I knew I had accomplished something big."
Some of the participants are even planning to go back to do it all over again, in 2013. Kevin Etheridge, for one, can't wait to go back. "I'm hoping to volunteer as staff next year. It was a lot of fun," he says, "even though it was very cold!"
Mélissa Roy, from Fredericton, summed it up better than I ever could as she stood at the top of the mountain gazing thoughtfully back at the difficult route she had just endured: "You know," she said, "this is the kind of thing that just might change your life."