A new robotic milking system and a careful breeding program put these NL dairy farmers at the front of the herd
THE HUMBER Valley in western Newfoundland is breathtakingly beautiful. Enclosed by the Long Range Mountains, which boast some of the best skiing east of the Rockies and west of the Alps, and cradling the Humber River with its excellent salmon fishing, it's a fertile piece of land somewhat at odds with its rugged Newfoundland surroundings. It's also home to David and Sara Simmons and their four-year-old daughter Felicity.
But David and Sara don't get to spend a lot of time on the slopes or the river. They're dairy farmers and their world revolves around the 230-acre property known as Hammond Farms: home to their beloved cows and their business, Pure Holsteins.
Sara has wanted to be a dairy farmer since she was a little girl growing up on her family's dairy farm in Lower Coverdale, NB, south of Moncton.
"Ever since I was her age," she says, nodding towards Felicity who's busy running around in circles under the autumn sky. The child may have electronic games somewhere but she's equally comfortable hand feeding a calf, showing off her favourite cow, Emma, sweeping the barn floor—for about 30 seconds—and riding around in the toy ATV her grandfather bought her for Christmas and couldn't wait to give her.
It was different for David. Raised on the farm he's now taking over, he imagined he'd become an egg farmer like his father and uncle before him. At one point the family farm housed 20,000 chickens. But when David met Sara at the Nova Scotia Agricultural College (now the Dalhousie University Faculty of Agriculture) in 2007 everything changed. Now he's as passionate about cows as she is.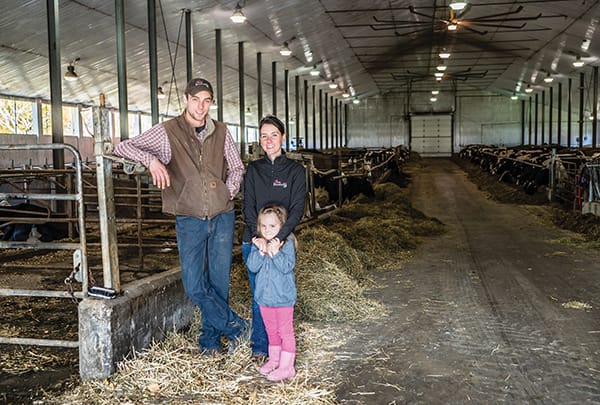 He has to be. Running a dairy farm isn't for sissies. No matter what, the herd of 100 milking cows have to be milked. Their udders fill up every few hours and the truck from Central Dairies/Agropur turns up every two days to collect about 6,000 litres of milk. That means that for the last six years David's gotten up before dawn to go down to the barn and oversee that first morning chore. He's become pretty accustomed to it and has learned: "You never come to the barn without coffee because you never know what you'll see and when you'll have time to get more." After the first milking there's equipment maintenance, cleaning, watering, feeding, book work and maybe a little family time before the cows have to be milked all over again. Sara and David figure that, all going well, the day ends about 10pm, when the last cow is out of the milking parlour and safely tucked in for the night. Add snow clearing and numbing cold to that list in the winter.
"It makes everything more miserable," Sara says.
"But that's what we do," David adds. "We're dairy farmers. We have 220 kids and they're all babies because they can't tell you what's wrong."
Embracing new technology
But there's a wind of change blowing down the Humber Valley. Taking advantage of provincial government programs aimed at encouraging the local farming industry, the Simmons have recently installed the province's first robotic milking system. Instead of workers going in twice a day and rounding up the cows to be milked, the cows now decide for themselves when they're going to be milked, with no human intervention at all. The animals, who wander freely in the barn, simply step into the milking robot whenever they feel like it. Some go in as often as eight times a day. Others are less frequent visitors. If a cow is restless in the night she can wander in to be milked at 3am if she's so inclined. In a twist that George Orwell might have appreciated, the animals have truly taken over the farm.
Though he has nothing to do with the day-to-day business of running the dairy and milking the cows, Bruce Simmons, David's dad, is lending them a hand by breaking apart the old milking parlour so the cows have even more room to wander in the spacious barn. After a rigorous attack with a backhoe it's soon nothing but broken cement and crumbled dirt being carted away from the new facility. What was once the height of modern technology is now on the scrap heap less than 10 years after Bruce installed it. One would be forgiven for expecting him to feel a little sad to see it go.
One couldn't be more wrong.
"You're always on the edge in farming," he explains. "Therefore the more tech you have—the more on the leading edge you are—the better, even if you have to tear out a perfectly good investment to get a better investment. I think what they're doing is fantastic. When we were farming the biggest challenge was getting quality workers and today it's worse. No one wants this kind of job and there's lots of competition in the labour market." He pauses for a minute before continuing: "It also gives David a life."
Beyond farm chores
It's a point that hasn't escaped David and Sara, although they're a little lost when trying to think what they'd do with that extra time. At only 32 and 30 they're still young enough for all sorts of plans and dreams for the future, but their lives have been so focused on building up the business for the last several years that it takes them a minute or two to conceive of doing something else. Eventually they admit that Sara has horses she'd like to ride more often and David's salmon fishing gear doesn't get as much use as he'd like. But, not surprisingly, it's what they can do in relation to their treasured dairy farm that really gets them excited.
"Cowcations!" David exclaims with a laugh. On the rare occasions they're not on the farm the couple enjoys going to cow shows. There are two held in Newfoundland every year and as president of the NS/NL branch of Holstein Canada, David is heavily involved in both. Those shows, as well as other events off island, give them the opportunity to interact with other dairy farmers and show off the work they're doing with their own cows.
Breeding happy cows
Because running a dairy farm is about a lot more than simply milking cows. David and Sara are zealous about their quest to improve their herd through a careful breeding program they hope will lead to healthier, happier cows and more efficient milk production. David's the workaholic of the pair while Sara's in charge of breeding plans (they use artificial insemination). She spends hours pouring over charts.
"Sara can walk through a barn she's never been in and tell the pedigree of every cow there," says Bruce.
Holstein Canada has a rigorous inspection program that judges individual animals against a true type or ideal cow based on their mammary system, feet and legs, dairy strength and rump. Sara and David's animals average a very high rating and that means they can command more for their milk and sell their cows' embryos to other farmers for breeding. But it also means that David and Sara can breed cows with—they hope—fewer and fewer problems.
One of the things the couple finds frustrating about dairy farming is misinformation about how the cows are treated. Growth hormones, for example, are illegal in Canada, yet many people believe animals are routinely treated with them. In fact, cows are medicated only when they are sick. They're given penicillin for mastitis, just like human women, and then taken off the milking rotation until they are drug-free.
"There's nothing we can do with a cow that most people don't do with a child unless they're the kind who lets their kids stay in bed for a week with a fever," says David.
And anyone who questions David's comparison of the cows to kids should know that, like Felicity's favourite, Emma, all the cows have names and the Simmons can easily tell them apart.
"We all have our favourites," Sara admits, adding that every cow has its own personality.
"There's nice ones, mean ones, simple ones, sweet ones and smart ones," says David. "It takes all kinds."
Despite the state-of-the-art equipment in the barn, the array of computers in the office monitoring everything from how much each cow eats to how much and of what quality milk she gives, and the complicated genealogy chart of every occupant of the barn, David and Sara don't think dairy farming has essentially changed.
"Fifty years ago every farmer strived to put a quality product in people's fridges and we still do the same today. It's just like moving from a rotary phone," David shrugs before automatically glancing down at his iPhone to see if any cows are in the robotic milker. It's what he does. He's a dairy farmer.