Getting to know Scott Macmillan
GUITARIST, composer, conductor and part-time university instructor, Scott Macmillan started in blues and rock bands and went on to jazz, folk and classical ensembles. As a composer, he's had his Celtic Mass For The Sea performed across Canada, in Europe and at Carnegie Hall, NY. Last year, he and his son Ian won ECMAs for Classical Recording of the Year and DVD of the Year, respectively, for Within Sight of Shore, Scott's composition and Ian's film about the 1945 sinking of the minesweeper HMCS Esquimalt, which was captained by Scott's father. Saltscapes spoke to Scott about rocking in his parents' basement, learning to love fiddle music, and fathers and sons.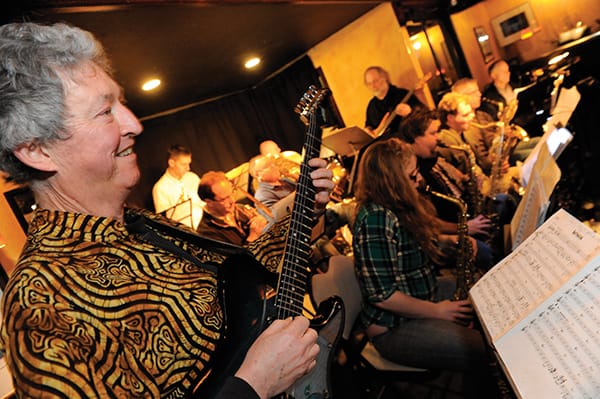 Q Did you grow up in a musical household?
A I have two older brothers. They took up music before I did. I just kind of learned the music they were learning. Neither my mother nor my father was musical. They allowed us to go in the basement and make a whole lot of noise. Drove the neighbours crazy.
Q When did you start playing music?
A I can remember the day—it was in Grade 6. My brother brought a guitar in the house, and I started fooling around with it. After a couple years, I was playing the Beatles and Rolling Stones.
Q Was there a moment of clarity when you knew you'd be a professional musician?
A I remember a simple little folk melody when I was 14, maybe 13, that I could confidently say was my own. That was a turning point.
Q As a native Haligonian, what's the source of your connection with Cape Breton and Celtic music?
A I'll credit that to [musician] Dave MacIsaac. He was a big inspiration for me. I met Dave in Grade 10, and the two of us hit it off. The MacIsaacs had a big Christmas party. Dave was enlisted to play the fiddle, and he needed an accompanist. I was in the heart of Cape Breton fiddle music. I learned on the fly.
Q Do your children play music?
A My son Duncan is a very good drummer. He was on the road with Cirque du Soleil doing lighting. My younger son Ian is a great musician in his own right. He's a wonderful singer and a good keyboard player and a good songwriter. Ian is making a career in filmmaking.
Q Ian filmed your making of Within Sight of Shore. How did both projects come about?
A Dad would talk about the sinking of the ship, always kind of hush-hush. He died in 1977. After the 60th anniversary, [I learned that] my father was reputed to be at fault—totally unjustified. I thought, what am I going to do to get the story straight? I decided to write a piece of music about it. Ian expressed an interest in documenting this process.
Q You included sounds like the ping of the sonar, the blast of the torpedo and the cries of survivors.
A I did it in a musical way—there were no sampled sounds at all. But when I premiered the piece at St. John's Church, in Lunenburg, I used real church bells. Writing music is like cooking a meal; if you've got good ingredients, you'll get a good result.
Q After composing that piece, what would you like to say to your father, if you could?
A "Now I know why you didn't want to talk about it." I can only imagine the pain all those years. I know the pressure he was under to keep those men motivated in that water for six hours, just to keep them alive. [Of a crew of 71, 44 lives were lost in the sinking, in the approach to Halifax Harbour.] He was only 30 at the time, and he was in charge. I'd just reach out and give him a great big hug.
Q And to your own sons?
A I'm really happy with both of my kids. They turned out to be very creative and passionate men.
See the documentary film Within Sight of Shore at www.cbc.ca/landandsea/2011/10/within-sight-of-shore.html.