Yarmouth, NS pharmacist Mathieu Maltais likes to be busy. Not only does he own a thriving pharmacy, featuring a gift shop and florist, in the heart of downtown Yarmouth, several years ago he saw a need for a local café in town where people could enjoy a hot or cold beverage in a congenial and relaxed setting. So he opened Sip Café, featuring his own Sip brand teas, many specialty coffees and other drinks as well as great food treats. The success of the Yarmouth location led him to open a second café in Meteghan, just up the road, in summer of 2015. "It's like Starbucks meets David's Teas, only with a local touch," he says.
Not one to rest on his laurels, when Mat was approached by Bay Ferries this past spring about operating the concessions aboard The CAT, he didn't hesitate. "I hired 20 people, built a production kitchen next to my Yarmouth shops, and got to work on it," he says. When The CAT began operating the Yarmouth to Portland route, Mat and his team were ready to go.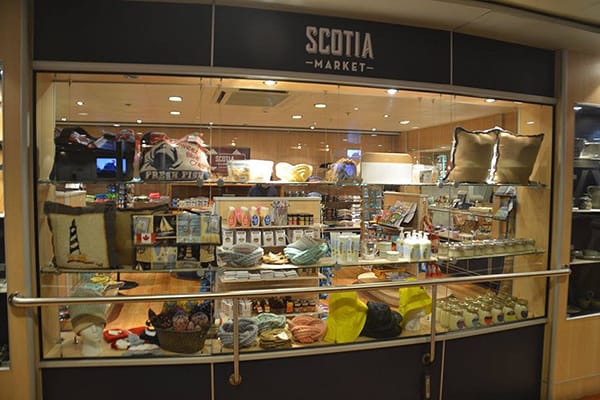 On board The CAT you can enjoy food and beverages in three locations. Sip Café offers mostly espresso-based beverages and teas, but also smoothies and their own made-in-house gelato. Forchu Lounge focuses on adult beverages, including a generous selection of Nova Scotian wines, beers and hard liqueurs, with seafood snacks such as Digby scallops wrapped in bacon and fresh local lobster. Scotia Market features salads, wraps, grilled paninis, soups, and a host of freshly made baked goods.
Mat wanted to make sure that the food service would meet or exceed expectations. "I like to add a little pizzazz to all our offerings, so that our customers aren't just expecting an ordinary canteen offering. We take pride in using premium ingredients, and the response has been terrific." All the baked goods and other items are made from scratch daily in Mat's Yarmouth kitchen, using local products wherever possible. Emin's Meats in Yarmouth provides the meats for wraps and paninis, using freshly- roasted meats that have been thinly sliced; dressings and spreads are made in-house. Are you hungry yet?
To accompany all these fine offerings, the Scotia Market also features a wide range of gifts, many made by Nova Scotian artisans from around the province. You'll find jewellery, soaps, gourmet foodstuffs, glass art, tartan wear and pewter, among other items, and there's a map showing you just where all the local offerings are created. Mat Maltais has high praise for Kilby Nickerson, who manages his flower shop in Yarmouth and who sourced all the artisan-made items for The CAT's shop. "It's all about promoting the Maritimes," Mat says. "The visitors to Nova Scotia often continue their explorations into New Brunswick and PEI, so promoting local benefits all our region."
Jeff Gaudet is vice-president of marketing and customer experience at Bay Ferries. He has high praise for Mat's undertakings with the company. "Mat was a dream guy to find," he says. "We were looking for a gift shop and a food supplier, and we work closely with YASTA (Yarmouth & Acadian Shores Tourism Association), who recommended Mat to us, so we got all we wanted in one package. He's passionate about service and about customer experience—he's a details guy—and he fits in well with our way of doing things. Customers love what he's selling, and are really enjoying the experience, which is what we aim for."
You'll enjoy the experience, too. Find Sip at Sea (the division Mat created to manage the three concessions), on Facebook for more details. Welcome aboard!