Getting to know Jennifer MacIntyre
Canada's ambassador to Switzerland and Liechtenstein is 40-year-old Jennifer MacIntyre, originally from the tiny fishing village of Main-à-Dieu near Louisbourg in Cape Breton. While applying for a journalism job, her request for a reference letter from her MP landed her a federal government job. Since then she's served as assistant to former Prime Minister Jean Chrétien, to Canada's US ambassador, and in Foreign Affairs before becoming ambassador in 2013. Saltscapes spoke with her about popsicles, seeing the world, and something called heimatort.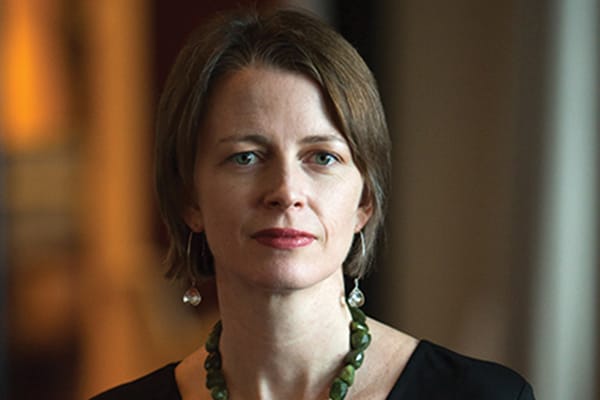 Q What was it like growing up in Main-à-Dieu?
A It's only now that I'm telling my children about my childhood that I realize it was so idyllic: going to the beach to skip rocks, cycling to the store to get a popsicle, going to the library on my own—the sort of independence you can have as a child growing up in a small community.
Q Your two children are growing up very differently from you.
A My children are just starting school, meeting their teacher and classmates for the first time. This is a big, stressful moment in a small child's life. I knew all of my teachers before I ever stepped foot in my elementary school. When you grow up in a small community, you know people. Because of that, you have a natural self-confidence that allows you to be more liberated in how you approach your life.
Q Did that self-confidence somehow lead to your achievements?
A How this all happened, was about being curious. As much as I identify with being from Cape Breton, because I grew up in a small place, I wanted to see the world. It was never a case of leaving Cape Breton behind. It was about taking a piece of that with you and staying connected.
Q What makes a good ambassador?
A I wish somebody would tell me. You have to be flexible—I might be talking to the media or meeting with a big Swiss company or giving a speech. My approach tends to be personable and quite informal, which I suppose can be ascribed to Cape Bretoners in general.
Q How do you stay connected to your family back home?
A My mother will tell you that I don't keep in touch enough. It's not true. Thanks to social media, we are all connected. I'm following her on Instagram, she's following me. We are both on Facebook, and I think she's following my Twitter account. I come home at least once a year, sometimes twice—at Christmas and in summer.
Q The strength of your bond to Cape Breton remains remarkably strong.
A In Switzerland they have this concept called heimatort. Basically, it's about where you're from. On a Swiss passport, it doesn't ask "place of birth." It says, "Where are you from?" I've been gone from Cape Breton a very long time, but if you ask, home for me is still Cape Breton. That's the place I feel connected to.