Of piss-en-lits and paintbrushes: a little dandy lore
Botanically speaking, there are a number of plants that go by the common name dandelion or are closely enough related that people commonly mistake them for dandelions. Here's a little dandelion botanical fun for you.
Marian Munro knows her dandelions. She's the curator of botany for the Nova Scotia Museum, and the co-author of several books on plants in NS, including Nova Scotia Plants with Ruth E. Newell and Nicholas M. Hill (available as a free download through the Nova Scotia Museum), and co-author, with Mary Primrose, of Wildflowers of Nova Scotia, New Brunswick and Prince Edward Island. "Dandelions and their relatives are all part of the aster family," she explains, "so they share similar features and characteristics, the way siblings and other members of a human family often share similar traits." The aster family is one of the largest of botanical families, and includes such diverse species as chicory, wild and cultivated lettuces, asters, sunflowers, daisies and many other plants of garden and meadow. Three of these are of interest when talking about dandelions.
Coltsfoot (Tussilago farfara). Coltsfoot is an unusual species in that its small, dandelion-like flowers emerge in early spring, along roadsides, waste areas and in gardens, before the leaves appear. The leaves don't look anything like a dandelion, but more like a fleshy maple leaf. Some consider this a nuisance pest, but it is an important food source for early awakening bees. The first report of coltsfoot in bloom in NS came in February of this year!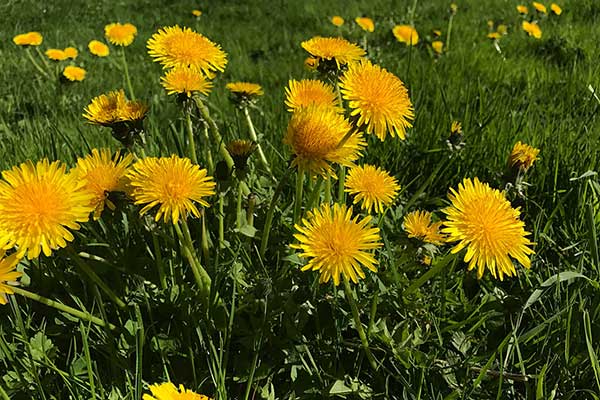 The sunny yellow flowers and toothed leaves of common dandelion are a harbinger of spring everywhere in Atlantic Canada. While dandelion's most common name comes from the French dente-de-lion, or lion's tooth, referring to the shape of the leaves.Another common name is piss-en-lit or piss-a-bed; the latter is often used in Newfoundland, although its origins, like the plant, are from Europe.
The wildflower was introduced from Europe, probably by accident as seed transported with livestock and seeds with settlers to the New World. All dandelions produce large amounts of nectar and pollen, making them of vital importance to pollinators such as bumblebees and honeybees, among others. Marian Munro stresses that along with coltsfoot, dandelions are among the earliest flowering plants to produce plenty of food for pollinators, and urges that people leave them alone whenever possible for the feeding of bees, butterflies and other creatures.
Hawkbit, orange hawkweed (Pilosella aurantiaca, formerly Hieracium aurantiacum). Often mistakenly called devil's paintbrush, (which properly is given to plants of a whole other genus that does not grow in Atlantic Canada), this dandelion relative blooms in early to midsummer in our region. There are five native species of hawkweeds, but the common orange and yellow are both introduced. They are often found on roadsides, in meadows but also in lawns that are in need of compost to improve their fertility. The orange species is particularly beautiful.
Fall dandelion, fall hawkbit (Leontodon autumnalis): This is the last of the dandelion-like plants to bloom each season, flowering from mid-summer until late autumn. Like the spring bloomer, this is European native has established well throughout all of Atlantic Canada and beyond. It's also found along roadsides, in yards and gardens, especially when soils are low in fertility.