Getting to know Kevin Blackmore
For more than three decades, Kevin Blackmore has been entertaining audiences with wildly entertaining and energetic live performances with his group, Buddy Wasisname and the Other Fellers. Straight men Wayne Chaulk and Ray Johnson bookend Kevin, aka Buddy. Their best known song, "Gotta Get Me Moose B'y" from their first album became a Canadian classic. Twenty records and four DVDs later, Kevin and the Fellers have a body of work that has ensconced them as a fine traditional music ensemble, as well as a tremendous comedy act. Saltscapes spoke with Kevin about music, nuns, and bookkeeping.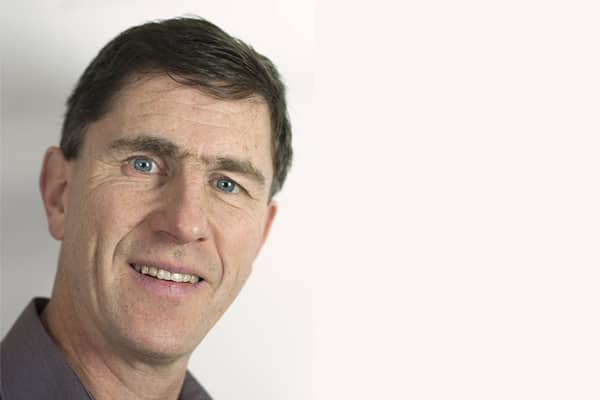 Q Were your parents and siblings musical?
A They all sing and have degrees of expertise on instruments. My father and his siblings were all very good pianists. My mother was naturally musical and involved herself in anything in Gander that was music based. Her constant singing and having the radio going was a big influence on me.
Q You cut your musical comedy teeth in a strict Catholic choir.
A A lot of boys went through being alter boys as much as they did anything else—Boy Scouts, Cubs, Air Cadets. I got a thorough knowledge of harmonies and a great ear… and extra ammunition. Sister Brennan used to stick her ear down by your mouth and if you were singing flat, she'd take your ear and twist it until you were sharp.
Q Is it true that you were too shy to join your high school drama club?
A I didn't feel like I belonged. Those people were extroverts. I never felt confident. I didn't want to do anything where I'd be seen.
Q What influence did school have on your artistic development?
A I went to a Catholic school and started music when the nun marched the classes in to stand before the piano in the auditorium. If you sang a true replication of the middle C, you were enrolled in anything they did, be it concerts or choirs.
Q You must have taken to playing solo like a duck to water?
A No. At social functions, I would hide behind the guitar. Rather than engage socially, I would play the instrument. That didn't help my introversion.
Q Eventually, you gained confidence. What did you learn from Free Beer, your first touring group?
A Entertainment has many facets. It's not just music. There's humour and learning how to grab a crowd. You need to have a repartee with them and something wittier to say than they do. That's where entertaining starts.
Q Of all the improvised musical instruments you incorporate into your act, what's your favourite?
A I remember screwing a doorstop on my mandolin. It made wonderful punctuation at the end of a phrase. I screwed a bicycle horn to the bottom of that. And garbage bags are a wonderful percussion device.
Q Any advice for young entertainers?
A Learn bookkeeping. It's the best thing I ever did. In the 80s, I didn't know if I was going to be a full time entertainer, piano tuner or do instrument repair. I went to CBC St. John's to tune a piano. It took me two hours. I charged $60. A producer asked me to lay down a melody piece and three harmonies. Four minutes of work, all improvised. They sent me a cheque for $260. That was my eureka moment.