New Canadians leading the way in the burgeoning regional wine industry
Come-from-away – last in a series
When Pete Luckett was a boy, growing up in Nottingham, England, there was a store in the centre of the city called Burton's of Smithy Row. It was a grocery store from what is now a bygone era, before the big UK chains—such as Tesco, Sainsbury's, and Marks & Spencer—consolidated the market and outpaced the smaller chains, market traders, and independent green grocers.
Luckett recalls with vigour the food displays in Burton's front windows. He stood mesmerized by the delicatessen arrangements, the hanging pheasants and rabbits. Inside, gorgeously arranged produce was identified with hand-written signs.
"It was unbelievable! Nottingham never realized what they had," Luckett says with his trademark enthusiasm and indelible English accent. "This was an incredible store!"
Burton's has long since closed, yet Luckett says the store was, in retrospect, a major source of inspiration.
"Without even knowing it I probably created a Burton's of Smithy Row right here in Nova Scotia," he says.
Luckett departed England in 1979 and eventually turned a one-man fruit and vegetable stand into Pete's Fine Foods, which consisted of two Pete's Frootique grocery stores (in Bedford and Halifax, NS) and a wholesale business. Last November, Sobeys—the second largest grocery chain in Canada—bought Pete's for an undisclosed sum. (A third Pete's store, in Wolfville, was closed before the sale).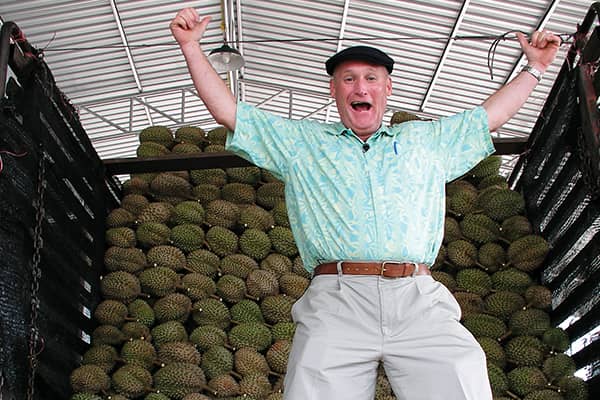 The Place Of Opportunities
Luckett is one of Nova Scotia's best-known entrepreneurs, and yet his path to settling here was winding—with stops from Belize to Alberta. Similarly, Luckett created his namesake grocery company following a series of oddball jobs, business failure, and personal reinventions. Though now out of the grocery business, he's again reinventing himself and his business focus with Luckett Vineyards, an Annapolis Valley winery he started in 2010. Pete the English grocer is now Pete the Nova Scotia wine maker.
Luckett is, perhaps above all else, a salesman. Charismatic, energetic, and welcoming, he can make a stranger instantly feel like an old friend. Everyone is a "mate" of Pete Luckett's.
Luckett's personality has much to do with his flair for sales. But he also credits the lessons he learned from Pat Briton, who owned a fruit and vegetable stall in Nottingham's Victoria Market. Luckett worked for Briton as a teenager, before opening his own stall. It was from Briton and the other market traders that Luckett learned how to sell.
"It's not only in their ability to merchandise and make produce look very beautiful, but it's in their ability to court and engage customers in a gregarious English style, which is sometimes a little tongue in cheek," he says, admitting some of the tactics and lines would not be considered politically correct today. "It was called chatting up the customers."
Luckett's ability to sell produce and merchandise is rivalled only by his ability to sell his own story and personal brand. He's had regular spots on TV programs and has generated plenty of press coverage with his colourful—and sometimes nearly implausible—quotes.
For example, why did he leave England at age 25? "I was on the run from the taxman, and Scotland Yard, mate," he says laughing. No further explanation is offered.
Luckett also links his decision to emigrate to an adventurous spirit fostered by his time in Scouts. Wanderlust took him to Belize and Texas, where he claims to have dabbled in the illegal sale of cockroach powder.
From Texas, Luckett headed to Canada, landing first in Alberta. He painted houses and hammered "For Sale" signs into the ground for $10 a pop. He also operated a logging skidder. Later, Luckett settled on a 200-acre farm in St. Antoine, NB. For a boy from England it was nearly unbelievable. "Anybody who had several acres was lord of the manor or the duke or duchess of something," he says. "That's how you had land in England."
The farm, which Luckett used to produce yogurt, was a joint venture with his first wife and in-laws. The relationship fizzled.
In 1981 Luckett read an article in Harrowsmith magazine about the Saint John City Market. He hitchhiked to the port city with his last $300 in his pocket. In April 1982 he set up a stall in the market and bought $250 worth of inventory.
Employing techniques and tricks he learned back home in Nottingham, Luckett sold close to $400 worth of produce on his first day, and still had inventory left over. "I upset several people with my shouting and yelling and my style of selling," he recalls. Within a few weeks he was making daily sales of $800 to $1,000, making change for customers out of his money belt.
"It's been a fantastic environment for me to start a business, right from my early days in Saint John. I managed to build a business from nothing—from zero. Just hard work," he says.
"I think there's a greater opportunity to get noticed here and become maybe a big fish in a small pond."
After 10 years in Saint John, Luckett moved to Nova Scotia and set up a Pete's Frootique store in Bedford. The store floundered for a year and a half, and Luckett questioned the move. "I was struggling to make payroll, struggling to pay all the bills. And I struggled to get a foothold in the marketplace. But it did come. Perseverance. Long hours. Commitment."
At the time of the sale to Sobeys, Pete's employed 450 people. Luckett, however, had stepped away from Pete's day-to-day operations long before the sale. Winemaking was his new focus.
Luckett bought his Annapolis Valley acreage in 2000. He grew fruits and vegetables but small-scale agriculture wasn't profitable. He tore up the crops and planted grapes.
Today the winery produces 108,000 bottles a year. The goal is to hit 360,000 bottles. Luckett is buying more land and planting more grapes. "We have great plans for growth but it does take time. There is no shortcut in the grape-growing and wine-making industry," he says, noting it takes four years to go from planting grapes to bottling the first batch of wine.
Luckett's sales skills are evident at the winery. The retail area is attractive and inviting, with shelves of beautifully lit bottles of wine. (The winery produces about 20 varieties).
In the vineyard is a British phone booth. Visitors are invited to make free long-distance calls to anyplace in North America. "I always try to make a business a fun place to be," he says. "We're in the feeling good business." (Full disclosure: he wouldn't let me leave the winery without taking a bottle of white).
It would seem few details escape Luckett's eye.
Luckett's daughter Geena, one of his six children and the vineyard's events manager, walks in to ask her father a few questions. At one point Geena suggests placing a price sheet next to the cheese in the retail area.
"No," Luckett says quickly. The "moment of impulse" is lost when a customer has to turn their gaze from the cheese to a price list. Each cheese should have a price tag, he insists. "Retail details," he says as Geena leaves the office.
For Luckett, products are interchangeable. The sales techniques never change. "If you take away cumquats and Brussels spouts and insert Black Cab and the Phone Box Red (wine), it's the same stuff," he says. "It's all about presenting, merchandising, branding, marketing and building relationships."
And it all goes back to the Victoria Market in Nottingham.
"I still get away with using the same old lines that I learned from Pat Briton 50 years ago," he adds.
There's only one difference between selling produce and wine, he admits. "Fruit and vegetables are dying by the second; the wine is getting better by the minute."
Luckett has lived in Canada 38 years, far longer than he lived in England. He's a Canadian citizen, though on this day he can't recall when he received his citizenship. He reaches into his back pocket, pulls out his wallet, and looks at the date on his citizenship card—2005.
"Crikey me. That was 11 years ago. It seems like yesterday." "I SAW THE POTENTIAL"
It's a changed landscape from the days when Hanspeter Stutz decided to leave his native Switzerland to overhaul a derelict Nova Scotia winery.
Today Stutz's Domaine de Grand Pré winery, located just outside Wolfville, is transformed from its state back in 1993, when Stutz bought it.
"The vineyard was like a jungle. The cellar was a mess… Buildings in really bad shape," he recalls, sitting in the Domaine de Grand Pré restaurant, Le Caveau.
"And you couldn't drink the wine."
Stutz launched a major overhaul. Roughly $3-million worth of renovations were undertaken, including the restoration of the 1826 farmhouse. The 30-acre vineyard was replanted in 1995, the first harvest took place in 1999, and the winery officially re-opened in 2000. Shortly after, Domaine de Grand Pré won three medals at the All Canadian Wine Championships. Annual production has since quadrupled to 100,000 bottles, and Domaine de Grand Pré has won dozens of national and international awards. Last year the winery had 33,000 visitors.
"I had a vision and finally you see the result," Stutz says, pointing around. "I saw the potential."
When Pete Luckett first considered opening a winery, he called Stutz for advice. Luckett calls Stutz a good friend and "a true pioneer. A visionary of where this wine business can be."
Stutz denies the pioneer label, though he does like to think he's helped modernize the Nova Scotia wine industry.
It's perhaps an odd claim from a man who—before his time as vineyard owner—worked in banking in Switzerland.
Stutz worked 18 years for Credit Suisse, the Zurich-based bank. He isn't keen to talk about his banking career, though. Banking has changed immensely in the years since, mainly for the worse, he argues. He's embarrassed by the litany of banking scandals and the obvious greed of the big banks.
"You're not proud to say 'I was a Swiss banker,'" Stutz says. He says he's "thankful every day" to be out of the industry.
Yet it was a banking assignment that first brought Stutz to Nova Scotia. It was the early 1990s and he was advising a client who wanted to buy a Nova Scotia farm. At that time, farmland in the province was selling for $250-$350 an acre. In Switzerland, similar land cost up to $40,000 an acre.
While in Nova Scotia, a lawyer told Stutz about the rundown Grand Pré winery. Stutz's wife had died in 1992. He thought the winery could offer a fresh start for him and his children: Jürg, then 20, and Beatrice, 19. "Not only new and fresh—something together," he says.
Both children eventually agreed to start anew in Canada, on the condition they could retreat after two years if the venture wasn't working. Both arrived in Canada near the end of 1999.
Today Beatrice manages the restaurant (her partner, Jason Lynch, is the executive chef); Jürg is the head winemaker. "I wouldn't do this without those guys" Stutz says of his children.
When Stutz arrived in Nova Scotia, his winery required major changes, but so did local wine and food culture. Stutz says there were no local sommeliers when he started. Nova Scotia was a rum province. He was also discouraged by the government's lack of vision in developing the local wine industry. He saw it as an obvious lift for rural development and tourism.
The lack of support was clear in the price the province's liquor corporation paid for local wines. Stutz was told his L'Acadie Blanc would sell for $14.50 in liquor stores. But he'd only be paid $4.90 for each bottle. He was stunned.
"That's how it works here," he was told.
"Not with me," he responded.
Stutz was part of a campaign that lobbied to boost the price paid for local wines. In 2008 he received $8.60 per bottle. "This was the key," he says. "It was the best moment for the industry."
The result has been an increase in production and investment. In 1993, Domaine de Grand Pré was one of four wineries in the province. Today there are close to 20, and nearly 800 acres of land are used for grape growing.
Hurdles still exist, however, including the inter-provincial regulations that govern the flow of alcohol. Stutz says it's easier for him to send a container of wine to China than it is to send a case to New Brunswick. His wine is available in Switzerland, Germany, and China, but in no other Canadian provinces.
Still, the industry is innovating with new flavours, fruit wines, and increasingly, red varieties, which have proven difficult to grow in Nova Scotia.
Stutz says Nova Scotia is benefiting, unfortunately, from climate change. Winters are milder, the last frost is now earlier in the spring, and the first frost is later in the fall. The result is that Stutz can grow grape varieties—such as Riesling—that he couldn't grow 20 years ago.
"It's crazy to say this but we are on the profitable side (of) climate change."
Now in Nova Scotia for two decades, Stutz admits his Canadian immigration story does not follow the stereotypical arc. He arrived with money and means. Yet his experience has been like a nice vintage—it took time to develop, but it now tastes sweet.
"We had tough times but finally it's positive," he says.
Better than positive.
"It's perfect."