The Ski Atlantic Seniors' Club shows that age is just a state of mind
Jimmy Clothier spent his 90th birthday in February 2016 downhill skiing at Ski Martock with his children, grandchildren and friends all around him. The memories of that day still bring a smile to his face when he talks about it.
"I like to keep active, it makes me feel good. I walk every morning for three quarters of an hour and that keeps my leg muscles strong. I don't feel like I'm 90," Jimmy says.
He encourages seniors to try the sport, and to keep at it, even if they fall, and to take some lessons, available at all the ski slopes.
Jimmy, who lives in Chester Basin with his wife (who no longer skis) is one of more than 900 members of the Ski Atlantic Seniors' Club (SASC), an organization started more than 25 years ago by retired ski enthusiast, Kell Antoft. SASC members receive free ski instruction one morning a week at each of the slopes and enjoy access on any day of the week at any of the participating slopes: Ben Eoin, Brookvale Ski Park, Crabbe Mountain, Martock, Mont Farlagne, Poley Mountain, and Wentworth—all for the price of a SASC membership.
Kell, who had skied and taught skiing most of his adult life, wanted to continue with the sport he loved even after retirement. In 1989 he negotiated an arrangement with management of the ski slopes that would allow the members access to all the hills. Participating slopes would share in the fees collected based on the number of ski visits to each hill during the season. The arrangement went into effect for the 1990-91 season and continues to be today Participating hills vary year to year.
Ticket to ride
Everyone who joins the SASC is issued a membership card, which they can use to get a day pass at one of the slopes. The annual dues for the club entitle members to ski at any of the participating slopes as often as they wish during the season, with no date or time restrictions.
The hills have excellent signage showing the degree of difficulty of each of the ski runs, with a green circle indicating the easiest run and two black triangles warning of a very advanced ski run—the type of run Allan Jost, director of ski trips for SASC, describes as "scary." Runs of intermediate difficulty are marked with a blue square and one black triangle is the signage for a difficult run.
Allan chairs a small committee that organizes two ski trips each season: one to the "New England states" and one to a Canadian location, often in Quebec. In February or March each year a request is sent to five or six ski resorts asking for a quote on a package price for the 40-60 SASC members who enjoy the annual trips. SASC prefers to have ski-in and ski-out resorts, where members can walk out of their hotel or resort, put on their skis and get on the lift, rather than having to take a vehicle to travel from a hotel complex to the ski areas. Members receive a tour of the resort facility, and the resort must be large enough to accommodate the group so that they can sit and eat together.
Groups usually arrive for check-in on a Sunday afternoon and Monday morning is a get-acquainted tour with a one- or two-hour lesson before SASC members hit the slopes for the next four or five days. As the destinations are usually a two-day drive, Allan explains, many club members travelling from Nova Scotia will stop at a ski hill in New Brunswick and ski for an extra day on the way coming or going from a ski trip.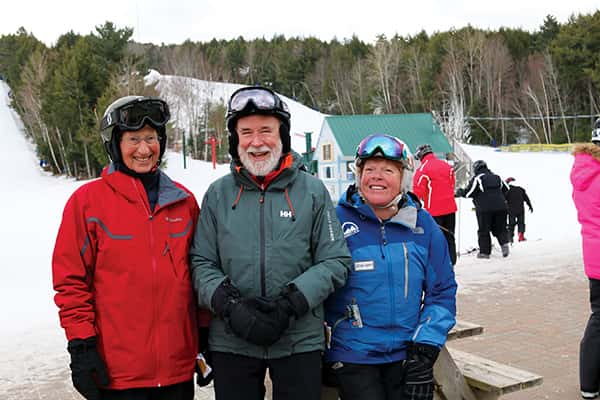 Love of the sport
Jimmy starts planning for the upcoming season long before the first snow falls. He registers early for his membership in SASC to take advantage of the discounted early bird price. For the past several years he has carpooled to the New England location and this year, at 91 years of age, he plans to be in Atticash, New Hampshire in early March.
Jimmy didn't start skiing until he was 55 years old. His son received a pair of skis as a Christmas present and persuaded his father to join him for a day of skiing at Martock. Jimmy loved the sport and after he retired, he started spending three or four days a week gliding down the hills at Martock. He has also visited Wentworth and has skied at Sun Peaks in British Columbia.
Sharon Tilley, director of SASC, says the co-operation from participating ski hills is excellent. "The runs are groomed to perfection; the people are friendly and so helpful. And the members of SASC love being out of doors, around people and their smiling, happy faces say it all."
Sharon, like many SASC members, starts to feel the excitement of the upcoming ski season with the first snowfall. She gets her skis waxed and all her equipment and clothing ready for the upcoming ski season.
Robert Atkinson, the club president, says skiing is an excellent way for seniors to get regular exercise doing a sport they love. "It's beautiful after a new snow with the snow hanging on the trees, and then there is the excitement going down the hill. You meet people who have a similar interest. It's a great day and at the end of the day you have a good tired feeling. Life is pretty darn good."
While many seniors ski during the week, more and more are also coming to the hills on weekends and are introducing their grandchildren to the sport. Atkinson says he has noticed little kids as young as four or five accompanying a grandparent.
Rob Carmichael, manager at Ben Eoin in Cape Breton, is pleased with the support SASC members give to Ben Eoin. In return, he says employees enjoy interacting with SASC members, who are always smiling and laughing.
Johanna Redden is one of the qualified ski instructors who offer lessons to SASC members. She teaches at Martock three days a week, focusing on SASC members on Wednesdays. "There's no problem for anyone to learn to ski," she says. "Seniors should take things at a slower pace than the 30 year olds, but skiing is a wonderful sport for anyone from three years of age until later in life."
There are two types of memberships available in SASC: a social membership, available at a minimal cost to the spouse, partner or caregiver of a SASC member; or a full membership, which gives members access to all participating Atlantic Canadian ski hills; available to anyone 60 years of age or older by March of the calendar yer.
One of the club's annual special events is Kell Antoft Day, which takes place on a different date at each hill. Everyone looks forward to these events which feature potlucks, lots of banter, and, of course, a full day of skiing.
Jimmy has heard about a man in California who is 98 and who plans to still ski when he is 100. Jimmy likes that idea. Until then, he and his many friends will keep embracing Atlantic Canadian winters on the slopes.