I bluffed a lot of people because I was big and rugged and they gave in. That was my way. I wasn't a fighter.
From 1951 to 1986, Ralph Wheadon worked for the Nova Scotia Department of Lands and Forests (now Natural Resources) in the former Halifax County. He measured logs on Crown land, fought fires, tenaciously tracked down poachers, and helped build a string of provincial parks along the coast.
After he retired, he became active as a volunteer with the Five Bridges Wilderness Heritage Trust, a group that works to conserve much of the land Wheadon protected during his career.
Wheadon still lives in the modest suburban house he built in 1959, where he and his wife, Genesta (who died in 2012), raised a family of nine.
At 87, he now has a pacemaker ("It really made my day—brought me back to life") and walks with a cane after suffering a broken femur. But he remains active and enjoys getting out in the woods whenever he can. When I visit him in the fall, he shows me photos from a recent fishing trip and tells me he is soon heading off into the woods to go hunting with one of his daughters.
I was born in 1929. Right in the Depression. I spent my first 10 years on Quinpool Road just below the Oxford Theatre. Then my mother bought a farm and we moved out to Geizer Hill in Fairview—believe it or not, that was farm country back then. We had an orchard in the back with 25 or 30 apple trees, and a quarter of an acre of a blackberry patch; I used to snare rabbits right there.
When I was five years old, my father built a hunting camp back of Ellershouse, where he had worked as a boy chopping logs. From 12 to 19 I went there faithfully to fish and hunt, and that was the shaping of my life, right? I loved the woods. Even when I was getting on to be 18 and I had girlfriends, I'd say, "I'm sorry, I've got to go to the woods with my father, and I'll see you Monday."
I had a hard job getting through high school, and I quit in the middle of winter. My dad got me a job at the Avon River power company in Windsor, and I started climbing poles as a lineman. One day an old man who was up there with me—I was 19, he was 30, so he was an old man—said, "Ralph, this is no life for you. You'll have fallen arches from the spurs and a broken back from the belt." I was 18 or so, and I learned about the forest ranger school in Fredericton. Fredericton? That was the other side of the world then. I applied and was accepted. Oh man! I loved the courses, graduated with honours, and went to work with the Department of Lands and Forests.
I worked a couple of winters back in the woods as a scaler—measuring logs being cut on Crown land—and then as a technician in Bridgewater and Liverpool. Around '53 or '54, they were having forest fires and brush fires up the yin-yang back here and there was no forest ranger. So they sent me here.
There were three main parts to the job: Fire in the summer and spring, game patrol in the fall, and forestry in the wintertime. In the summer, my day started at 8am, and I would be there all day, seven days a week.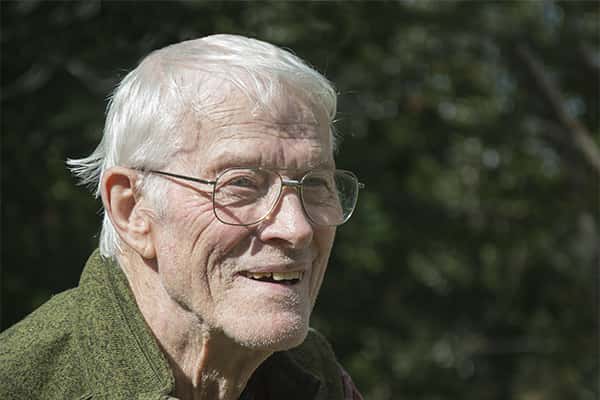 Fire in the woods
For 10 years straight there were about 250 fires a year. Some of them were brush fires that got out of control, but in each of the communities in the Halifax district, including the Sambros and Rockinghams and right through to Hubbards, there were people who would just go set fires. In around Spryfield they were always setting fires.
There was a fire in Spryfield that turned out to be 2,000 acres. The first night it was on I flew over hundreds of acres of flames. I thought, "How the hell am I going to get that out?" But we live on the coast here, and I used to be looking at my watch saying, "Come on six o'clock," because when the cold air starts coming in off the ocean it drives the hot air out, and you can see all them bushes and stuff dying down. I remember being on a three-acre fire, had a two-or-three man crew in on it all night. We took back tanks, flashlights and hard hats. We'd go to the swamp and fill up the back tanks, and we'd have a 300-acre fire out by morning.
When you get two or three fires on the go and you're in charge of all of them, you're moving from one spot to the other, trying to get people in. Before we had helicopters you couldn't drop anyone in, either.
I'd have a pair of rubber boots on, and that's what I'd run off to go fight the fire in. There was one in big old-growth pine, and the lad in the fire tower was pretty sharp and he called in the smoke right away. We went down, and it was really going on pretty good. I said, "I am not ruining any more clothes." I always carried a second set. I changed my pants and my shirt, put my boots on, took the fog nozzle and put it out. Everyone else was saying, "Fire? What do I do?" You go in and work at it.
There were two fire towers in the area. I built one up back of Highland Park. And there was one over on the Waverley Ridge that was there since before I ever came around. In latter years they would be reporting so many false smokes from jobs and stuff, you're just running false. Eventually they tore them down.
"I knew the country"
Come hunting season, I used to chase people around the woods.
I remember one Sunday a new forester come on and I thought I'd take him for a walk. We walked way back to Five Bridges Lake looking for Sunday hunters. We got to this camp and the stove was still warm. They had left, but there was fresh snow and you could track them. That's a long hike in there—five miles. We started following them down across the ice and through the woods. And then I said, "Dave, I can't go any farther. I've got to sit down." I had a sandwich, and then we caught up with them. I said, "Hey! We're lost! Help us!" so they wouldn't run. We went up and captured them. They had a bagful of rabbits from that day and the day before. I said, "I'm not going to take all your rabbits, I'll just take your guns, ammunition and one rabbit each that was caught on Sunday." And then we struck out straight out of the woods. Didn't even need a compass. I knew the country. That was a long day.
Stopping the bad guys
In those days people weren't shooting you, normally. They didn't even threaten you. I remember going down to Terence Bay one spring, and there was a car parked right there. I thought, "I'll bet you I know what they're doing. They're fishing through the ice and the season hasn't opened yet."
We didn't have a uniform, but you had a forest ranger badge and I got that out and pinned it to my wool sweater. I walked through the trail and up ahead I could see five guys. I said, "Come on, follow me back out to the car." I just sat there with my feet out my Volkswagen, took all their names and addresses, and they went to court and paid $10 each. You could do that. Today they tell you go to hell and suffer the consequences.
I did knock a guy out one time. Gave me a hard time with a shotgun wrapped around my hips. That's the only time I ever struck anyone. I bluffed a lot of people because I was big and rugged and they gave in. That was my way. I wasn't a fighter.
When I got married, I was about 24 and my wife was 20. You would get three weeks vacation and I would only take two because I wanted to go back and catch people. It was on my mind: I should be doing my duty.
The last five years of my career, I was sent to Waverley as a supervisor, and had all of the old Halifax West and all of Dartmouth. I had nine technicians under me, and every morning I had to delegate what they did for the day. I hated it, because I had to go to work with a suit and tie on and do budgets all day long.
A year or two ago, I started going to the Tim Hortons in Upper Tantallon where a bunch of us shoot the breeze. The first time someone introduced me as "Ralph Wheadon, he was a game warden," one guy looked at me and said, "You were the bad guy." I said, "No, you were the bad guy. I was hired by the government as the good guy to catch you."