Honesty and old-fashioned people skills are sewn into the fabric of this New Brunswick business
At first glance, the store doesn't appear out of place with the other shops on Roseberry, Campbellton's main drag. Camille and Son Sewing Centre—next to a jewelry store and alongside an empty department store—occupies the bottom floor of a two-story, brick and aluminum siding building. From the outside, nothing spectacular. All very ordinary.
However, it's anything but ...
Norman Rockwell
A cluttered front window suggests it's a busy place, but step inside and you get the sense that Norman Rockwell would have felt right at home here. Hanging in a window corner are hand-knitted socks and on a wall, just behind the main counter, hidden amongst an array of sewing accessories, are community service plaques and, not far away, thank-you posters made by local school children.
The owners—Camille Laforest and his son, Alain—not only know their stuff, they know how to look after their customers.
People skills are never all that complicated: in this case, it's simply old-fashioned honesty and thoughtfulness with some idiosyncrasies thrown in to make things interesting.
Hmmm. For some strange reason, on display is a wall calendar from 1997. That's not a typo. 1997.
The store has a personality of its own—and folks love it.
Camille, who started the business in 1968, stands alongside a glass-covered countertop, greeting customers with an engaging smile and a quick word or two. Or three. Even at his age—late 60s or early 70s, I reckon—Camille Laforest still cuts a striking figure.
"How old are you?" I ask.
In a soft voice, Camille replies. "I'm 82, sir."
Alain is 52.
People first, computers second
The front door opens with the electronic sound of birds—as well as the music of CKNB, the local AM radio station. No elevator music for these folks.
Some would call the sewing centre old-fashioned, and that's fair. It doesn't faze Camille nor Alain, not in the least. They're not shy to say they don't have a computer—nor a website, but do have a Facebook page—and if you bring up online shopping, they figure you're talking about fishing. The only megabytes here are in a tiny lunch room at the back of the store where Camille and Alain make quick work of sandwiches and muffins.
Computers may be cost-effective and all that—but Camille and Alain Laforest prefer the human touch, thank you. The inexorable march of technology can wait.
I'm reminded of a great line by the American poet, Ogden Nash.
"Progress might have been all right once but it's been going on too long."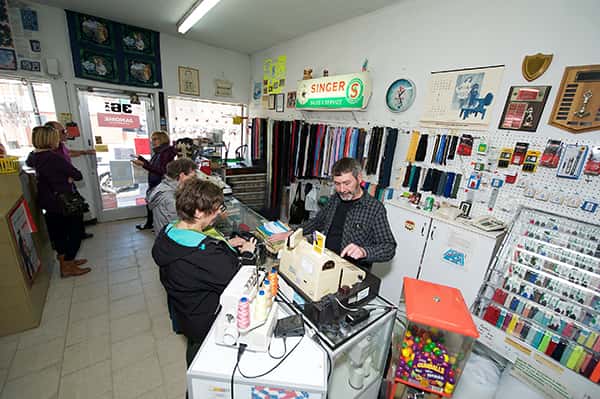 Business people of the century
"Crafty" patrons arrive from towns and villages across northern New Brunswick and Gaspé, including the Mi'kmaq First Nation at Pointe-a-la-Croix, on the Quebec side of the Restigouche River.
Graphic designer John Van Horne figures that Camille and Alain are Campbellton's business people of the century. Hands down.
Marian Humphrey would agree. "The Laforests instill trust," she says, then shares a story. "I hadn't sewed anything since aprons in Grade 8," she recalls, "and I went to see if it made sense to have my mother's old sewing machine serviced. Camille's response was, 'Most certainly! This is an excellent machine. Most parts are made of metal rather than the plastic used today'."
Notice the not-so-subtle reference to product quality from an era that's gone and ain't coming back.
Humphrey, a retired high school teacher who knows a thing or two about crowds and mayhem, describes the annual sale at Camille and Son as "crazy"—meaning, the joint's rocking. "A line-up everywhere," she says, "but when they wait on you, you're the most important person in the room."
Seamstress Margot Allain, who owns five sewing machines, coils with anticipation whenever she enters the store, even though she's been going there for decades. It's not the bird sounds at the front door nor a new pattern book on a shelf that have her grinning from ear to ear. It's how staff treat her—and her family. On display in the shop are sewing projects done years ago by Margot's children, now attending university.
"Camille and Alain," she says, "are part of a dying breed who offer honest, reliable, quality bilingual service to all their clients. Whether one is buying a $1.79 spool of thread or a $3,000 computerized embroidery machine, the same attention and care is given."
Margot has one special memory of the sewing centre. "Whenever [my daughter] and I go into the store," the retired French language teachers says, "we are greeted with "Ah bonjour, c'est la fille de la fille de Phil!" Translation: "Hello, daughter of the daughter of Phil." "This is typical Acadian—greeting people by announcing one's lineage."
"It always brings a smile to our faces," she adds, "I hope this store never closes!"
Susan Caron, a retired hospital worker, has always had positive experiences with the Laforests. "A few times they've done things at no charge," she says, "installing new buttons on jeans, for example."
Van Horne recalls when he was working on a project and he needed a sewing machine for a short while. He was all set to buy a used one but Camille would have no part of it. "Just take this machine," he said, "and bring it back when you're done."
Another story from Van Horne: His neighbour had a school book bag with a torn zipper. "They went to the sewing centre to buy a new zipper," he says, "and Camille replaced it for them. No charge."
Alain has a nickname for her good friends: 'The Zipper Doctors.'"Camille and Alain," she points out, "have mended or replaced stuck and broken zippers for countless people."
The proof isn't just in the pudding, but in the homemade fudge and cookies appreciative sewers, quilters and knitters bring into the store as gifts. Can't recall seeing anything like that happening in a big box store.
Fabric and more
No one pulls up to the sewing centre with the same shopping list.
Some are looking to buy a new sewing machine; others arrive lugging their old contraptions, hoping the sewing machine surgeons can work their magic and bring them back to life. Some customers want a needle, one that's stronger than the one that snapped while doing work it shouldn't have been doing. Others want to buy scissors, ribbons, "just the right colour" of thread, pattern books, decorative panels, cloth for quilts, pillow cases... or new fabric to make an old couch look like new again.
Retail landscape changing
Businesses come and go. It's always been that way. Witness the massive changes the global retail landscape has undergone in the past half-century with the arrival of box stores and stores that sold typewriters, vinyl records, TV antennas and those that rented movies. Poof. Gonzo.
But like the little engine that could, Campbellton's sewing centre trudges right along.
Why? It's partly because the shop stays current, keeping up with the latest products and trends. The sewing centre was 'hip' in the 1960s...and today it's still 'hip,' or whatever they call it now.
Products and trends change. Fifty and 60 years ago, people sewed their own clothes. Nowadays, of course, it's cheaper to buy them. People still sew—but to decorate.
There was a five-year period, Alain reveals, where yarn was a big seller. "Boom!" he exclaims, interrupting himself, "but that suddenly stopped, and 10 years later, it started all over again."
Dedicated to customers
Camille and Alain are assiduous and thorough. If someone's using an inferior thread, they'll let them know because... well, they should know. Their dedication means often working more than 40 hours a week. Far more. "Last week," Alain says, "I put in 60 hours." Most of that time was spent at a bench, repairing broken sewing machines, with only a table lamp and the radio for company.
"I'd probably make more money working at Walmart," Alain says, "and I'd have better hours too." Truth is, Alain could have left his job at the sewing centre many years ago and moved to some God-forsaken place, but he saw more value in staying put.
Customer service isn't limited to the sewing shop. Van Horne smiles before telling this story: "I bought from a dealership a vehicle that had been Camille's. Camille then came around to my house with four tire rims and said, "These go with the car." Van Horne then asked what he owed him. "Nothing." It's obvious that the Laforests firmly believe in going the extra mile. And as someone once said, it's never crowded along that extra mile.
Back to the old calendar. "Why on earth would you keep a faded calendar from 1997?" Alain seemed surprised by the question. "We like the picture," he said. "It's the first sewing machine—from 1851," and, pointing out the city where it was manufactured, "Port Elizabeth, New York."
There was an uptick to his voice not unlike, say, an excited hockey fan touring the Hockey Hall of Fame.
Time capsule
In the basement of the sewing centre is a time capsule of sorts. "Watch your head," Alain announces as he makes his careful way down a flight of creaky, wooden stairs. Resting on shelves are scores of old, heavy sewing machines, most of them thickly covered in dust. Here too are cardboard boxes full of motors and top covers from stripped sewing machines.
Meanwhile, upstairs, a glance through the glass countertop at the main counter transports Camille back in time, to his first days in the sewing machine business more than 60 years ago. On a top shelf rests a dust-free die-cast model of an off-white 1955 Chevy pickup. The toy truck is a replica of the vehicle his father owned in Edmundston, which transported the very first sewing machine Camille sold—a Singer, incidentally. The machine came just as some black and white TVs did in the day—in a beautiful wood cabinet.
As is often the case, one flashback leads to another, and in this case to 1968—the year Camille and his wife, Janine, a native of Matapédia, Quebec, moved their young family to Campbellton to run the Singer Sewing Centre there. Just four years later, they were dealt a blow when Singer bailed.
Camille and Janine didn't know what to do. They talked about it and decided to go it alone. The things parents discuss around the kitchen table at night when the little ones are tucked away in bed.
Janine, for many years the sewing centre's receptionist and bookkeeper, is now retired.
Camille hasn't done that yet but at least, he is slowing down a little.
In January of last year, he cut back his work week to five days, calling it his "pre-retirement." When most workers retire in their 60s, some in their 50s, and lottery winners in their 30s, Camille is still giving it.
Marian Humphrey says the sewing centre is "a living history of the kind of small businesses in Campbellton we knew as children." Those who think that modernity with all its flashing lights is so much better obviously weren't lucky enough to experience those times.
Camille and Alain Laforest have handled all kinds of sewing material, and they're remarkably good at it. They've also worked with a totally different fabric, an intangible one that's impossible to measure. It's the invaluable fabric that binds a community together.
Integrity. Honesty.
Fair play and, let's be candid, love.
Yes, that fabric.
Therein lies the greatest contribution of Camille and son of Camille.