Innovation and co-operation fuel phenomenal growth in local brewing and distilling
"It's the beer most likely to incite riots at beer festivals." Jeremy White of Big Spruce Brewing is talking about a pink, fizzy drink he has set before me. I'm in his tasting room on a hillside in Nyanza, Cape Breton, sampling what is supposed to be beer. If I popped a tiny umbrella in the glass, Jeremy's riot-starter could be mistaken for a tropical cocktail. I take a sip...
Its sour raspberry kick is deliciously refreshing on this sunny summer afternoon. I am an instant convert, and after hearing Jeremy talk about the drink, I decide that if any single beer could stand as the poster beverage for the enormous changes in the craft drink industry in Atlantic Canada, it's this sour raspberry wheat ale.
Silver Tart is locally inspired—the idea came from Alexander Graham Bell who wrote in his journals about the making of sour raspberry cordial with local berries. It was brewed in a tiny two-room brewhouse on a reclaimed old farm in rural Cape Breton. And Big Spruce is about to get bigger with help from a government loan. A new brewery with much greater capacity is about to go up across the road. Creative craftsmanship, local connections, humble beginnings and fast growth—Silver Tart (Jeremy named it after an early airplane designed by Bell and a local engineer named Douglas McCurdy, who piloted the Silver Dart, the first powered aircraft to fly in Canada) has all the hallmarks of a beer crafted in the midst of the brewing and distilling revolution sweeping Atlantic Canada.
Big numbers from humble beginnings
Craft beer sales in Nova Scotia grew by 25.5 per cent in 2015 over the previous year. Sales of local distilled spirits rose a whopping 177 per cent. While wine sales are still growing, this segment of the industry is already well established, thus a mere 8 per cent growth rate. Sales of more traditional beverages like beer from large brewery corporations remained flat. In terms of total volume, sales of local wine (made from grapes grown in Nova Scotia) at $9.6 million still tops local beer at $7.6 million and spirits at $1.5 million.
In PEI the numbers are even more dramatic for craft beer sales, which were up about 40 per cent in 2016 while local spirits increased 20 per cent. Overall sales of beer and spirits remained relatively flat. New Brunswick currently has only one distillery, Fils du Roy in Paquetville, but craft beer sales in that province were up 18 per cent in 2015. Sales of local beer in Newfoundland and Labrador increased about 6 per cent in 2015, when the province had just three craft breweries.
The number of craft breweries and distilleries in Atlantic Canada is quickly closing in on 100. Who's behind this revolution? The answer is as varied as the population of this region with its centuries-deep ancestral roots and its current attractiveness to those looking for a slower pace of life in a picturesque, affordable setting.
Jeremy White's story starts in Central America where the Ontario native spent about 13 years as a representative and project manager for a British construction firm. He met his wife Melanie in Costa Rica where she had travelled from Vancouver to study Spanish. When they decided to return to Canada to start a family, they discovered that BC was no longer affordable. They honeymooned on the East Coast after marrying in 2008. "We thought it just had the greatest culture, environment, landscape and people. It was just awesome," recalls Jeremy.
Back in Central America, Jeremy started shopping for property in Cape Breton. When a 75-acre former dairy farm came on the market, they snapped it up, sight unseen. Upon arrival in April 2009, they found a house in poor condition and fields overgrown with alder, hawthorn and apple. After major renovations in 2010, they moved in.
Jeremy recalls, "We crossed the causeway and Melanie said, 'Now listen, this is just temporary. We're not going to spend our lives in Cape Breton.' Within six weeks, she was like, 'We're never leaving here.'" Two years later, they opened Big Spruce.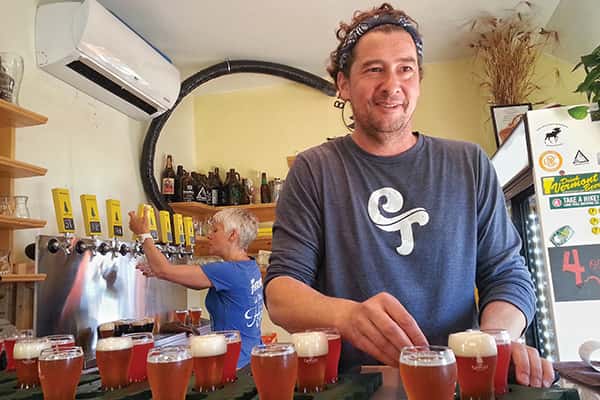 Deep roots
Other brewers and distillers have much deeper roots. Beer and bars are in Shaun O'Hearn's blood. As a teenager, he cut his teeth washing dishes at Lawrence of Oregano, one of several downtown Halifax bars and restaurants collectively known as The Dome and owned by a group of investors including his father John. He moved up through the ranks, bussing tables and bartending, until he and his dad and a couple of silent partners bought Your Father's Moustache, another downtown Halifax landmark.
On trips to the US, Shaun realized the craft beer craze was heading north, and opened a brewpub in the basement of the Moustache. Today, Rockbottom Pub, named Brewpub of the Year at the 2015 ACBAs (Atlantic Canadian Beer Awards) brews some of the best beers in the region, including Raisin Hell Oatmeal Stout and Fathom IPA, winner of two golds and a bronze at the last three ACBAs. These fine brews have attracted a loyal following that increasingly demands their favourite beers be available beyond the pub.
A year or so ago, Shaun and his cousin Danny O'Hearn, who worked for 30 years at Moosehead, opened Nine Locks Brewery in Dartmouth, in part to meet this demand. Their first four beers are made from recipes that came directly from Rockbottom and remain their signature brews.
Local ingredients
Other brewers and distillers put down even deeper roots before they entered the industry. Take Mike Beamish—Ottawa native and former IT worker and teacher—who started the modest Deep Roots Distillery in Warren Grove, PEI. After his parents moved to PEI to run a B&B, he decided to follow in 1987. He taught at Holland College and raised five children. Upon retirement, he started looking for a project and a way to use the excess apples from his small two-acre organic apple orchard (for health reasons, it's illegal to sell apples that have fallen to the ground). He learned, however, that if he either pasteurized or distilled the juice, he could make products that could then be sold. Since pasteurizing was too expensive, he signed up for a workshop on distilling in 2012, which led to opening a small distillery on his farm where he now produces five spirits.
Like Mike Beamish and his apples, many in the industry are keenly interested in using local ingredients. Some see huge potential for spinoffs in agriculture, manufacturing, processing and tourism. While the prize for the most innovative local ingredient has to go to both Sober Island and Tatamagouche breweries in Nova Scotia for brewing stout with oysters, most ingredients are less surprising. Every drop of juice that goes into Coldstream Clear Homemade Apple Pie is from Annapolis Valley apples. When owner Riley Giffen recently discovered that his direct ancestor, Simon Giffen, who grew up in Belfast, Ireland and emigrated to Halifax in 1749, was himself a distiller, he commemorated him appropriately. "We made an authentic rum style spirit that was inspired by him," says Riley. Coldstream distilled and numbered just 1,000 bottles of limited edition 1749 Original Spirit in his honour and used Crosby molasses from Saint John to do it.
The pioneer in the use of local ingredients is Randy Lawrence of Sea Level Brewing who has been growing his own hops in the Annapolis Valley since 1985. In 2010, he teamed up with Propeller Brewery of Halifax to brew the first wet hopped beer in the region to be made entirely with Annapolis Valley hops. The achievement required more than 100 pounds of Cascade and Willamette hops.
The Maritime Hop Growers Association currently has 21 members, including Moose Mountain of New Brunswick with four acres planted. Owner Veronica Paul says she got into the business when she discovered a wild hop plant, suggesting that East Coast beers could become as distinctive as wines from this region. Several beers are already brewed exclusively with New Brunswick hops, including Devil's Peak Black IPA at Graystone in Fredericton.
Jeremy White has gone a step further. Not only does he grow a significant amount of hops for his own brews, he has also discovered a brewer's yeast on his property. "We took a shotgun approach and tested 50 samples of ripe wild apples, berries and flowers from our property last summer," says Jeremy. Of those, two—both found growing on a pin cherry tree—are suitable for brewing. One of his yeasts is used to brew Big Grandma's Wild Ale, a Belgian Tripel style beer.
Mike Beamish of Deep Roots uses other local, organic ingredients besides his apples, including maple syrup, haskap berries and blueberries. "We're taking our time and coming up with recipes that represent local agriculture and the flavour of the local community," says Mike. "You know where the money is going and it's supporting our community." He distilled his Blueberry Fruit Spirit from a batch of wine that didn't turn out as planned at an Island winery. While the winery decided not to sell it, the 2,000 litres was perfect for distilling what is known as eau-de-vie, a traditional European-style clear fruit brandy made by fermentation and double distillation. About his collaboration with the winery, Mike says, "When we work together, everybody wins."
Co-operation. Not competition.
Co-operation, generosity and the willingness to help others just entering the industry is, unsurprisingly, a common theme on the East Coast. Stephen Dixon of Grimross Brewing in Fredericton credits Picaroons founder Sean Dunbar with helping him get off the ground. Dixon's Cheval D'Or, a Belgian style farmhouse ale that originated in Europe to quench the thirsts of tired farm hands, was first brewed in small batches at Picaroons Brewtique, their retail outlet in downtown Fredericton. It's still his best seller. That spirit of co-operation is infectious. When Graystone Brewery was getting off the ground, others breweries including Grimross offered the use of their equipment. Graystone is as much a collective as a business. Owner Wes Ward's vision includes guest brewers and lots of beer from other breweries in his downtown Fredericton taproom.
Phil Noseworthy, manager at Grimross, says, "Everyone involved in Fredericton's craft beer scene wants it to thrive. Helping each other is driving an industry." Grimross itself sells and helps distribute the beer of five other breweries. "It's about creating a buzz," he says. And the buzz in Fredericton is deafening. Of 32 New Brunswick breweries, 13 are in Fredericton, and most of them are no more than a couple years old. The result is an organic balance to the industry here as brewers pursue interests and carve out niches. Picaroons' British-style ales are malty, easy on the hops and most are made with the same yeast. At Grimross, it's all about the yeast because they specialize in Belgian style beers. And at Trailway, Dan Mason and Jake Saunders use exotic hops like Topaz and Mosaic to create tropical flavours that aren't necessarily bitter.
Community support
Sonja Mills and Alicia MacDonald were living and working in Nova Scotia when they decided to turn their home brewing hobby into a business. When their efforts to open a brewery in Truro stalled—potential funders believed the Nova Scotia craft beer market was already saturated—they decided to try Port Rexton, NL, near where Sonja grew up and where she and Alicia were married. "Newfoundland is in dire need of more breweries," says Sonja. "They're behind the rest of the Atlantic Provinces. The craft beer market is still a tiny share of the whole beer market, and although it's rapidly growing, there's still a ton of market share left."
Before leaving Nova Scotia, Alicia had volunteered at a few breweries as a learning experience. One of them was Big Spruce. Of Jeremy White, Sonja says, "He's been with us the whole way, guiding us, offering whatever help he could."
That atmosphere of generosity shared within the community of brewers and distillers often extends into the communities in which they operate, and it flows both ways.
In Port Rexton, Sonja and Alicia found the perfect building for their brewery, the old school that later became the community centre. "It had really cool previous lives," says Sonja. On the wall behind the taps, they put up an enormous photo of Port Rexton that shows their building when it was a school. The community's fondness for the building and its previous lives emerged as soon as they opened in 2016. "People are definitely connected to our building. They come in and reminisce," says Sonja. A former teacher came in recently to have a look and stayed for hours, telling stories. "I feel it's the community's building."
A hand up to a prosperous future
Feel-good stories abound in the region's brewing and distilling industry, but these can be tricky businesses to enter. Glenora Distillery, which produced the first single malt whisky in North America in 1990, struggled to stay afloat while its first product aged in barrels. Sean Dunbar and his partners went bankrupt before Picaroons became a success, the second time with the help of a provincial government loan.
All this recent growth has caught the eye of government economic development agencies that were once skeptical of such businesses. Picaroons just renovated an historic, once derelict building—originally a roundhouse for railcar repair—on Fredericton's waterfront and have doubled their capacity, thanks in part to a government loan. Port Rexton, Trailway, Big Spruce and Breton Brewing in Sydney are among the recipients of a helping hand from agencies like the Atlantic Canada Opportunities Agency.
In a press release announcing the Big Spruce and Breton Brewing expansions, Cape Breton MP Mark Eyking says that the federal government is such a fan of craft brewing because of the many ways it generates local economic activity. Breweries sell beer, of course, "but also contribute to the success of the agriculture and hospitality sectors through the use of locally-sourced ingredients. For me," continues Eyking, "this is a symbol of what rural economic development is all about."
Sean Dunbar would agree, but is just as interested in the impact of craft beverages on urban areas. "Small breweries and public spaces where people can come to drink beer are vital to the life of a city and province," says Dunbar. "Bringing people together over a beer, the added sociability of alcohol encourages trust and openness and is absolutely vital to the exchange of information and ideas." With the goal of building more livable and creative cities, Dunbar is establishing branch breweries around New Brunswick.
Whether it's downtown Fredericton, small town Newfound-land and Labrador, rural PEI or Nova Scotia, craft brewers and distillers who thrive on creativity, work co-operatively and are fiercely loyal to their communities are responsible for more than just the big growth in their own industry, they are offering a new route to urban vitality and rural prosperity. The writing is on the brew house wall, and it's in bold letters—the future is local.
A sampler of taste
Company: Port Rexton Brewery

Location: Port Rexton, Newfoundland and Labrador
Brewer/Distiller: Alicia MacDonald and Sonja Mills
Recommended Beverage: "Our IPA is the first West Coast-style IPA brewed in Newfoundland," says Sonja. "The liberal use of citrusy, piney hops and dry hopping gives it that nice aroma. Visitors from Portland, Oregon said they really liked it. When you hear feedback like that coming from the IPA motherland, it's awesome."

Company: Trailway Brewing

Location: Fredericton, New Brunswick
Brewer/Distiller: Dan Mason and Jake Saunders
Recommended Beverage: "D'under [a contraction of "Down Under"] is hands down my favourite," says Jake, "for its big fruity tropical profile and grapefruit flavour from Australian hops."

Company: Deep Roots Distillery

Location: Warren Grove, PEI
Brewer/Distiller: Mike Beamish
Recommended Beverage: "My biggest seller by far is Maple Liqueur. My mother is 88, and she enjoys a little shot of it. Kids in their 20s and 30s, they enjoy it."

Company: Coldstream Clear

Location: Stewiacke, Nova Scotia
Brewer/Distiller: Riley Giffen
Recommended Beverage: "My go to is definitely the Premium Vodka. Vodka lovers appreciate how it tastes. The runner up is the Classic Coffee liqueur. I just sip that on ice."