East Margaree business ships coveted larch wood cutting boards worldwide
The international success of Larch Wood Canada—Cape Breton Island makers of coveted handcrafted, heirloom cutting boards revered by foodies and sold worldwide—all started with a housewarming gift.
It was 2004, and six months into his new job as general manager of Larch Wood, Don Beamish knew the writing was on the wall. The year before, owner and entrepreneur Ben Webster had purchased a bankrupt business, a 14,000-square-foot facility on the banks of the heritage Margaree River.
They could already see the tongue-and-groove larch flooring—the only product they were making—wasn't going to sustain them. There just wasn't the market.
"We knew we needed another product," Beamish says. But what?
From single gift to product line
The larch wood cutting board was meant merely as a housewarming gift, a staff gesture to wish Mr. Webster well as he moved into his new home on Cape Breton Island's pristine western shores.
But that gift carried the grain of possibility.
"It was an edge grain board, but we could see a beautiful pattern in the end grain," recalls Beamish.
End grain, he explains, is cut with the grain, revealing the bold, varied gradients of the tree's growth. It's also more durable than edge grain. The density better absorbs blade action, makes cutting easier on the wrist, and, since the fibres are lined vertically, they close and self-heal when cut.
Inspired, the company made three prototypes, and gave them to a local chef, who came back with two thumbs up.
"I took them to market in 2005 at the Atlantic Craft Trade Show. We did really well with it."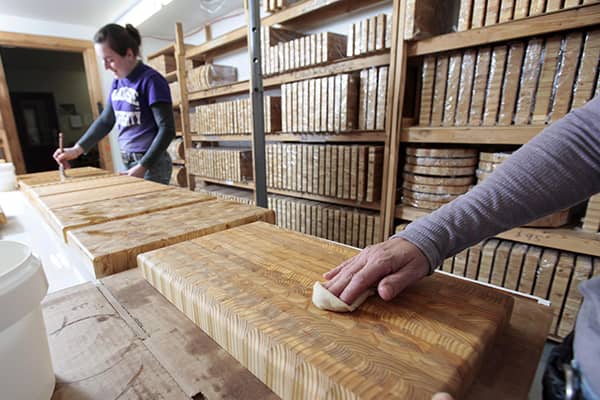 Functional art
From their rural Cape Breton base, Beamish continued to network and market the boards handcrafted from native Eastern Canadian larch (also known as tamarack, hatmatack and juniper) taking the product to wholesale and retail shows in Toronto, Montreal, and the United States.
"The cutting boards then took over as our main business. They're unique. They're very good looking and they're very functional. If you take six boards and put them side by side, you'll see each one is quite different because the grain is so varied."
Larch trees grow in varied area climates, making the wood really interesting to look at.
The company's products—cutting boards, chef's blocks and cheese boards—all start with logs put through their own sawmill, ensuing quality control, he says. The wood is kiln-dried and milled on site, then hand selected.
Beamish says staff all have an appreciation. Longtime employees, he marvels, even still stop and say 'Wow, look at the board, that's really beautiful.' There's definitely a pride there. We market them as functional art. They stand above and beyond for their good looks and durability."
It's been an easy product to market, he says. People see it and they want it.
How does he explain the draw?
"It tells a story, from log to finished product. People want to buy something they actually know how it was made.
"That, and how we lucked out coming up with a product that people are immediately attracted to."
Larch Wood's best-selling product, the medium size cutting board, retails for $220, and Beamish says they have no trouble selling at that price. It's a high-end product, and with proper care, lasts for generations.
In 2016 they made about 10,000 cutting boards, up nearly 25 per cent over the previous year; and sold nearly all. Beamish estimates 45 per cent of sales come from Canada with the remainder from US and international customers. Among their clients is US kitchen giant Williams-Sonoma, which has some 250 stores. Accolades have come from across the globe, from Academy Award-winning actor Alan Arkin to international chefs.
Marketing ideas
Beamish says the biggest explosion in interest came from trade shows. They've also waded into social media marketing, and sell directly online, too. A few years ago, they were approached about a video series showcasing small businesses in Canada. The video, available on YouTube, launched in August 2015, and as of January 2017 has 910,000 views and counting. Web sales, not surprisingly, spiked.
With success comes gratification.
"Our main thing is to be able to employ people year-round. Most of the money we put back in the product."
Larch Wood employs 14 full-time and another five or six in seasonal sales. A small core staff have been there since the start. There's always some turnover, Beamish says, but it's been pretty good.
The main Larch Wood facility in East Margaree, near the Cabot Trail, is open year-round, and a smaller outlet operates seasonally in Margaree Harbour. Beamish estimates that 20 to 25 per cent of sales originates from these two locations, which attract many tourists.
They're also embraced by the community. Larch Wood boards are a go-to gift for locals, for weddings, for birthdays. "People are very supportive. They love the fact we use local wood and local people," Mr. Beamish says.
People love a story
Does Don Beamish have advice for others? "As far as rural-based businesses, I think you need a good and unique product to begin with. People love a product with a story behind it, don't ever underestimate the power of that."
Online sales opportunities and marketing venues such as trade shows are crucial for a rural business, helping to bring products to a wide audience beyond local borders.
"You do need to get your brand recognized, and it takes longer than you think to achieve that. You may need more financing then you might initially budget for."
It helps to have a product that is exportable so you can be open to the huge world market.
"My philosophy with Larch Wood has been to never go too deeply in debt and make smaller incremental changes every year. Even a large government interest free loan can be too much to recover from." He was excited to share that the company will be debt-free in 2017 when they pay off their remaining loan obligations.
Over the years, Larch Wood has received funding from the Cape Breton Centre for Craft and Design, Nova Scotia Business Inc. and Enterprise Cape Breton Corp., which allowed the company to attend trade shows and expand its market.
"We're pretty happy with what the government has done to support us," Beamish says. While things are good now, he recalls, "It gets pretty lean, a business like ours. Most of the money you make is from July to Christmas."
Laurel Broten is president and CEO of Nova Scotia Business Inc., the business development agency for Nova Scotia, which works to attract global investment to create new jobs across the province and with companies in all communities to be more successful exporters. She says companies like Larch Wood are a great example of a business leveraging the demand for high-end unique products in key markets by exporting.
"They're competing on an international stage and just one of the many examples of a rural business serving customers around the globe. A company like Larch Wood clearly demonstrates the value and impact exporting can have on a company's growth. The positive impact of exporting is palpable. In addition to directly increasing customer reach, exporters make more money, are more productive, and stay in business longer than non-exporters. To my mind, three great reasons to embrace export."
Beamish says custom countertops are a growing part of the business. They've sent them as far away as the Bahamas and California and are attending an interior design show in Toronto to specifically market the countertop for the first time. They still makes flooring, but it's less than five per cent of their annual income. They're proud that they don't use a huge amount of wood and they're creating year-round employment. "We probably use about 300 cords a year. We're not devastating the forest to produce our product."
One of Don Beamish's passions is to help promote more businesses and mentor others. "We see so much, we're out marketing and selling for three to four months. There are a lot of different things that could work here."