The frantic non-stop work that goes on behind the scenes to keep our ski hills viable
It's December 6 and Ski Martock Road is bare and the surrounding woods are brown and grey. There's not a flake of snow on the ground.
Pulling into the parking lot, however, is like entering a snow globe. Snow guns are blasting at the bottom of the hill and up and down Sundance (the wide trail that runs under the chairlift) filling the air and covering the cold ground with sparkling white. There's even a dusting on the roof of the lodge.
"It's like instant winter," says Andy MacLean, Martock's operations manager. "I call them winter-making machines."
Snowmaking equipment has been running on the hill non-stop for the past 36 hours. This is the first snow of the season and it has put many of Martock's employees in a giddy state. In the first aid room—where ski patrol members are organizing their equipment and prepping their toboggans—there are smiles, hoots, hollers, and even some excited jumping. The season is nearly here. With the temperature now often dropping below freezing and snowmaking underway, the countdown is on to opening day. It's a scene that plays out annually at this time of year at Atlantic Canada's 11 ski areas.
Clad in a puffy jacket and a baseball hat, MacLean says the plan is to open the hill—located near Windsor, NS—in less than two weeks. But there's still plenty to do before Martock can welcome its first winter visitors.
MacLean, 51, has worked here for 32 years since starting in the rental shop as a teenager. As the hill's long-time operations manager, his year follows a predictable schedule. During the slower summer months he is one of a half-dozen full-time employees. Off-season tasks include general maintenance, booking school visits for the upcoming winter, scheduling ski and snowboard lessons and training sessions, and, perhaps most importantly, selling season passes. (Martock sells 75,000 a year).
In the fall, maintenance crews come onboard to start preparing Martock's chairlift and T-bar. A typical ski season runs from mid-December until the end of March. At winter peak, in late January and February, Martock employs 200 people.
On this day there are just 20 on site, all working to get the hill operational for the 100-day season. "The basic nuts and bolts of how you get ready for winter is the same everywhere," MacLean says. The work still has to be done, though.
MacLean makes a sweep of the lodge to check on this year's preparations. He first walks through the kitchen, which is in the final phase of renovations. Food is starting to arrive, including an order from Pepsi. Food sales make up a large chunk of Martock's revenue. "We sell a lot of fries," MacLean says, passing out of the kitchen.
He walks to the lower level of the lodge and into the service shop. Eddie Fleet is standing at a workbench, adjusting a snowboard binding. MacLean introduces Fleet as "Eddie the Edge." "A lot of people will only let Eddie touch their skis and snowboards," MacLean says.
Like MacLean, Fleet is a three-decade Martock employee. No visitors are on the hill yet, but Fleet has been tuning gear and sharpening skis and snowboards for more than a month now. The entire rental fleet of 320 snowboards and 687 pairs of skis must be inspected and tuned before the season starts.
Following his loop of the building, MacLean returns to his office. The walls are covered with stickers, and two of his snowboards are leaning against a wall, ready for the first runs of the year. (MacLean is also president of the Canadian Association of Snowboard Instructors).
At 11am MacLean picks up his desk phone and calls Jim Boylan for an update on the snowmaking effort. Boylan, who owns Martock with his wife, Heather, doesn't have time to talk by phone. The temperature has risen slightly and it's time to shut down the snowmaking equipment.
"Coming your way," MacLean tells his boss. He'll talk to Boylan face-to-face.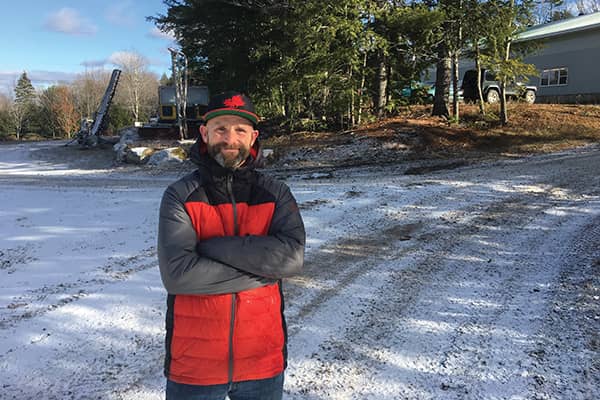 MacLean walks from the lodge to the snowmaking plant, where large pumps—with a maximum power of 2,500 horsepower—push water and compressed air to the top of the hill via two pipelines. The air and water are mixed to make snow, which is blasted from as many as 80 snow guns positioned over the hill. Martock pulls its water from the nearby Avon River, and can turn 10 tons of water into snow every minute.
"There are no hills in Atlantic Canada—there are very few hills in the world, certainly in North America—that can rely solely on natural snow," MacLean says.
"I was at Whistler (in British Columbia) last week snowboarding and the snow guns were running the whole time. It's as simple as being able to offer a consistent season. You need to have snowmaking."
Under the chairlift, MacLean has to trudge through half a foot of loose snow. He pulls up his hood to keep the stuff off his head.
MacLean finds Boylan in one of the two buildings that house the snowmaking pumps. The noise is deafening. Boylan, wearing ear protection, has to yell for MacLean to hear him. Boylan pulls out his phone. An app displays the current temperature: minus-2.7 degrees at the top of the hill, but only 0.8 degrees at the bottom. It's now too warm to make snow at the base.
Boylan, who worked for Michelin before buying the hill more than a decade ago, is a hands-on owner. "I also flip hamburgers," he says while laughing and pointing over to the lodge.
Fickle weather
Weather represents a distinct challenge for Atlantic Canadian ski hill operators.
"We have unique weather patterns here in the Maritimes, as everybody knows," says Jordan Cheney, general manager of New Brunswick's Crabbe Mountain. "Dealing with that is a struggle sometimes."
Some winters deliver excellent conditions and lots of natural snow. Last winter, by contrast, brought a record low snowfall. "Never knowing what you're going to get is unique," Cheney concludes.
Crabbe Mountain is located in Central Hainesville, 45 minutes northwest of Fredericton. Reached at his office, Cheney reports excellent early-season conditions: there's already a foot and a half of natural snow on the ground, and the temperature is allowing for plenty of snowmaking. He expects to open in the next few days, with the majority of the hill's 23 runs available. "Typically we're able to open one run this time of year but we're looking at a dozen or so for Sunday," he says. "From one year to another it can change quite drastically. You have to be prepared for the worst case scenario."
Being prepared involves investing in new snowmaking equipment. Crabbe Mountain recently bought 13 new snow guns, which require less energy and less compressed air. The new equipment, which brings the total number of guns up to 37, can also generate snow at marginal temperatures.
"The windows for snowmaking are not very long. You have to be ready to go when they hit so you can get as much area covered as possible," Cheney says. "With this new gear, it just opens that window up a little bit more."
According to Carl Whittier, all East Coast ski hills have switched over to newer snowmaking equipment in recent years.
Whittier, the owner of Whittier Canada Enterprise Inc., sells snowmaking systems to hills across Canada. In Atlantic Canada, he notes, modern equipment has helped neutralize the often-negative effect of the nearby ocean, allowing operators to provide more consistent conditions—even when the weather is fickle and mild.
"Now they can pump a lot more water, a lot faster, and get a lot more of their ski terrain open sooner and faster," Whittier says.
Back at Martock, Andy MacLean has returned to his desk after a full day on the hill. He was one of the first on the chairlift and planned to only make a couple runs. "But I've been out all day," he says somewhat sheepishly. "The conditions are mind-bogglingly good. It's unbelievable.
"I couldn't come in. I tried, but I couldn't."
It's now December 19 and Martock has been open for three days. On opening day, a Friday, the temperature dipped to minus-17, with the wind chill making it feel much colder. As a result, the hill was sparsely populated. Crowds and 10 centimetres of snow arrived the next day, but by Sunday the temperature was up to plus-12, melting all the fresh snow.
"Welcome to Nova Scotia," MacLean says of the wildly fluctuating weather.
Today, though, the excellent conditions have MacLean excited for the season. "We're making snow like crazy," he reports with enthusiasm, noting that one trail is open and more will open soon.
"This year it does feel like we're off to a pretty good start," he adds before pausing briefly. "I'm knocking on wood now—I don't want to jinx it."
Economic ups and downs
Atlantic Canadian ski hills provide an economic boost in many rural areas, though profits often remain elusive.
Martock, near Windsor, NS employs 200 people at peak season. Crabbe Mountain, near Fredericton, has a peak employment of 55 full-time and up to 60 part-time workers. "We're the second biggest employer in our area next to the Nackawic pulp mill," says Crabbe's general manager Jordan Cheney. "We provide a lot of work for a lot of people in the immediate area." Crabbe Mountain attracts visitors from Maine and Quebec and is currently developing subdivision lots near the hill to encourage more overnight stays. More than 90 families currently own chalets at the hill. Crabbe doesn't yet offer accomodations, but Cheney says they hope to in the next few years.
Determining the full economic breadth of the region's skiing and snowboarding industry is difficult. "The nature of the ski areas is to be somewhat secretive about their financials, so getting a clear view of economic impact is a challenge," says Paul Pinchbeck, the president and CEO of the Canadian Ski Council (CSC). Pinchbeck adds that a better understanding of the economic impact would allow the CSC to better advocate for the industry.
According to Pinchbeck, the average Atlantic Canadian ski area has gross revenue of $2.7 million, with EBITDA (earnings before interest, taxes, depreciation, and amortization) of $190,000. "But once depreciation is factored in, they move into a loss position."