by Mike Parker
Pottersfield Press
182 pages
It's titled Nebooktook (a Mi'kmaq word meaning "in the woods") and this heavily illustrated work is Nova Scotia best-selling author Mike Parker's 17th book in 29 years. He may well be in a productivity category of his own.
Now, a Pulitzer may not be in the offing, but the man deserves a medal and heartfelt thanks. Think The Tent Dwellers. As we bury what appears to be the last generation of true outdoorsmen and women and all that they know and stand for, we are also burying an accumulation of intrinsic knowledge that is not taught in any classroom or seminar or DVD. It's a life that had to be lived to be learned.
Mr. Parker has been steadfastly and meticulously recording, for posterity—so it won't be totally buried and lost—"unrepentantly nostalgic" verbal and pictorial memoirs of a culture unique to eastern North America, from northern Ontario to Maine and Quebec and all through these Atlantic Provinces.
This latest work is both an easy read and a very clever format. Kids could enjoy it. The more than 300 black and white images graphically depict precisely what these folks looked like as they went about their woodsy pursuits. There's a proliferation of pipes and wool pants held up by suspenders, of tin teacups and campfires, canoes and canvas tents and cabins and lean-tos.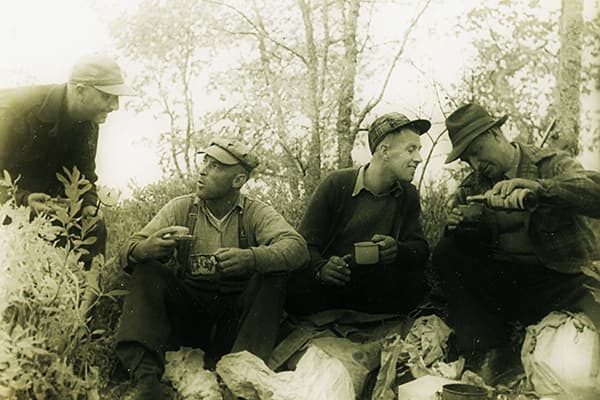 Early last century, these people didn't ride along woods roads in air-conditioned 4X4 vehicles or ATVs—they hiked and carried and portaged their way in. There was no GPS for guidance, no cellphone in case of injury or emergency, and perhaps worst of all—no fly dope.
But neither did they traverse any ugly clearcuts or drink polluted water or trip over discarded Tim Hortons cups or suffer the torture of the din of tree harvesters 24-7.
The bulk of the text, beyond photo captions, consists of quotes from some of the most celebrated authors of our time on all matters related to nature and the outdoor life. They're all there: Henry David Thoreau, Ralph Waldo Emerson, John James Audubon, Aldo Leopold, Ed Zern, Rachel Carson, Sparse Grey Hackle (Alfred Miller), John Buchan, Gregory Clark, even Izaac Walton—and some luminaries: Herbert Hoover, Franklyn Delano Roosevelt, Pierre Elliot Trudeau, among others.
Page after page after page of wise words. The theme is constant—greed is destroying that which gives us life.
But if the prose is sparse as books go, the sheer volume of historic photography and the effort that must have been required to collect it is impressive. Mike lucked into the family of one of the guides featured in The Tent Dwellers and uncovered a treasure chest of images, and so on—all old attic chest stuff.
For all those who agree with Canadian poet Bliss Carman that "the greatest joy in nature is the absence of man" this is a must read and a collector's item. Your kids will love it. Your guests will love it.