Cape Breton's Colaisde na Gàidhlig set to become international Gaelic hub
"I want to become fluent in Gaelic," says 15-year-old Sarah MacInnis, one of 10 Na Gaisgich Òga, or Young Heroes, in the youth Gaelic mentorship program, run by Colaisde na Gàidhlig/The Gaelic College in St. Ann's, Cape Breton.
"It's the language my ancestors spoke, they fought really hard to keep it alive," says the Grade 10 student from Mabou, NS, now in her second year with the program. MacInnis is studying Gaelic and learning about its accompanying culture through immersion sessions at the college and in the community, where she is paired with a mentor. "We speak a lot of Gaelic, we visit with native Gaelic speakers, do some songs, history, music, pretty much everything. I like it."
The program, piloted last year and run in partnership with the Nova Scotia Gaelic Affairs office, is among a series of new initiatives from Cape Breton's Colaisde na Gàidhlig as it looks to the future with bold plans.
For MacInnis, such programs are important. "The Gaelic language's origins have been around for 8,000 to 9,000 years, and we need to keep it alive."
It's a fun way to learn, in a natural setting, says the teen, who admits that until a few years ago she wasn't interested in learning Gaelic. "I went to a milling frolic at Mabou Céilidh Days and my friends were singing Gaelic songs, and I wanted to be like them. They inspired me," she recalls.
For 12-year-old Nolan MacPhee of Antigonish, NS, spending three days during March break last year, learning beginner Gaelic (Dè an t-ainm a th'ort? What's your name? 'S mise Nolan), playing guitar and taking other workshops at Colaisde na Gàidhlig was so fun he convinced his parents to let him switch from Core French into the Gaelic program at his school. He came back to the college for a week-long program last July, and is already looking forward to attending next year.
"It was 50 per cent easy, 50 per cent hard, but it was fun and I wanted to learn it because of our heritage," says the Grade 7 student. "I would say English would be a harder language to learn than Gaelic."
A long legacy
A piper's stirring melody fills the morning air as I pull off the Cabot Trail and into Colaisde na Gàidhlig. The duty piper, in full regalia, backed by rugged highlands, is often the first person visitors see on arrival, and the first indication they've happened upon something special.
"As you come up the crest of this hill and hear the faint sound of music, it's meant to be a welcoming piece. We do really want to invite people in," marketing director Margie Beaton says of the longstanding summer tradition.
The college offers instruction in 10 Celtic disciplines, such as Gaelic language, Cape Breton fiddle, weaving and stepdance; March Break and after- school programs are available for younger learners while summer sessions and Gaelic cultural weekends are on offer for both youth and adults.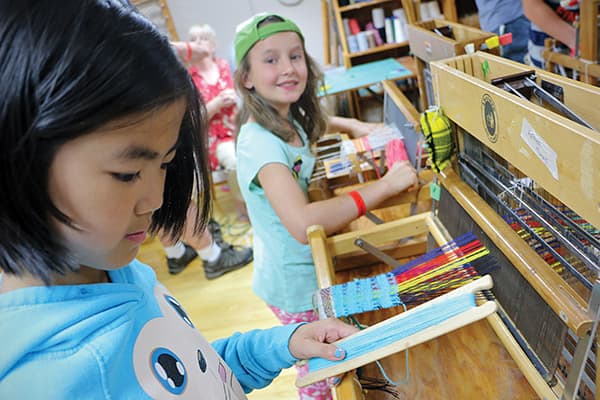 Tradition reigns on these grounds, in a province where Gaelic's been spoken since at least 1773, but make no mistake, Colaisde na Gàidhlig is much more than a cultural capsule. And big plans are in the offing. "Our goal is to make this a truly year-round facility, similar to Sabhal Mòr Ostaig (Scotland's Gaelic college on the Isle of Skye)," says the college's CEO, Rodney MacDonald, a former Nova Scotia premier, and accomplished fiddler and dancer.
The college has become more aggressive in its programming, he says. Administrators have hired new staff and created an expanded course selection to include credit courses offered onsite, online and through various mediums. The plan is to establish the college not only as an important local institution but also as a national and international hub for Gaelic culture and activity.
The reason?
"We don't want to just exist," says Beaton. "We believe in what we're doing and the good that comes out of it. We want to survive and thrive and for the culture to be lived. That's our mission."
But they want to ensure it's done in an authentic manner, MacDonald adds. "We believe that we have a responsibility to do our part in teaching the history and language of the Gael to those that call Nova Scotia home."
New initiatives
A plan for capital upgrades onsite includes both new construction and refurbishment of various existing buildings. MacDonald says they will begin raising money—private, corporate and public—when all plans are completed for the capital upgrades. They expect to move forward this year.
The college is also working through the details of a Memorandum of Understanding (MOU) with Cape Breton University to offer a six-week intensive Gaelic language session this spring. Classes will be both onsite and in the community, and students will receive university credit. "We have a lot of high hopes there," Beaton says. "We're always expanding."
Proof of this certainly came last year with the introduction of KitchenFest, Féis a' Chidsin, an ambitious, annual weeklong cultural and musical celebration, featuring nearly 80 shows around Cape Breton with about 20 at the college itself.
"The previous year, the college had celebrated its 75th anniversary with a series of onsite concerts and events. It proved so fun, we decided to go island-wide," Beaton says.
Intended to kick off summer and to showcase music born of Cape Breton kitchens, KitchenFest gives a closer look into Cape Breton's lifestyle and music. "The kitchen, that's where things thrived," Beaton says. "We had a Gaelic host at each one, representing hospitality, but also to have the language represented in its true form."
Another new initiative came when Colaisde na Gàidhlig partnered with Gaelic Affairs to offer Na Gaisgich Òga for youth. "It was a huge success. We saw marked increase in their skills," Beaton says.
The college also introduced an extension department in 2013, led by twin brothers Keith and Kyle MacDonald, both St. Francis Xavier University education graduates, and talented musicians. As culture instructors based out of Halifax, NS, they've visited thousands of students in schools across Nova Scotia. "The idea is to educate people about the culture and shed light on how people can get involved within their own neighborhoods, with local lessons, milling frolics, square dances, and the like. So far, the response has been very receptive," Beaton says.
Online instructional tutorials is another new effort. The college recently finished producing online video lessons in six disciplines, Scottish Gaelic language, Gaelic song, Cape Breton fiddle, piping, piano accompaniment and step dance.
And the college recently unveiled a new logo, part of its efforts to have Gaelic more prominently displayed. "We wanted to put a new face, a bilingual logo with Gaelic at the forefront," Beaton says.
The plan seems to be working. The college is seeing increased interest and higher numbers than they had just five years ago.
From far and wide
The morning céilidh demonstration has just started when MacDonald asks the crowd where they're from. 'Miami,' shouts one. "Texas. New Jersey. Washington," chime in others. "Ontario. Pennsylvania. Quebec, Long Island, New York," come the replies from around the college's Great Hall of the Clans, framed by stone wall and clan tartans.
MacDonald explains to the crowd about Cape Breton fiddling, the speed, the style, how fiddlers hold their instrument, how the music tends to follow families—his great-grandfather was a fiddler, so was his grandfather, his uncle, his cousin—and about the close connection between the fiddle and the Gaelic language, piping and dancing.
MacDonald plays the fiddle and instructor and Cape Breton native David Rankin begins to dance.
"You don't want to take up a lot of space, you want to be close to the floor and light on your feet," Rankin says, as he nimbly demonstrates a few steps, telling tales and illustrating a party trick he calls "snuff the candle," jumping in the air and clicking his feet together as if extinguishing a candle.
The crowd can't get enough. They ask questions and want to know where they can take in a good céilidh.
From June to October, for a small fee, visitors can take part in these daily demonstrations, to learn about the fiddle, or kilt making or storytelling. They can visit the museum in the Hall of Clans, telling both of the journey of the Scots to Canada and the college's establishment, or browse the craft shop and attend a lunch céilidh.
"We want people to take part, to tap their toes to the music," Beaton says.
Many returns
"We could have used you last night," Norma Vanderzon of Toronto says to my 11-year-old, who's started an impromptu stepdance as fiddle instructor Dara Smith-MacDonald tests out a tune.
We're in a basement classroom, waiting for the intermediate fiddle session to start; students are chatting about the céilidh the night before, where instructors and students showed their stuff on stage.
Vanderzon was born in New Waterford, Cape Breton but moved to Toronto with her family at age five; she has been coming to the Gaelic College for the past 12 years.
Her uncle built the fiddle she now holds. "I thought it was so beautiful and I asked to buy it from him. My husband asked me what I planned to do with it, that I shouldn't just put it under a bed."
She agreed.
Vanderzon arranged for lessons from a fiddler named Sandy MacIntyre, who suggested she come to the Gaelic College. That was more than a decade ago.
"I love it here," Vanderzon says. "You're really immersed in a unique culture that exists here. It's a unique place because of the Gaelic influence. It's a nice relaxed atmosphere here. There's no pressure."
Vanderzon says she didn't play a note when she came. "That lady taught me," she says pointing to Smith-MacDonald. "Dara did extra work with me."
Along with fiddle lessons, Vanderzon fills her summers with Gaelic song and lessons in the big drum, the bodhran. Once during a Gaelic song session, she asked the instructor if she knew a particular song her grandmother used to sing. She did. "Oh, it melts my heart. It's the emotional tug, and connecting with my roots."
Growing interest
"You guys are getting great jigs," Smith-MacDonald says, as her students sit in a semi-circle in front of music stands, fiddles in hand. "We have to really buckle down and get through a strathspey."
"Let's try it again. If it goes well, we'll do the whole tune. If not, I'll stop you, and we'll fix what we need to fix."
It's intimate learning: a small group session. She stops, calls each student by name. Asks how they think their tune is going and gives time to ask questions.
Music was once isolated and insular on the island. "We were cut off before technology and the change of times. This music and culture was very isolated with it, and that helped preserve it," Beaton says.
New initiatives at the college—not to mention the Celtic Colours International Festival, which each October brings hundreds of people to Cape Breton—are changing all that.
"People are witness to something that is a very old style," Beaton says, "however, the door is now open for people to come in and go out."
Gaelic in Nova Scotia

In 1773, the first ship carrying Gaelic settlers reached Nova Scotia. Today, the province is the only region outside Scotland where Gaelic language and culture remain everyday aspects of community life, says the Gaelic Council of Nova Scotia. It's estimated there may have been as many as 100,000 Gaelic speakers in the province in the late 1800s. That number dropped significantly over the years. Reasons cited are low status for and institutional exclusion of the language, resulting in ridicule and punishment in public schools, along with economic disparities and out-migration. As a result, Gaelic language and its attendant culture experienced severe decline throughout 20th century Nova Scotia. The establishment of the Gaelic Council of Nova Scotia (1990) and subsequent planning and advocacy efforts lead to the establishment of the Gaelic Affairs office (December 2006) and renewed efforts to preserve and develop the province's Gaelic language and cultural assets. Lewis MacKinnon, director of Gaelic Affairs in Nova Scotia, reported the most recent census in 2011 showed 1,275 people said they spoke Gaelic in the province. That number was only 490 in 2001. He says the increase is the result of numerous programs and activities offered at the community level and in local schools.