Living the good life before cable and computers, in a small, New Brunswick town between the forest and the sea.
My grandfather's house, in Dalhousie, NB, was one of several built in the 1920s by a paper company for the men and their families who would move to the little town beside the bay to start a mill. My grandparents were from Newfoundland, part of a group of families who were offered a chance to come to Northern New Brunswick to apply the skills they learned in the Corner Brook mill. Most of them were barely out of their teens and several were starting young families. The men would come first and, once established, would send for their wives and any children.
My grandparents first lived in a cold apartment that was "over where the Five and Dime used to be," a temporary arrangement until the company houses could be completed. They would often tell how they were coming in the front door and the painters were leaving from the back, and would express how good it felt to be moving to such a big new home. Moving wasn't anything new for my grandmother, who, with her sister, had left Newfoundland as a girl still in her early teens to work as a domestic in the New England states. For these hardworking outport people of the Rock's west coast the new houses-two and four family dwellings three storeys high-were luxurious, early versions of the townhouse, with gleaming hardwood floors and plenty of windows.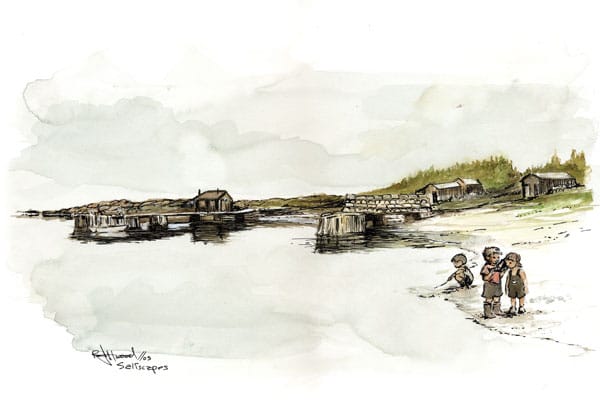 For James Gallant and Emily Applin it would be the house in which they would raise a family. Most of their seven children would be born here, two of whom would not see their first birthdays, and later, various grandkids and family members, myself included, would live or be raised here.
When my mother and her siblings were young it was not uncommon for people from "back home" to visit, fresh off the boats in port to load paper. Strong accents, late night games of cards with a lunch and a drink of black rum here and there would prevail.
My mother was a newly single parent when she and I came to live with my grandparents in the early '60s. Grandfather's house became my home base-first the big backyard with an apple tree and huge maples towering over from the yard next door and then, as I became a little older, the whole neighbourhood.
In those pre-cable, pre-computer days there were kids everywhere. The prevailing attitude was that a kid should be outside playing in the fresh air. And play we did, going from the Tonka trucks and sandbox toys of the very young to games like kick the can, hide-and-seek or street hockey. We played cops and robbers or war with an assortment of store-bought and homemade toy fire power, or with peashooters made from a board, an elastic and a clothespin, put together on the sly given parental worries about us "poking an eye out."
We became proficient in the game of knockers, hitting the marbles off the wall and trying to tag our opponent's collection on the ground. We learned to master, at least in our own eyes, the yo-yo, Hula Hoop and Slinky.
My friends and I hated school with an all-encompassing passion, yet we embraced education as long as learning was on our terms. In the classroom of youthful camaraderie we learned economics through the trading of comics or hockey cards, or by mowing lawns or shovelling snow. Before we ever had a physics class, rocks, snowballs, apples and even an occasional rotten egg taught us about trajectory. With wooden sleighs or cardboard boxes to protect our heavy woolen pants from the snow we learned about gravity and friction, and in a few years homemade beer (brewed in a garbage can) would teach us about chemistry. Snow huts, clubhouses, go-carts and birdhouses were exercises in design and engineering, and National Geographic Magazine, discussed in terms of wonder and awe, was our first lesson in female anatomy.
My grandfather had a Grade 3 education and he read the newspaper every day. Not an extraordinary thing in itself, except his method wasn't a casual perusal of the headlines before work or a quick half hour over the front page in the Saturday edition. In true McLuhanistic fashion he climbed into it, the bathtub replaced by his La-Z-Boy, and with the possible exception of the sports section he read every word from the first page to the back, classifieds and all. I can still see him sitting there, a fixture when you came in the door: always a white shirt and narrow black tie, his sleeves rolled up and his dark hair slicked back over the top of his head. He had the paper folded just so and as you walked by you could catch a hint of tobacco, Brylcreem or Lamb's Navy.
Granddad's love of the newspaper was equalled by my mother's affection for books, something she passed on to me. She read to me every day, and I soon learned to finagle a story or two from my collection of aunts and older cousins whenever I could. I grew up surrounded by books of all kinds, and every genre was gobbled up with equal attention. I might read The Wind in the Willows or A Dog of Flanders one week, following it with Zane Grey or The Hardy Boys the next.
I spent hours in my room in the attic on grey summer days, with warm rain tickling the cracked putty and making small rivers across glass, or on winter nights, wrapped in an old quilt or sleeping bag, my company being literary giants like Stoker, London or Smilin' Stan Lee. Stretches of the imagination were occasionally punctuated by glances at the streetlight across the road, a pale yellow beacon that allowed me to gauge the rate of snowfall and thereby the chances of a snow day from school. I would travel the world on a page, transformed by scratches of pigment on bleached cellulose into a young Walter Mitty.
Ours was a small town lying between the forest and the sea. In a few short years we would all vow to leave as soon as we were old enough, but as youngsters we were blessed with enough wonder of an immediate world to not look over the horizon for happiness. What we lacked in worldliness we made up for in small town spirit.
One day a man stopped and asked my grandfather for directions to the university. My friends and I thought that was pretty funny since everybody knew there was no university in Dalhousie. Granddad didn't have the heart to tell him, and sent him up to the high school.
Our naïveté was our shield. Today's children grow up overscheduled and fast-technology, the media and the Internet give them little choice. We grew up when a kid could be a kid and were lucky to be able to look at life without suspicion. While Vietnam was raging we carelessly roamed the forest and the shore, chasing field mice or collecting frogs' eggs, the jellied mass put in a bucket near the back door so we could watch them hatch and grow legs. We spent hours at low tide turning over slimy, barnacle-encrusted rocks to see what lived underneath. We swam in the bay with a mask and snorkel, pretending we were Jacques Cousteau, the only other scientist we knew besides David Suzuki and Doctor Ballard.
Cooking mussels in tin cans over smoky, driftwood fires, barefoot or in black canvas "bulldog" sneakers or rubber boots with the tops rolled down, we were the kings of summer. We would hold court on the beach, perched on logs or sitting on old towels spread out over the collection of small rocks and seashells we optimistically called sand. Our feast of seafood and the occasional peanut butter and jelly sandwich was washed down with the cold, clear water from the spring that trickled from the hillside. At day's end we would mount our steeds and, with the steady clicking of baseball cards against chrome spokes, would make our way up the long incline towards home. The kid on the three-speed banana bike would have a distinct advantage until we reached the pipeline and, then the field levelling out, my CCM coaster bike with the straight handlebars would take over.
As we arrived home with salt-bleached hair and peeling noses most of us would agree that the multi-speed bike would never catch on.
No matter where our mood or inclination took us we all had to be home when the nine o'clock whistle blew. We called it a whistle but it was actually a horn, like a foghorn but louder and with more of a sense of urgency. It was originally an air raid warning for lights out during the war, and after that was used by the fire station to indicate to volunteers where the fire was. Every household had the fire zones typed up and stuffed in the phonebook or taped on the fridge, and we would count how many horn blasts and then consult the key to find out where the fire was. The nine o'clock whistle went off every night at nine sharp, able to be heard for miles around, and it was my cue to head back to grandfather's house.
Eventually I would go down the road-out of the whistle's earshot. Leaving home is so much a way of life on the East Coast that it's almost a defining characteristic of our multicultural fabric. For reasons of economic necessity or curiosity of a bigger world, we venture forth, some of us going around the corner and others going around the globe. No matter why we leave and no matter where we go, most of us suffer a longing for the place we thought we were glad to leave in the first place. For some it's overpowering and for others it's so subtle that it's almost imperceptible, but there nonetheless.
I've never lived so far that I couldn't walk to the nearest highway, stick out my thumb and be home the next day. I came home for good that way on a wet November morning, starting out on a Halifax transit bus with my guitar case and kit bag, taking one last wistful look at where I had been. There was a damp chill down the back of my neck, $26 in my wallet and a constant companion: anger-courtesy of Alzheimer's disease, which was eroding my mother's personality and was my reason for moving back home.
My generation didn't hop rail cars; we followed the asphalt instead. It amounted to the same thing I guess. It's not the short, local journey of some kid going into town on Friday night, but the long haul that lets you experience the isolation, the independence. Wherever you went you ran into somebody from back home. I would see a lot of other guys around my age on the road, every one of them coming from somewhere and going some place else, for reasons all their own, with a handful of change and itchy feet. A bandanna tied on the end of a pole was replaced by a knapsack or duffel bag as they stood by the side of the road in the sun or the rain.
In many ways my last trip home would become the last trip of my boyhood. It was my mother's house now, though to me it would always be grandfather's house. As she became less and less able to recognize her only child, grandfather's house became where I would at last make the final step from boyhood to the world of adults.
I think we all have our own version of the nine o'clock whistle in our heads, urging us back to the home of our youth. A lucky few can do it literally and most of us do it figuratively, through recollection and the traditions that we pass on to those who come after us. My grandparents and mother are long gone now, but their ghosts and memories are as much a part of the house as the wood and the plaster.
It's my house now and I still sit on the porch or in the attic, sometimes reading the words and thoughts of others and sometimes putting down my own. I've got a young daughter, and we may move away, closer to my partner's family. It will be surprisingly hard to leave this old place. People say you can never go home, but no matter where I go or why, I'll always take a piece of my grandfather's house with me.
P.G. Coburn is a paramedic who lives in Dalhousie, NB. He has written for Goat Tracks Magazine: Journal of the Working Goat and Rural Delivery.