They may not fit the rosy, highly polished stereotype of modern-day varieties, but heritage apples provide an important link to a sweet tradition. And their tastes? They're second to none.
A lone apple tree, the only one of its kind, stands unheralded on the manicured lawns of the Prescott House Museum near Starr's Point, in Nova Scotia's Annapolis Valley. The tree is officially called a Charles Prescott, the name of the builder of this 19th-century estate and the man credited with spreading hundreds of apple varieties throughout the Valley.
Ironically, this tree is a modern variety, developed at the Atlantic Food and Horticulture Research Centre in nearby Kentville. It is not one of the famous heritage varieties that Charles Prescott imported, adapted and nurtured, here in the magnificent orchards that enveloped the white-washed mansion, their names-Pomme Grise, Tolman Sweet, Chebucto Beauty, Gillyflower, Golden Pippin-as exquisite and evocative as their tastes. Most of the Prescott apple trees were eventually chopped down, an inexplicable slight to the memory of Charles' horticultural vision and husbandry. The tastes of these heritage apples is becoming a dim memory as well-or they would be, except for a few stalwarts who steadfastly continue to grow them year after year. In scattered orchards across Nova Scotia, mostly in the Annapolis Valley, a few trees remain, guarded by apple enthusiasts who believe the old varieties are important reminders of history, culture and the genetic diversity that Charles Prescott championed.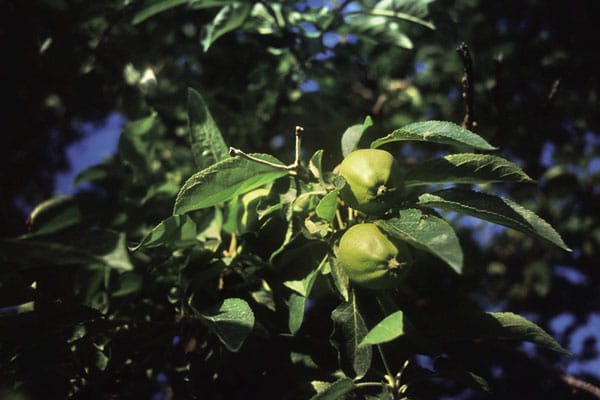 "There was always a barrel of Tolman Sweets in the basement, and a barrel of Baldwins just to eat fresh," recalls Prescott House manager, Nancy Morton, as she remembers the varieties her parents kept in storage. And, the great taste of apple pie made from the heritage variety Northern Spy. "I feel that the older varieties are gone because people can't afford to keep their orchards going," she laments.
Nancy and the museum's caretaker, Dennis Attwell, are seeking grafting material from heritage varieties to re-establish a small orchard on the property. They're looking to plant varieties such as King, Ben Davis and the Old-fashioned Gravenstein, the striped ones with the yellow blush. Last year, the remaining two ancient Gravenstein trees on the property were crushed by Hurricane Juan, further diminishing the Prescott legacy.
Like many farm families, Dennis Attwell's parents kept a half dozen trees for their personal use. "I enjoyed the King the best. But the King they have now is quite small. The King we had was as big as a Wolf River," Dennis says, referring to another heritage apple, and making a circle with his hands measuring more than eight inches. The family treat was baked apples made from the aptly named King. And although all the neighbours made hard cider, it wasn't made at Dennis' house. "Well, I'll tell you. As I got older, I would have," he says with a hearty laugh. "But my father wasn't a drinking man!"
Fortunately, the early Acadian settlers were drinking men, bringing their hard apple cider tradition with them when they came to settle around Annapolis Royal in the early 1600s. Champlain's 1605 diary notes "the cold was so intense that the cider was divided by an axe and measured out by the pound." This is the first recorded use of an apple product in North America. Apples were not native here, but the Acadians quickly established orchards at their new settlements, planting seeds and small trees brought over from France. Cider production was thoroughly transplanted to the New World.
In Anne Hutten's excellent history of Nova Scotia apples, Valley Gold (now sadly out of print), she speculates that common varieties grown in 17th-century France, such as L'Epice, Pomme Grise and Fameuse, were among the plantings made by the early Acadians. And some of these trees, planted before the 1755 Deportation, survived well into the 20th century. One particular tree noted by Hutten and felled in the 1930s, measured more than eight feet around the trunk and was still producing apples. Some original Pomme Grise French trees, grafted to modern varieties, existed as late as 1956 near Kingsport on the Minas Basin.
By the time of the Deportation, the 18,000 Acadians had spread an equal number of apple trees throughout the Valley, from Port Royal to present day Windsor. For five years the vacant lands continued to produce apples. When the Planters and Loyalists arrived from New England after 1760, they found a wealth of highly productive orchards that they maintained and enriched.
One of the most active apple enthusiasts from this era was Charles Inglis, the first Anglican Bishop in North America. On 5,000 acres near Wilmot, he both brought in and developed many new varieties of apples, and is credited with helping establish the potential of the area for commercial production. Among the varieties he worked on was a New England apple known as Bellefleur, which he transformed into the apple that still bears his name, Bishop's Pippin.
One day this fall, Marion Inglis will pluck a Bishop's Pippin apple from a tree on her 25-acre orchard near Tupperville. She is one in a long line of the Inglis family who can do this, thanks to her ancestor Bishop Charles. Marion will place the apple in a basket along with her Tolman Sweet, Bough Sweet, Old-fashioned Gravenstein, Fameuse, Nonpareil, Northern Spy and Astrachan apples, and cart them off to the Annapolis Royal Farmers Market every Wednesday and Saturday. Even after 80 years of being in contact with apples she still delights in pleasing her customers. "I have one person at the market who can't wait for the Astrachans to come, because they think they make the best pies going," she says.
Even though it's a little more difficult for her to navigate the orchard terrain these days, Marion will take you through what she still refers to as the French Orchards to show the places where the old Acadian cellars have been found. She is one of a very few people who still have Fameuse apples, a variety likely planted by the Acadians and stored in these underground spaces. When government agencies were telling people to cut down the old varieties to make room for the newer, more profitable kinds, Marion and her husband didn't listen. "We were stubborn enough not to do it because we didn't agree with it," she says proudly. "We said we had good varieties on our farm and we'd keep them."
Marion Inglis isn't pleased either with how few varieties consumers can generally get these days, usually just ones that ship well, are available in large quantities or have been promoted by extensive advertising dollars. "There are certain varieties that they look after and the older varieties have been pushed back, [but] they may taste just as good or better," she says empathically. For decades she has operated a roadside stand in front of her home that's a mecca for older people hankering for an apple they recall from their youth. And sometimes a new, young customer will stop by and experience an apple taste they never knew existed-perhaps, a Bishop's Pippin.
Across the road from Marion, her son Jim and his wife, Loretta, manage a large orchard of 6,000 trees. They have many of the local heritage varieties, along with the modern varieties, too. In 1991 they received their organic certification and now sell apples to health food stores such as Great Ocean in Halifax as well as at farmers' markets. They also produce organic, unpasteurized apple cider, providing the authentic taste of apples fresh from the tree.
All the licenses, the Canadian Food Inspection Agency regulations and the annual visits from certifying bodies tell you a lot about how the modern apple industry has evolved since Jim Inglis' ancestor Bishop Charles "played with different varieties," as Jim puts it. Gone are the days of the solitary apple visionary unfettered by regulatory bodies and marketing agencies.
But the modern apple industry and the scientists who support it still draw on the work done centuries ago by these apple pioneers. "There's big value for producing new strains and new varieties," Jim Inglis says, citing how new apples are often created by combining old varieties-the old gene pool preserves the sources and secrets for modern scientists. "There's always new problems cropping up, so they go back to the old varieties to see what has natural resistance and try to breed that in."
We can probably thank the Boy Scouts for our modern perception of what an apple should look like. Their posters and the selling trays hanging from their necks feature rosy red apples, the sun glistening off their highly polished surfaces. Many heritage apples don't fit that stereotype, but this hasn't deterred Marion Inglis and others from continuing to grow the unique varieties that made Nova Scotia apples famous. And why is preserving those tastes important to Marion? She gives a big laugh and sums up the long tradition championed by her famous forebear, Bishop Charles Inglis. "I've lived on an apple farm so long, I guess it's just part of my life!"
Where to find them
You can sometimes buy heritage apples at farmers' markets, or you can go right to the source. Here, a few commercial apple orchards that grow the old varieties and sell them directly to the public. Some are even set up for you to pick your own-fun for the whole family. Call for availability and hours of operation.
Boates Vinegar and U-Pick
432 Bligh Road (Kinsman Corner), Woodville, Kings County; 902-678-7671
Varieties: Rhode Island Greening, Golden Russets, Bishop's Pippin, King
Country Delights Farm
#2859 Malagash Rd, Malagash,
Cumberland County; 902-257-2981
Varieties: Bramley Seedling, Duchess, Wealthy, Fameuse
Inglis Farm
2611 Hwy 201, Tupperville, Annapolis County; 902-665-2427 or 902-665-4005
Varieties: Old-Fashioned Gravenstein, Tolman Sweet, Bough Sweet, Astrachan
Noggins Corner Farm
10009 Hwy 1, Greenwich, Kings County;
902-542-5515
Varieties: Wolf River, Cox Orange Pippin,Ribston, Northern Spy
Brian Kienapple is leader of Slow Food Nova Scotia, part of an international non-profit organization whose aim, in part, is to conserve agricultural biodiversity and protect traditional foods at risk of extinction.