Celtic pilgrims flock to Cape Breton annually to feel the heartbeat of its culture, throughout colourful hills and glens.
I first met Cazz on an October night six years ago in Dingwall, Cape Breton. I remember it well: a fierce autumn storm had come out of nowhere to hammer the northern part of the island on the same evening there was a musical tribute to the late Winston ("Scotty") Fitzgerald-a local fiddler who became a legend of Cape Breton-style Celtic music.
While the storm raged outside, more than 200 hardy souls enjoyed an evening of strathspeys, jigs and high-powered reels inside, in the rustic comfort of the Markland Coastal Resort. A talented quartet of local fiddlers kept toes tapping until the standing ovation, and the house ceilidh afterwards went on until the wee hours of the morning.
Which isn't unusual for Cape Breton, with its penchant having a good time. Yet this was one in a series of world-renowned concerts held during nine days every fall-now in its 10th year-as part of the Celtic Colours International Festival. The event involves hundreds of musicians and other artists from the region and the rest of Canada, as well as around the world, in a celebration of North America's only living Celtic culture.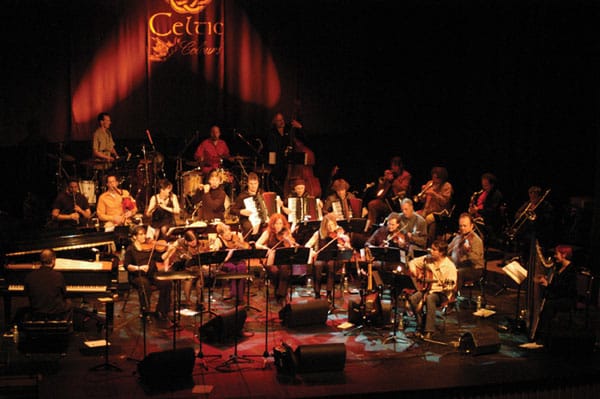 This year's festival, running from October 6th to the 14th, features artists from Scotland, Ireland, Wales, Denmark, Spain, New Zealand, England and the United States. With the exception of opening and closing concerts in large-capacity venues, events take place in small, intimate settings in rural communities throughout Cape Breton Island, reflecting the music and culture being celebrated. Getting there means travelling through the island's occasionally misty hills and glens and, in October of course, its forests of many colours-and the backdrop has become very much part of the attraction.
You couldn't do this just anywhere. Cape Breton was settled in part by Gaelic-speaking people displaced from the Scottish Highlands and Hebrides following the defeat of Bonnie Prince Charlie and the Jacobite Army in 1746. Generations later, Celtic traditions-especially fiddle music, step-dancing, oral story telling and Gaelic song and poetry-are alive and well on the island.
And if Celtic Colours seems like just another community event to its neighbours at home, the festival has gained a reputation for warmth and excellence among Celtic music enthusiasts worldwide. The people drawn to the island will all tell you the same thing: this is the best Celtic music festival in North America, and is ranked in the top three or four such events in the world.
One such fan is Carol ("Cazz") Wrate, from Chatham, a small city located about 60 miles southeast of London, England. She first found out about the international festival in January 2000, from a brochure she picked up at the Celtic Connections Festival in Glasgow, Scotland. Held during 19 days each January, the Glasgow event is considered the top Celtic festival in the English-speaking world. (The largest non-English speaking Celtic festival is the Inter-Celtic Festival of Lorient, held each August in Brittany, France.)
Cazz went from the brochure to the Celtic Colours website, became intrigued by the idea of a Celtic music festival in North America and decided to fly the Atlantic to check it out. She bought airline tickets and reserved bed and breakfast accommodations online, and nine months later was on her way. She fell in love with the music, with the breathtaking scenery and spectacular autumn colours and with the renowned hospitality of Cape Bretoners-and returned the following two years for more.
Cazz is not alone in feeling the draw of the island: last year the festival sold more than 19,000 tickets, bringing 6,000 visitors to Cape Breton and injecting more than $5,000,000 into the area's economy. Visitors came from 12 Canadian provinces and territories, 45 American states and 27 countries.
The Celtic Colours International Festival started, as such things do, with a dream. When Joella Foulds and Max MacDonald set up Rave Entertainment back in 1995, they already had a wealth of knowledge and experience with musical presentations on Cape Breton Island. Joella was involved in the Nova Scotia Arts Council, and a past chair of Arts Cape Breton. She was instrumental in bringing the East Coast Music Awards to Cape Breton while serving as its vice president.
Max was a past chairman of the East Coast Music Awards, a former vocalist with the musical group Buddy and the Boys and a cast member of the Cape Breton Summertime Review.
They had witnessed an extraordinary revival of interest in Celtic music in the early '90s, both in Canada and Europe. Cape Breton groups such as the Rankin Family and the Barra MacNeils-along with individual artists like Natalie MacMaster and Ashley MacIssac-were gaining an international reputation as musical ambassadors for Cape Breton's traditional Celtic music.
So, why not bring people to a place that preserves a vibrant Celtic culture? Why not set up an international festival, Cape Breton-style? And why not stage it during October, when it would not interfere with the annual series of summer music activities, and when it would have for a backdrop the stunning fall colours of the Cape Breton forest?
It took two years of hard work and dedication, but it came together on Thanksgiving weekend 1997, when 3,500 people gathered at Sydney's Centre 200 for the first ever Celtic Colours concert.
The evening opened with a haunting selection of Gaelic songs by Cape Breton's Mary Jane Lamond, followed by the amazing Celtic accordion styles of Sharon Shannon, from County Clare, Ireland. The crowd was primed for the big-name act of that memorable evening, and the Chieftains did not disappoint. These Irish traditional music superstars-who were celebrating their 35th anniversary that year-played their hearts out, and the discerning audience made them feel right at home. It was back to Cape Breton talent to close the concert: Natalie MacMaster, that blonde fiddling and step-dancing wizard, accompanying a group of square-set dancers from Mabou. When all the musicians appeared on stage for the grand finale, the entire arena was on its feet, and the musical model was set for all future opening night concerts.
This year there are 40 concerts-many held in intimate venues such as school gymnasiums, community centres, parish halls and churches-throughout 30 or more mostly rural communities. International highlights include Galician piper Carlos Núñez, Haugaard & Høirup and Karen & Helene from Denmark, Welsh quartet Crasdant, and the best band winners at the 2006 BBC Folk Awards, Flook. Look for the fiddle-guitar duo of Liz Carroll and John Doyle, Irish-born singer Michael Black, and Scottish Baroque trio Ferintosh from the US, while Newfoundland's A Crowd of Bold Sharemen, British Columbia's Daniel Lapp, and Prince Edward Island singer-songwriter Lennie Gallant represent Canada's coasts and islands. Natalie MacMaster, Buddy MacMaster, the Barra MacNeils, Rita MacNeil, Raylene Rankin, Beòlach and Gordie Sampson are some of the familiar Cape Breton headliners.
Along with the concerts, there are dozens of workshops on step dancing, spinning and weaving, intermediate and advanced fiddle, and songs and anecdotes from Gaelic Scotland.
The logistics involved in handling all the artists and enthusiasts are daunting; the challenge is met by 900 volunteers, individual tourism ambassadors who somehow make it all happen-from transporting musicians from the Sydney and Halifax airports to concerts and accommodations, to making sure there are enough plates of food for everyone.
And, running through it all is an emotionally charged current that spins off ceilidhs and kitchen parties all over the island-nurturing the roots of the music, independent from any industry or commercial spin. On the grounds of the Gaelic College in St. Ann's, in particular, an "after concerts" event often goes on until five or six in the morning, and has become one of the legendary social events of the festival.
Returning to meet old friends becomes part of the yearly pilgrimage to Celtic Colours, just as Cazz returned after two years away: she took in the tribute to Scotty Fitzgerald and other concerts, and toured the dazzling Cabot Trail on the back of my motorcycle.
Sometimes it takes a visitor to remind us what scenic splendours-and musical riches-we take for granted.
For more information about Celtic Colours International Festival go to www.celtic-colours.com.
Celtic music, Caper style
For those who have heard Cape Breton fiddling, tapping toes have no doubt pointed to its traditional origins: dance music, as it was played in Scotland at the end of the 1700s. Imported to Nova Scotia with Scottish immigrants, it has retained its repertoire of jigs, reels and strathspeys-and to a lesser extent marches, slow airs and clogs (hornpipes). Because of Cape Breton Island's physical isolation its music has changed little since those early days.
Celtic fiddlers elsewhere have drifted stylistically away from the root music. Natalie MacMaster has noted that competition playing has led the Scottish to "clean up" the music, taking out some of the rawness or what she likes to call "the dirt," and international concert fiddling has led the music away from dance tempos, toward faster playing. Not so in Cape Breton, where the tunes remain happily wedded to the dance. It's music for a Saturday night.
Pieces are often played in medleys, and the pace may fluctuate from one melody to the next while the music remains in the same key throughout. Ornamentation-those notes and pauses that help distinguish one style from another, in this case cuts, grace notes and double stops-recall the style of the Great Highland bagpipe. Just as the dance it inspires, this music is driven, rhythmic and full of grace and momentum.
~Mark Hamilton