William Coaker built a union town to fight for fishermen's rights - and revolutionize the Rock.
Overlooking Port Union, NL, sits an impressive white tombstone and upon it is an effigy, the head and shoulders of a man. This figure has a solidity and defiance of posture described in real-life by Joey Smallwood as "strong as an ox, eyes flashing… every inch one of the people."
It's apt that Newfoundland's longest serving premier should so admire Sir William Coaker. The successful union leader, politician and businessman born in 1871, a generation before Smallwood, was a man of enormous vision and energy, seeking to transform society. His union became so vast and autonomous that in 1918 it set up its own town-Port Union-on the Bonavista Peninsula, complete with electric light decades before people in other outports thought of such a luxury. And from 1919 to 1923 the union was part of Newfoundland's governing coalition, working to improve fishermen's rights beyond the northeast region.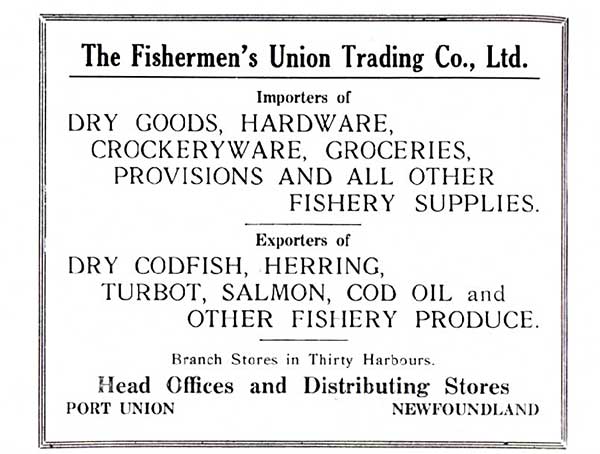 Educated at Bishop Field College in St. John's, young William Coaker was precocious, attending the raucous House of Assembly debates between classes. At age 13, he led a successful strike for better wages at one of St. John's largest exporting firms; still in his teens he worked as a clerk and a store owner before retreating to an island in Notre Dame Bay, in the far northeast of Newfoundland. There he began a large farming operation, and also worked as a telegraph operator, customs employee and postmaster.
A young man of uncommon drive, Coaker found time to organize a telegraph operator's union and to edit a small union periodical. His main preoccupation, however, concerned Newfoundland's largest industry: the fishery. It was structured to ensure that fishing families were always in debt to the merchant-exporter. The merchant provided the fishermen with gear and supplies at the beginning of each fishing season; the fishermen's catch would then be handed over to the merchant. Typically the fish would not cover the cost of the supplies, so a cycle of debt ensued: each year the fishermen would try, and usually fail, to pay back the merchant.
Coaker wanted to break this "truck" system, as it was known. In November 1908, after holding public meetings in Herring Neck, on the far reaches of Newfoundland's northeast coast, he recruited 19 fishermen into a new organization soon to become the Fishermen's Protective Union (FPU).
Over the next few years Coaker farmed in summer and recruited for the union in winter. He often had to travel vast distances on foot given outports in northeast Newfoundland were far apart. Nevertheless, the union grew rapidly: by 1914, 20,000 members had signed up.
With Coaker as president the union was organized along the lines of democratic principles, each local and district council having full voting power. Membership fees were levied and the money distributed for disability payments and loans. But his vision went beyond that of a benevolent organization: he wanted the fishermen to have independence from the merchant.
In 1911 the FPU formed the Union Trading Company, which bypassed merchants' stores and purchased goods directly at wholesale prices, delivering them to fishing families at cost. Coaker also set up the Union Exporting Company, the Union Shipbuilding Company and the Union Electric Light and Power. These companies were to be headquartered in a new site under construction by 1916. This cluster of offices, warehouses and homes was completed by 1918, and named, appropriately enough, Port Union.
Having already dabbled in publishing, Coaker wasn't going to miss the chance to spread the union message in print. The Fishermen's Advocate, the union publication established in 1910, soon became one of Newfoundland's most popular daily newspapers, with a circulation of 11,000-more widely distributed than St. John's official daily The Evening Telegram. It was hard hitting and controversial enough to have a special fund reserved for libel suits.
Coaker felt the union needed formal political representation in Newfoundland and inaugurated the Union Party. Among the Union Party's political goals were universal free education for children, a system of night schools for fishermen and a pension for those over 70.
In the 1913 election the Union Party joined forces in a coalition with Robert Bond's Liberal opposition. The union put forward nine candidates and the Liberals agreed to incorporate 15 union proposals in its platform. The Liberals lost, but eight of the nine union candidates, including Coaker himself, were elected.
If Coaker's ambition up until 1916 had seen him become increasingly successful, the following 16 years in public life were often rocky. The price paid by the Newfoundland Regiment on the First World War battlefields of France was a central theme in politics. Coaker himself actively recruited 68 men, known as "Coaker's Recruits," during the winter of 1916-17. This was a label that, in time, would come to haunt him.
By 1917 regiment numbers were dwindling and a debate raged in the House of Assembly about whether there should be conscription. Coaker promised his supporters that he would insist upon a referendum before committing Newfoundland troops through coercion. For reasons still obscure, Coaker broke faith with this promise and, with no such referendum, voted for conscription.
He still won in the 1919 election and became Minister of Marine and Fisheries until 1923. But his tenure as minister was marked by frustration. Foiled by Newfoundland's own exporters and foreign governments, he failed to regulate fish prices to Newfoundland's advantage, and his personal popularity had taken a blow due to his fateful conscription vote in 1917. In 1932 Coaker retired from active politics and spent much of his time thereafter in Jamaica, where he owned property. He died in 1938.
Coaker achieved through force of purpose a social revolution of sorts, putting a people formerly disempowered-the fishermen-at the helm. The FPU survived Confederation with Canada in 1949 and lasted until 1960.
It was Coaker's spirit of optimism that Joey Smallwood sought to emulate in the decades leading up to Confederation. Coaker had raised social awareness, providing a stirring example of how protest politics could lead to empowerment.
Today, the former workers' houses in Port Union are being restored, with plaques on each. The little town itself, mainly deserted except for a tourism industry, is a ghostly vestige of a once bustling place of business, with streets, warehouses and factories-and high hopes.