Page 1 of 3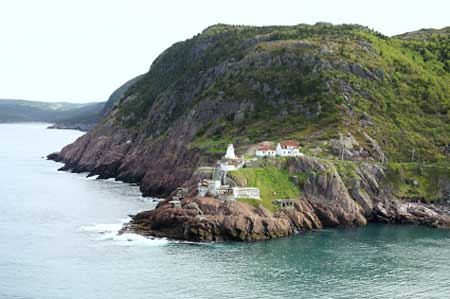 A 10-day cruise around Newfoundland reveals a rough, soul-stirring beauty-and a few characters too.

It was a perfect October afternoon when Akademic Ioffe anchored off an unoccupied cove called Little Garia Bay on Newfoundland's South Coast. A large day, my father would have called it, warm and virtually cloudless, an endless prairie sky of blue arching past the sea's horizon.

My wife and I, along with 100 other passengers, were on Adventure Canada's circumnavigation of Newfoundland, a 10-day annual undertaking that is equal parts adventure tour, cultural exchange and good-natured goofiness. We started in St. John's and made our way north to Fogo Island, around the tip of the Great Northern Peninsula and south along the West Coast.

At Little Garia Bay we went ashore in Zodiacs-small inflatable boats. There were a handful of cabins across the cove, including one with a satellite dish, but there was no one around that we could see. For miles along the South Coast there wasn't another sign of human presence.

This stop was actually a detour on our expedition. The original plan for today had been a stop in the verdant Codroy Valley on Newfoundland's West Coast. But due to a tragic death in the community, the Ioffe instead steamed around the southwest corner of the island.

We passed Rose Blanche, a community originally named Roche Blanc (White Rock) by French settlers and later anglicized with the typical Newfoundland flair that turned Toulinguet into Twillingate, and shifted the pronunciation of Baie d'Espoir (Bay of Hope) to something closer to Bay Despair. On a bald promontory just west of Rose Blanche we could see the only stone lighthouse still standing in Newfoundland. Beyond that there was nothing but granite cliffs and barrens that stretched endlessly inland.

For years, Holly and I had talked about finding a way to visit Newfoundland's South Coast. Holly has seen most every corner of the province through her job as a wildlife biologist, travelling to some of the most remote communities on the island and as far north as Nachvak Fjord in the Torngat Mountains on the Labrador coast. For my part, I spent a good portion of childhood camping with my family on most every peninsula and coastline of the island. But neither of us had ever managed to set foot on the rugged, almost uninhabited shoreline from Rose Blanche, on the southwest tip, to the Burin Peninsula.

As remote as Newfoundland is, there is hardly an inch of it where you can't track down a bed and a meal and high-speed Internet. But the South Coast is a throwback to another time, at least in terms of travel. There are a handful of communities along this stretch, unlikely fishing villages that have persisted for two or three centuries, despite the odds. Of these, only Burgeo is accessible by road. The remaining settlements along the almost 500 kilometres of coastline can be reached only by sea. There is a ferry that supplies these communities, but it has little in the way of facilities for tourists on board, and the outports themselves have neither hotels nor restaurants.

We had often discussed the possibility of packing a tent and taking the ferry sometime, throwing ourselves on the hospitality of the locals. And then we got wind of Adventure Canada's circumnavigation of Newfoundland.

As with many cruises we had day trips ashore-to remote fishing outports, where we watched the almost-lost art of splitting and salting cod for markets in Europe. We got a hands-on lesson in hooking rugs, we were treated to "times" in community halls that featured traditional Newfoundland music, and a chance to try bottled rabbit and fish cakes and squid.

Themed costume dinners onboard offered prizes for best outfits, there was an optional polar bear dip in the frigid North Atlantic, and late night sing-a-longs in the ship's bar.