In secluded locations across Atlantic Canada, some of them in spectacular wilderness settings, sit some very fine (and high-priced) fishing lodges—usually occupied by angler guests only a few weeks out of the year, while operating and capital costs extend much longer.
Increasingly, the operators of such establishments are seeking—and seeing—off-season interest from folks in search of a very different vacation experience. The industry jargon for "tourism" in an environment such as this is "soft adventure".
We tried it not so long ago.
With only mildly enthusiastic (and that may be generous) fishing widows in tow, two normally macho and gung-ho outdoorsmen whose wadered feet are usually planted on river gravel from dawn 'til dusk, gave it a try. The venue was one of the world's most acclaimed Atlantic salmon fishing destinations—the comfortable Goose Bay Outfitters lodge on the lower Eagle River in Labrador.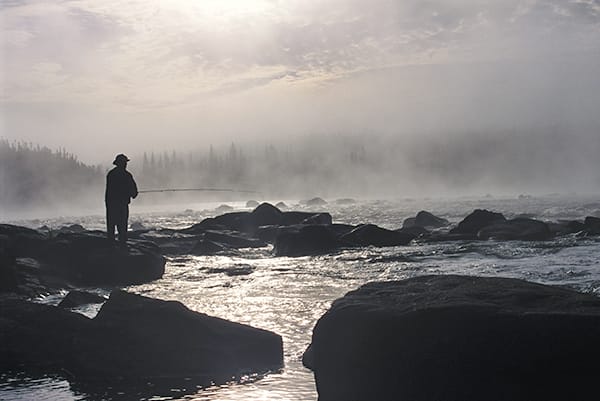 It is said that God created the world in six days, and on the seventh She threw rocks at Labrador. Tortured and stunted trees struggle to endure here only in sheltered river valleys. On exposed escarpments, hills and mountains, there is only tundra—lichen, bog and caribou moss underlaid by permafrost. Perma-snow nestles summer-long in hollows on northerly-exposed slopes resisting even the 30 degree Celcius midday summer temperatures.
In the heat of mid-August, fishing is mostly a morning and evening affair. This left the middle of the day reserved for exploration of our stunning natural surroundings and half-tame wildlife.
The lower Eagle is approximately an hour's flying time by floatplane from Goose Bay over the breathtaking Mealy Mountains. Once back on the water in the river estuary, access to the lodge is gained by a precarious transfer of luggage, equipment and people from the floats of an anchored seaplane into 16-foot boats for a heart-stopping trip up the Eagle's famous gorge. This is a seemingly daunting dog-legged funnel of spume, spray and haystacks resulting from the compression of a huge river through a narrow channel of bedrock: nature's own rollercoaster ride (but like most rollercoasters, it's only really scary the first few times).
The lodge overlooks the main fishing area comprised of a huge basin of river below a breadth of fast water. The migrating fish rest below, through and above this remarkable physical feature, rendering it one of the planet's most prolific salmon settings. A bad day here is a good day just about anywhere else.
Wild creatures encounter so few humans here that they tend to be quite tame. Canada jays and red squirrels, for instance, will feed from the hand of those willing to persevere, and caribou will saunter past within a few metres with barely a curious glance. Wild snowshoe hares nibbled at the scarce grass around the lodge, quite unconcerned with our presence a few feet away. Bears, on the other hand, can become a messy nuisance if and when they decide to visit. We were being visited on this occasion, however, by a large male timber wolf who had discovered the lodge's sanitary disposal site on a nearby island. Telltale paw prints showed his route took him within 50 metres of our lodgings. Bald eagles and ravens soar and circle effortlessly in the air currents produced by the river valley, while ospreys perform their spectacular dives, sometimes carrying off huge trout or even small salmon (grilse).
The Eagle empties noisily into a massive shallow inlet known as Sandwich Bay, which begs for exploration. We took a day trip/shore lunch excursion to the nearby White Bear River, with its spectacular waterfall (which can offer some fine salmon and seatrout sport at times) which the whole party, including our guide/boatmen, enjoyed immensely.
A second day of glorious weather saw us once again out in the salt water bay exploring the shoreline, in a search for an ancient aboriginal (Innu) summer fishing site. We ventured ashore, but local people absolutely will not. This spot is the reputed home of some kind of "devil" which emits, from time to time, loud and eerie sounds (unattributable, apparently, to wind or any living creature).
Day trips are also possible upriver where the Eagle flows through flatlands and transforms itself into virtual lakes or large "steadies," and where trout and Northern Pike are relatively easy prey for even moderately skilled anglers. A delicious shore lunch of fresh fillets is always possible. In the runs between these steadies, salmon may also be found plying their way upriver.
We were treated on a couple of consecutive evenings to a fantastic display of Northern Lights (aurora borealis) that danced green and red across the sky without the light pollution of a town or city. Those nights were followed by early morning (August) frost followed by a rapid ascent of temperature to close to 30 degrees Celcius before noon. Labrador is a place of contrasts and sudden dramatic weather change.
The overall experience was one of double enrichment. The women, who had dabbled here and there with fishing, were able to enjoy the confidence-boosting experience of hooking, playing and landing several of these wildest of wild salmon—and to discover that the rough-tough, dangerous and uncomfortable wilderness trip they had anticipated was, in fact, quite the contrary.
And the men had the opportunity to share this extraordinary place and the unique experiences it offers with their partners, producing a very special trip that went far beyond the usual men-only wilderness fishing sojourns.
The operators of Goose Bay Outfitters, Millie & Yelle Terpstra can be contacted at (709) 896-0896, P.O. Box 104 STATION C, Goose Bay, NL, A0P 1C0
This email address is being protected from spambots. You need JavaScript enabled to view it.