Summertime and the living is easy.

Winter winds, and raising three young kids, nearly did me in, so when it came time to plan our family's summer vacation, I wanted somewhere warm, somewhere easy and somewhere with plenty of sweet, uncomplicated beaches: I wanted Prince Edward Island.

For me, this gentle island cradled by the waves of the Gulf of St. Lawrence is about as perfect as it gets: over 90 spectacular beaches tucked into a scant 5,660 square kilometres, soul-nourishing coastline, and an addictive little phenomenon called Cow's Ice Cream.

(Here's tip #1 one: start your ice cream slush fund NOW. My kids could no more pass by the whimsical ice cream shop (flavours are called Wowie Cowie and Cowrispy Crunch; t-shirts, Little Miss Moody, Sidney Cowsby) than they could stop asking 'is the pool open yet, can we go, can we go?")

But what attracted me to PEI, even more than that orphan Anne and the phenomenal scenery, was the ease of the cottage vacation. No daily packing. Or unpacking. I could wash soggy bathing suits, and sit, while they dried, on my deck watching the sun sink slowly over the island's iron-red shores, a glass of locally-made Rossignol Estates strawberry-rhubarb wine in hand as my kids ran with new friends around what was once a farmer's field.

"The appeal is definitely in the relaxing atmosphere of PEI, being able to stay in a 'home' away from home or fast-paced life, and being able to look outside your window and see beautiful scenery," agrees Jennifer Bernard, manager of Tourism PEI's Vacation Planning Centres.

Bernard says there's a bonding that happens within a family. "Many folks that I have spoken to come year after year with their family, it becomes their tradition. Just yesterday I was speaking to someone who used to vacation on PEI as a child with her parents and siblings and now as an adult, she is now planning a vacation with her parents and her children. We are seeing a lot of three-generational families travelling."

Count me in that number. I've been coming to PEI for family vacations since I was a child and it's magical to now be able to share the enchantment with my own children. I smiled every time they asked, "can we book in for another week?"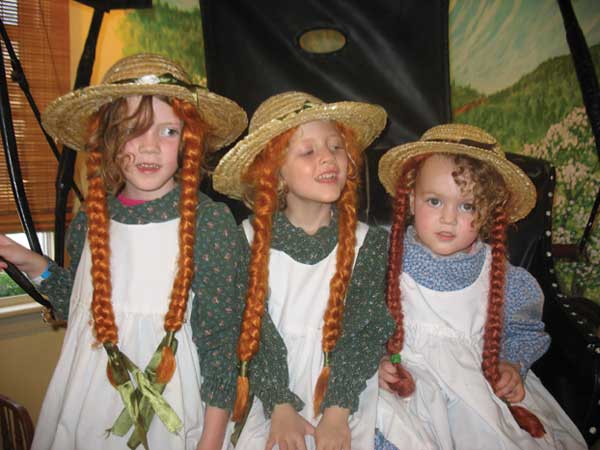 The economical value for a family staying in a cottage for a week is a great selling point, Bernard says. Cottages are self-contained, so there is no need for eating every meal in a restaurant. A trip to a grocery store or farmer's market when you arrive can buy all the necessities for some lobster on a picnic table, a barbecue cook-off and supplies for s'mores.

PEI Tourism offers an amazing online accommodation search engine (www.tourismpei.com) that allows you to focus your search on specifics. Want a pool, beachfront, laundry? Just key it in and see what comes up. After hours weighing my options online, I made the leap and booked at Dreamweavers Cottages in Rusticoville. (www.dreamweaverscottages.com)

The cottage delivered everything I hoped - fully-stocked, clean and cosy, a saltwater pool, laundry facilities, a playground, near countless beaches, and the wonders of both Cavendish and Charlottetown.

(Tip #2: Ask about specials. Through partnerships they've worked out, cottage operators are sometimes able to sell guests discounted admissions to popular attractions. Also check to see if they throw in a free National Park pass; it's a great savings.)

As I walk back on the beach of memory, it warms me to remember playing in the waters of island beaches from Cavendish to Argyle Shore. Under a calm night sky, we took advantage of Parks Canada's tremendous free programming to attend an evening of bonfire songs and storytelling at Cavendish campground, then packed up the next morning to join Parks staff for morning dip netting in Dalvay. My kids thrilled to stretch out flat on a wooden boardwalk to search the water for tadpoles and other marine life.

The week was perfect, if you don't ask about Questionable Parenting 101, or our trip to the Haunted Mansion in Kensington. We caved to the kids' demands, but soon found the wee three terrified. Watching a life-size dummy swing from the ceiling brandishing an axe, my middle daughter Courtenay gave a blood-curdling scream to delight any horror movie casting director! (Ironically, they still talk glowingly about this experience and can't wait to get back.)

On a more pleasant note, dressing up as Anne of Green Gables was a huge hit at the fictional Avonlea Village in Cavendish. Everyone in the family can dress up and staff will take your photo-on your own camera. The village has many selling points, not the least of which are the pig races and watching wonder wash over children's faces as they see Anne crack her slate over Gilbert's head for the first time.

We spoke with Jennifer Bernard, manager of Tourism PEI's Vacation Planning Centres to get some tips on planning a cottage getaway.

Q. When is the best time to come for a cottage vacation?
A. July and August are great months. The water is warm enough for beach swims and all attractions are in full swing. There are lots of festival and events to take in for the entire family. Our north shore beaches have beautiful white sand and on the south shore you can go clam digging at low tide and hunt for beach glass too.

Q. Do you recommend booking early?
A. There are lots of options for everyone, in various price points, but cottages on the beach are popular. It is always a good idea to book as soon as you can so you can secure the accommodation that is perfect for your vacation.

Q. Tell me about the online search tool and resources available to visitors.
A. Our online search tool is a great way to see what is available. It includes all accommodations on PEI with details on specific units on cottage operator's sites. You can search our homepage (www.tourismpei.com) according to type (cottage, for example) and/or region. All cottages have detailed write-ups, photos, and prices. Other resources include our online version of our Visitors Guide as well as the print-copy. Our Visitors Information Centres are a great resource with eager staff waiting to help plan details of your vacation. They can be found at all entry points (Wood Islands, Souris, Charlottetown, and Borden-Carleton) as well as all other corners of the island (St. Peters, West Prince, and Cavendish). Visitors may also wish to send their questions via e-mail or call in, at This email address is being protected from spambots. You need JavaScript enabled to view it. and 1-800-463-4PEI.

Q. Are package deals a good way to go?
A. Package deals are great because you can conveniently book your entire vacation, or part of your vacation, at once. We offer vacation packages which include accommodations and attractions that are discounted up to 15 per cent. They become available in April 2010.

Q. What advice would you offer visitors hoping to make the most of a PEI cottage vacation?
A. Check our website often: we are constantly updating it with new information on ideas, itineraries, and festivals and events. The website is a great way to browse and learn about our island, and also see our breathtaking scenery. Our Vacation Planners are always on the line to help. They are capable of providing a range of services, such as making reservations and suggestions. They know the Island tip-to-tip and will be able to help plan vacations around your interests, creating memories for the entire family.
Island Hot Spots
Between swimming and snoozing, other recommended ways to fill your days:
Richard's Eatery - For tasty al fresco seafood overlooking Covehead Harbour, (902) 676-2733.
New Glasgow Lobster Supper. Seriously, it's an island institution. www.peilobstersuppers.com
A night under the stars at Brackley Beach Drive-In Theatre. www.drivein.ca
An afternoon of outdoor pageantry with Victoria-by-the-Sea's Follow the Fiddler, www.victoriaplayhouse.com.
The Toy Factory. Just try to get the kids to leave the century-old general store turned toy factory with on-site handcrafted wooden toys. Route 13 New Glasgow (902) 964-2299, www.toy-factory.ca
PEI National Park. This amazing work of nature will remain in your heart: sandstone cliffs, endless dunes, cultural attractions, playgrounds, bike rentals, and perfect, perfect shoreline. www.pc.gc.ca
Green Gables Heritage Site. "Anne is real," one daughter whispered reverently upon seeing the heroine's second-floor room. Afterward, wander the property through Lover's Lane and the Haunted Woods trail. www.gov.pe.ca/greengables
Cow's Ice Cream and Creamery Tour on the North River Causeway in Charlottetown is fun, and it ends with ice cream! www.cows.ca
A twilight stroll in downtown Charlottetown, PEI's capital city.