Get the inside scoop on where to grab great grub
Although true diner restaurants may have gone the way of the $1.99 meal, there are plenty of good eating places in Atlantic Canada still serving home-cooking and diner-style food. But you may need a little help to find them. Most are off the beaten track, in small towns and villages all over the four Atlantic Provinces. You can ask the locals. They know where the good ones are. But, just as you can't judge a book by its cover, you can't select a good diner by its façade.
Nova Scotia
For instance, one look at the Turkey Burger Restaurant and Take-Out and you would drive on by, but this tacky-looking diner in Cookville, near Bridgewater (Route 10), on Nova Scotia's south shore is so popular with locals that there must be something to it. And there is.
For starters, there are more than 30 ways to eat a burger, including the turkey burger deluxe, which is like a full-blown turkey dinner in a bun, complete with stuffing and cranberry sauce. If you're up to a challenge you might opt for the forklift—a triple cheeseburger topped with fried onions and condiments and served with fries and fresh coleslaw. Too tame? Then try the step ladder platter, a quad cheeseburger with the works.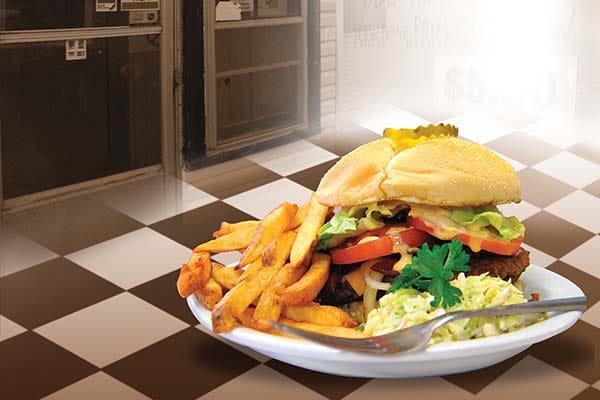 Don't let the name fool you though. There's more to this 34-seat diner (seven booths and four stools) than the name implies. There are hot and cold sandwiches, a good seafood chowder, homemade soups, clams, scallops or fish and chips, pan-fried haddock, and, if you're there on the right day, meatloaf, homemade baked beans, knackwurst and sauerkraut or corned beef and cabbage. Roast turkey, beef or pork dinners are a generous size and cost $8.95. Big and small breakfasts are served until 11 a.m.
With menus hand-printed all over the walls, it's hard to believe the variety that comes out of the narrow, 30-foot galley-type kitchen. Soda fountain offerings include thick old-fashioned milkshakes (yes, the container comes to the table), sundaes and banana splits. If you're not tempted by these, the homemade coconut cream and butterscotch pies are hard to resist, and in July, fresh strawberry shortcake is served with real whipped cream on a tender, secret formula biscuit.
First opened as a canteen in 1952, it's been owned and operated by the affable husband and wife team of Jim and Carol Zinck for the past 16 years. Jim does the cooking and Carol waits table and kibitzes with the customers.
If you take exit 8 or 8A from highway 101 to Hantsport, you'll easily find the R&G family restaurant on Main Street. If you happen along on a Wednesday, be prepared to wait. People travel for miles to have the lightly battered fish bits served only on that day. Of course, you can order anything else from the menu (the liver and onions include bacon, the pan-fried haddock is excellent and they sell "a ton" of fish and chips and whole clams in batter), but whisper your order or be prepared for surprised stares if you ignore the fish bits.
Each day has its regular special and there's always a roast on Sundays (chicken, beef or ham are favourites) and the veggies (carrots, turnip, squash and mashed potatoes) are freshly prepared from scratch. Entrees are generous and prices range from $10 to $13. Pies are homemade on site, and Grandma's handed-down recipes are still used for the ever-popular coconut cream, butterscotch and apple pies.
There have been many improvements and a couple of additions since the R&G opened in 1989 as a convenience store and take-out window. After the first couple of renovations (which added four to six Formica-topped tables and as many stools), major changes were begun in 1993, which increased inside seating to 92 and 120 in the summer. The meals have stayed the same, but the big improvement is the view of the Avon River as it ebbs and flows with the tides of the Bay of Fundy—the highest in the world.
Fletcher's Restaurant, on Prince Street in Truro comes pretty close to being a true diner—both in its shape and its food. It's been a family-operated institution for 55 years, and has won awards in local competitions for "Best Family Restaurant" and "Best Dessert." Although the building has seen upgrades and additions, the food remains the same, giving value for the money.
Open from 7 a.m. to 9 or 10 p.m., seven days a week, year round, the booths, tables and stools of this diner can seat 100.
With seafood and desserts topping the popularity list, specials are served Monday through Friday. All day breakfasts are available, along with meatloaf, grilled haddock, and lightly battered fish (fresh frozen) and chips (also frozen). Hot sandwiches (chicken, hamburger, turkey, pork, and beef) are dished up with gravy, made fresh from turkey stock, and fresh mashed potatoes, also made from scratch.
Lemon meringue, coconut cream, butterscotch, apple and pumpkin pies are made on site, as well as apple crisp, gingerbread and strawberry shortcake in season.
New Brunswick
When you breakfast in Moncton, NB, you may want to search out Hynes Family Restaurant on Mountain Rd. This meal is so popular that it's served from 6:30 a.m. to 11 p.m. and the number seven menu item (2 eggs, choice of pork product, 2 pancakes, toast, tea or coffee) comes for $5.99. With table seating for 120, Hynes has been family owned for 47 years and is a popular destination for travellers from all over the Atlantic provinces.
Hot sandwiches are popular and weekly specials alternate between turkey, hamburger, beef, and a hamburger pattie platter, for $4.59.
A roast beef or turkey dinner, including soup, roll and tea or coffee, tops out at $7.99, and daily specials are less. Rotating choices include pork chops, meatloaf, ham, while on Fridays it might be salmon or smelts. Fish arrives daily from the fish market, and the seafood chowder, containing lobster, crab, scallops and haddock is considered one of the best in the Maritimes. Soups are also made fresh daily.
Old-fashioned milkshakes are available, and there's a full bakery in the basement turning out every kind of pie imaginable, as well as cakes, cookies and other desserts, including apple crisp and berry dessert in season.
The neon lights may be the first thing you notice as you approach Frank's Finer Diner on Fredericton's Main Street, but once inside this well-established eatery there are lots of menu choices to get the salivary juices flowing. Seafood accounts for about 70 per cent of business, with fish and chips and a fisherman's platter ($16.95) being among the most popular items. The fries are hand-cut and the fish is delivered daily.
Full breakfasts are served until noon, with pancakes, omelets, lasagna, stir-fries and sometimes, shepherd's pie available for lunch. Famous for their desserts, which include date squares, lemon squares and a very popular carrot cake, they are most proud of their pies. You get double your money back if you're not satisfied. Now, that's confidence!
Open year round, seven days a week, this 30-year old diner has been enlarged to include a dining room that seats about 50, while the older section accommodates well over 100, with a choice of tables, booths or counter stools.
There are menus for kids and seniors and everyone enjoys the model train that circles overhead. Carman's Diner, just off Highway #1 at 164 King Street in St. Stephen, NB, is not only famous for its bottomless cup of King Cole coffee ($1), but "the best ham, eggs and home fries in the whole place." In New Brunswick, that covers a lot of territory. "It's what everyone comes in for," and in summer it's served until 11 a.m. and later if you look really hungry and they're not too busy. The ham is a steak, the potatoes hand-cut, and the eggs as you want them.
With seating for 65 (16 booths and six stools), this friendly diner restaurant has been family-owned for almost 50 years. Open year round, from 7 a.m. (8 a.m. on Sunday) to about 10 p.m., just about everything on the menu is homemade. Soups, chowders, gravy, beef, pork and turkey roasts, puddings (custard, rice, and gingerbread with real whipped cream and apple crisp are favourites), or name your pie—coconut cream, lemon meringue, chocolate, apple and blueberry in season. Milkshakes are made the old-fashioned way and the container goes to the table.
Prince Edward Island
Those who have never seen an old-fashioned diner will get the picture at the Starlite Diner, on Water Street in Summerside, PEI. An old juke box with rock 'n' roll songs of the 50s and 60s, a couple of old gas pumps (moved inside to help set the mood), and even an old cash register and fountain are authentic reminders of the way a diner used to be.
Thirteen vinyl-covered booths and chrome-trimmed tables can seat 52 (or more, if you're friendly) and even food names smack of the Happy Days. A Little Richie (hamburger with fries and the works) costs $5.49, The Fonz (a larger version) is $6.99, while The Big Bopper (hamburger steak and onions) is $8.49. Hot dogs are also available.
Proudly referred to as the best fish and chips on the Island, the lightly battered haddock loins come in Little (1 piece), Big (2-piece) and Grand (3-piece) with made-from-scratch fries.
Opened as a dairy bar in 1959, you can still get milkshakes (with the container) made in an old Hamilton Beach shake maker. Old-fashioned sundaes and banana splits are also available. Open every day from 7 a.m. to 10 p.m. in summer, it's a fun place.
On the corner of Queen and Water Streets in downtown Charlottetown, you'll find Linda's Restaurant and Coffee Shop. It's nothing fancy, but the big servings of good homemade food and the friendly service are appreciated by the year-round regulars. Summer hours are from 7 a.m. to 7 p.m.
With a seating capacity of 50, the booths, tables and stools are often full. All-day breakfasts are one of the specialties. Omelets, pancakes, and homemade cinnamon rolls are popular!
Hot chicken, beef and hamburger sandwiches are big items, as is the crisp lightly-battered fish and chips, served with carrots and turnip. There are daily specials, but the most popular is the cheeseburger platter, with a choice of fries or made-from-scratch mashed potatoes, at $4.95. The gravy is also homemade.
Pies, including apple, blueberry (in season) and banana cream are available, as are butter tarts and a variety of muffins.
Newfoundland & Labrador
If you're looking for a taste of traditional Newfoundland food, you might want to head to the Big R Restaurant on Harvey Road in St. John's. It's been family-owned for 50 years and serves such specialties as Jiggs dinner (on weekends), homemade pea soup (on Fridays) and fisherman's brewis, cod au gratin, fish stew and seafood chowder on other days of the week.
With 100 seats to accommodate you at tables, the Big R is famous for its fish and chips. You can order your fish either deep-fried in batter or pan-fried, both served with made-from-scratch French fries. And, their fisherman's platter, which includes cod, scallops, shrimp, crab snacks (artificial), squid rings, halibut or salmon (in season), and clam strips, is served with coleslaw and fries for $9.30!
Everything in the place is homemade, including the breads—white, whole wheat or raisin, all made in the bakery on the lower level. Hot turkey dinners are served with from-scratch mashed potatoes and "the best gravy in town." Hot sandwiches are also available and specials include pork chops, macaroni and cheese, lasagna, and in summer, a cold plate.
Lemon meringue pie and lemon tarts are popular, but the dessert specialty is bread pudding with caramel sauce. Don't go home without trying it.
Sheila's Restaurant in Gambo (near Gander) is named for its first owner who, for 25 years, set the standard of good home cooking, a practice learned and carried on by the present owner.
Order a burger and they'll grind the beef to make it. There are no additives and nothing is pre-cooked. Fries and "wedgies" are hand-cut (or you might prefer poutine). The burgers are served with stuffing and gravy.
A popular item is the chicken leg dinner, cooked in a broth and served with dressing and lots of home fries—for $6.95. Also served are T-bone steaks and a mixed grill. Fish is big at Sheila's, and fish means cod. It comes in fresh or fresh frozen.
You'll also find traditional Newfoundland & Labrador dishes in this 48-seat restaurant. Homemade pea soup and fish cakes are both popular, as is the Jiggs dinner special.
Desserts include partridgeberry and blueberry pies, hot apple turnovers with ice cream and a wide selection of cheesecakes.
But, if there's only time for a cup of tea or coffee, order a traditional tea bun to go with it. They're homemade and varieties include cinnamon, apples and onion, raisin, or cheddar. With your beverage, the cost is $2.50.
Talk about your friendly down-home atmosphere!