As the name suggests, the new "Three Shores" tourism district in Nova Scotia is comprised of three distinct, infinitely fascinating coastlines: Fundy Shore, the Northumberland Shore and the Eastern Shore.
Here, then, is a snapshot to get your plans started.
The Fundy Shore
Take a walk along the 15-kilometre shoreline at Joggins Fossil Cliffs on the Bay of Fundy and find the footprints of 310-million-year-old reptiles, ancestors to dinosaurs and mammals of later ages, frozen in time.
Named a UNESCO World Heritage Site in 2008, Joggins Fossil Cliffs has been described as the "coal age Galapagos" as it is considered the best place on the planet to find Carboniferous Period fossils. And with the tides eroding the cliffs so rapidly, new fossils are constantly being exposed.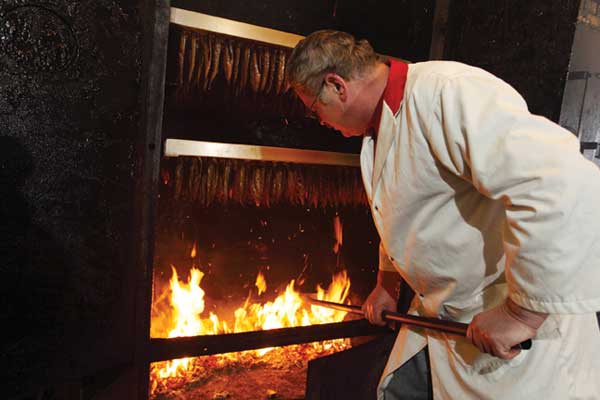 Aspiring geologists should have Parrsboro at the top of their "must-see" list, as this is the place where gems such as quartz agate, jasper, amethyst and zeolite minerals have been found. Check out the Parrsboro Rock & Mineral Shop, with its amazing array of items for sale.
While in the area, take time to visit the Fundy Geological Museum and learn about the rich natural history of the area, including the world-famous dinosaur discovery in 1984-the largest of its kind ever made in North America.
With its giant tides reaching a record-setting 16-plus metres at Burntcoat Head, the Fundy Shore's dramatic sandstone cliffs, murky water and chocolaty low-tide mud are slightly freakish and endlessly fascinating. For those who like to get out and commune with nature, a great spot to start is at Partridge Island, near Parrsboro. Technically a peninsula, rather than an island, this trail climbs two kilometres to a fantastic lookout, with views of Cape Split, on the other side of the Minas Basin and Cape d'Or. Thomas' Cove Coastal Reserve is another good destination for hikers. With two three-and-a-half-kilometre loops, this trail offers superb views of the Five Islands.
Although it's hard to pick favourites in this gorgeous area, Cape Chignecto Provincial Park is considered by many to be the crown jewel. With more than 4,200 hectares, Cape Chignecto is the province's largest provincial park, offering wilderness camping and coastal hiking trails-a naturalist's paradise. It's also the perfect place to set off on a sea kayaking trip around tide-carved sandstone stacks and in and out of sea caves. Whether on foot or out on the ocean, keep a close eye on the water to catch a glimpse of a dolphin or endangered Right whale. Absolutely breathtaking.
Strange as it may sound, another great way to experience the thrill of the changing tide of the Bay of Fundy is to head inland. As the Shubenacadie River empties into the Cobequid Bay of the Fundy, this is the only place in North America where you can try out tidal bore rafting, riding the wave of water that travels upriver twice daily as the tide comes in the bay. Just hang on tight and don't forget to pack some dry clothes.
Named after Louis Hebert, a settler from Port Royal, River Hebert is home to the Heritage Models Centre-a quaint museum featuring more than 30 scale models of local historic buildings and artifacts-as well at the Tidal Bore Park, which features detailed information panels on the river, the tides and their affect on the adjacent marshlands.
Nearby Minudie, a small community with a rich Mi'kmaq and Acadian heritage, also features an interpretive park with some of the oldest and best dyked hayfields in the province. Many species of waterfowl call this area home, and you might also spot a bald eagle or two.
The Northumberland Shore
With more beautiful seaside parks than anywhere else in Atlantic Canada, not to mention the warmest ocean water on the east coast, it's easy to let life be a beach during your stay on the Northumberland Shore.
Known as the "Birthplace of New Scotland," 189 Scottish settlers stepped off the Hector in Pictou in 1773, starting a wave of Highland emigration that is commemorated today at the Hector Heritage Quay. Located on the scenic Pictou waterfront, the imaginative exhibits at Hector Heritage Quay feature an award-winning full-scale replica of the Hector as its centerpiece and allow a glimpse into what life would have been like for those early settlers-both before, during and after their 12-week voyage across the Atlantic. If you can time it right, the Hector Festival with its re-enactment of this historic event, to be held this year from Aug. 13 to15.
Heritage is a key feature up and down the Northumberland Shore. From an abandoned 19th century engineering project-the world's largest of its time-in Tidnish, to the new Creamery Square Heritage Centre on the Tatamagouche waterfront and the historic log church in Loch Broom, history shines as bright as the sun over the beaches in this part of the world.
The more gastronomically-inclined might want to plan a trip entirely around their tastebuds. There are culinary delights aplenty at the Wild Blueberry & Maple Centre near Oxford; and Sugar Moon, a working maple farm near Earltown. Sample oatcakes made from flour ground at the Balmoral Grist Mill, get some fresh lamb products at a working sheep farm near River John or visit the Northumberland Shore Lobster Hatchery and Fisheries Museum, the only lobster hatchery in Atlantic Canada. Lobster lovers should make sure to attend the Pictou Lobster Carnival July 9-11. While in the area, add in a trip to the Jost Winery-the pioneers of the growing wine industry in Nova Scotia-to sample their renowned ice wine.
There are plenty of activities to work off all the good eating being served up on the Northumberland Shore. A favourite among cyclists and walkers, this area has many trails-with something for even the littlest or most relaxed adventurers in the family. For a more casual stroll, there's the Wallace Bay Nature and Wildlife Trail, with its beautiful views of the Northumberland Strait, and the three-kilometre Jitney Walking Trail that starts at the Pictou waterfront. Those looking for a challenge can try the eight-kilometre Fitzpatrick Mountain Trail near Scotsburn or the 33-kilometre network of trails at Cape George, about a 25-minute drive from Antigonish.
Eastern Shore
Situated as a gateway between the Northumberland Shore and the Eastern Shore areas, Antigonish is a town with a highland heart-never more evident than during the annual highland games, the oldest continuous games outside of Scotland. Slated this year for July 4 to 11, the sights and sounds of the Antigonish Highland Games are terrific, with highland dancing, piping and drumming, interspersed with heavyweight events such as the caber toss and hammer throw.
St. Francis Xavier University, with its 150-year-old history and one of the largest collections of Gaelic literature in North America, is the main focal point of the town, of course, but history buffs and genealogists will want to visit the Antigonish Heritage Museum as well.
With its rugged and remote terrain, the Canso Peninsula marks the most easterly point of mainland Canada. A favourite spot for naturalists, well over 100 species of birds have been spotted here, including northern gannets, arctic terns, black guillemots and great blue herons. Pack a lunch, bring your binoculars and prepared to be amazed.
Situated in a picturesque little fishing cove just down the road from Charlos Cove Waterfront Park is beachcomber heaven-a good place to stop, explore and have a picnic.
You don't have to be an historian to enjoy living history attractions, such as Sherbrooke Village in Guysborough County, the Fisherman's Life Museum in Jeddore Oyster Pond or Memory Lane Heritage Village in Lake Charlotte, a beautifully recreated 1940s rural village, about a 45-minute drive east of Halifax.
With more than 80 buildings, 25 of which are open to the public, Sherbrooke Village in Guysborough County reflects Nova Scotian life from 1860 to World War I. Visit a woodturning ship, blacksmith and print shop, or sign up for a "hands on history" program to put yourself right in the picture (http://museum.gov.ns.ca).
Lovers of the outdoors will also want to put Charlos Cove and the community of Liscomb on their "must see" list. Liscomb is great spot to either launch a kayak in Liscomb Harbour, or explore a rugged network of both inland and coastal trails at the Liscomb River Trail System. Just at the boundary of the recently created Liscomb River Wilderness Area, this hike comes complete with a swinging bridge over a narrow canyon and a waterfall.
With more than 16 kilometres of coastline, a beautiful white-sand beach and 18 kilometres of trails, Taylor Head Provincial Park is considered one of the most spectacular trail networks on the east coast. Work up an appetite and then stop in at J. Willy Krauch & Sons Ltd., a smokehouse in Tangier with plenty of mouthwatering smoked salmon and mackerel for sale. In nearby Ship Harbour, drop by to visit the Aqua Prime Mussel Ranch-which opens its operation for tours in the summer. Steamed mussels for supper. Superb.
Located in the former home of a fisherman, his wife and 13 daughters, the Fisherman's Life Museum in Oyster Pond gives a sense of the ingenuity and independence that dominated a fishing and farming family's life on the Eastern Shore in the early 1900s.
Memory Lane Heritage Village nearby in Lake Charlotte, is a beautifully recreated 1940s rural village, about a 45-minute drive east of Halifax.
Moose River Provincial Park and the Moose River Gold Mine Museum commemorate the 1936 mining disaster that captured the attention of the world.
Before heading back into Halifax, stop to stretch your legs at Lawrencetown Beach, a provincial park and surfing area. Enjoy the beach and watch as experienced and new surfers ride the waves.