Cape Breton's coastal shores
I'm cruising past beaver dams and apple trees, little ponds and trestle bridges, and feeling mighty fine as I work my way down a section of the flat, easy 92-kilometre Celtic Shores Coastal Trail, traversing Cape Breton Island's western edge.
It's a biking and hiking route I can't get enough of. And I'm not alone.
Ever since the Trans Canada Trail opened in October 2008, on the old meandering coastal railway corridor between Port Hastings and Inverness, the well-maintained, packed gravel multi-use route has been a popular way for everyone from children to seniors to explore.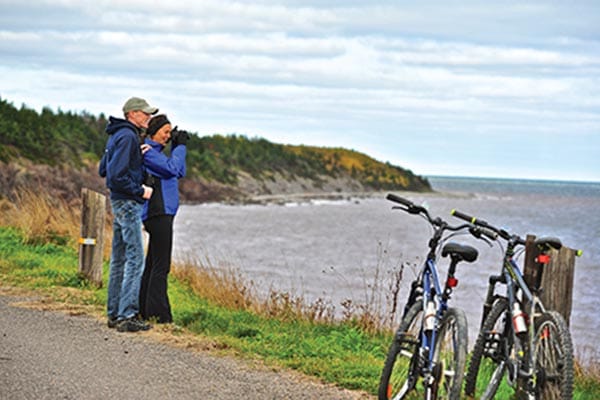 Cyclists, increasingly, are attracted by the stunning views, coastal proximity and communities rich in Celtic culture, all easily accessible as they pedal a diverse terrain, switching from ocean coastal to inland river and forest landscapes.
Daily during peak season, visitors can easily jump off the trail to grab lunch and be entertained by local and lively Celtic music at several eateries.
"We hear from trail visitors speaking with delight about making unscheduled stops to spend time on the adjacent shorelines, beaches and rivers along the trail," he says.
Like the train that chugged through Inverness County from 1901 to 1985, carrying coal, soldiers, lumber and livestock, the trail dips in and out of communities, making it easy for riders to slip off to enjoy warm water beaches in Port Hood, Mabou and Inverness, to visit museums, raise a glass at the Rankin sisters' Red Shoe Pub, take a step-dance lesson at the Celtic Interpretive Centre or spend a night at an inn or campground.
Organized into five sections, bikers have numerous trail access points, complete with parking. They can choose to ride a section or two, or complete the entire stretch, a great two-to-three night getaway, staying in different communities. Several accommodations are located almost directly en route.
While the trail starts beside the Canso Causeway, which links Cape Breton to mainland Nova Scotia, cyclists are recommended to bypass the Port Hastings trailhead (where the trail travels north across a rocky sandbar the train travelled) and access the trail in Troy along Route 19.
Continuing north, the cliffs level and the trail heads inland, where it hugs ponds and follows rivers, passes two pioneer cemeteries and sweeps under leafy canopies. In all, it crosses 26 bridges, many of them trestles, including the 92-metre long granddaddy in Deepdale, near Inverness.
In Judique, a cairn commemorates the 1775 landing of the village's founder, Scottish sea captain and bard Michael MacDonald, thought to have composed the first Scots Gaelic song in North America.
The trail takes you to villages, and working fishing harbours where you can buy fresh seafood off the boat, to shops, restaurants, museums, and wildlife including herons standing statue-still, swooping eagles, pilot whales and coastal birds. Picnic shelters and rest stops are found along the way.
"Whether it's beaches, boat tours, ceilidhs, square dances, pubs, harness racing, festivals or simply the trail itself, most visitors take more great memories home than they ever prepared for," Blaise MacEachern says.
Bicycle rentals are available at Eagle Outfitters; Strait Area Transit offers shuttle services; while The Fiddle and the Sea B&B has bicycles available for guests and a shuttle service available for its cycling visitors.