Drink in the best of Nova Scotia on the Good Cheer Trail
Vineyard tours, craft beer, even rum tastings served in the 18th century Fortress of Louisbourg National Historic Site—this is one road trip adventure you won't want to miss.
The Nova Scotia Good Cheer Trail, launched in the summer of 2015, is Canada's first winery, craft brewery and distillery trail, a unique and exciting offering giving locals and visitors alike a chance to drink in Nova Scotia hospitality and discover the seacoast province from Cape Breton Island to Yarmouth.
"It's an innovative way to see more, do more, and it does have history," says Christine White, director of communications and events with Taste of Nova Scotia, which manages the trail, an annual culinary tourism initiative running June through October.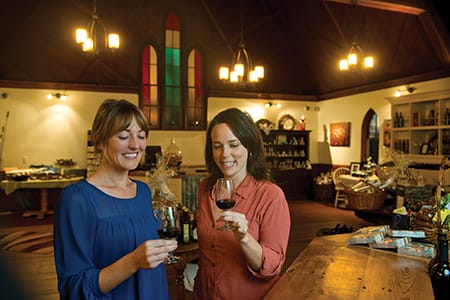 Developed by Tourism Nova Scotia in collaboration with Taste of Nova Scotia and the Atlantic Canada Opportunities Agency (ACOA), the trail does capitalize wonderfully on history.
More than 400 years ago, in 1606, French explorer Samuel de Champlain wanted to raise the spirits of early settlers. He established the "Order of Good Cheer" in Port Royal, NS, to provide good food, drink and fellowship for his men during colonization. It set the tone for centuries of good Nova Scotian food, drink and fun.
Today, with a Good Cheer Trail passport in hand detailing the dozens of stops (last year there were more than 35, this year there's close to 50), or digitally via a smartphone, participants can hit the open road, exploring routes as they please. Take in a mix of tours, tastings and experiences from sampling single malt whisky at Glenora Distillery in Cape Breton, to chatting about craft beer at the Rare Bird Pub on Guysborough harbour along the eastern shore, to visiting the Port-Royal National Historic Site in the Annapolis Valley, where the Order of Good Cheer started.
Backroads and byways
The Good Cheer Trail takes visitors to all corners of the province, and provides an easy way to travel around Nova Scotia, ending up in small towns they may never have thought about before, meeting with business owners and experiencing the authenticity of the products.
In all, the trail offers four different types of experiences, wineries; craft breweries and brewpubs; distilleries; and historical experiences.
Visitors can taste wine in a restored 175-year-old church at Avondale Sky Winery, which travelled 40 kilometres over the highest tides in the world to its current location in the Annapolis Valley.
Or they may visit the organic on-farm craft brewery and hop yard at Big Spruce Brewing in Nyanza, Cape Breton.
Or they may want to try the spirits crafted in a micro-distillery in a former marine blacksmith's shop at Ironworks Distillery in the historic port of Lunenburg on the south shore.
Participants can have their passports stamped at each location visited, and after collecting 10 stamps, they're eligible for a giveaway. Last year it was a free Good Cheer Trail t-shirt.
All the while, participants can pair their excursions with Taste of Nova Scotia products and restaurant meals.
Response to the inaugural year was terrific, with people making travel decisions based on trail stops, White says. "They're getting to taste the passion and dedication of the people who are making the product." White says they encourage all participants to travel the trail responsibly, with a designated driver, or by taking advantage of several organized tour offerings such as Grape Escapes, Uncork Nova Scotia, or the Wolfville Magic Winery Bus.
Need travel inspiration? Taste of Nova Scotia has a handy sample road trip itinerary already planned out; an adventure that takes in several regions across the province. Check it out at www.tasteofnovascotia.com/travel-ideas-weekend-good-cheer.