Fredericton offers plenty of no-cost options
I fell in love the first time I visited Fredericton—and it wasn't just because there were so many free things to do.
I remember standing in the lobby of the Crowne Plaza Hotel on Queen Street on a warm Sunday summer evening, fully charmed by the New Brunswick capital, as I waited for friends to rendezvous for a movie night.
The plan was to stroll a block or two away to the Historic Garrison District, a National Historic Site, spread blankets and chairs on the grounds of Barracks Square and watch a classic flick under the stars. I don't recall if it was Bogie, or Bacall, or even Elvis that night, but I remember the magic.
And that it was free. Free!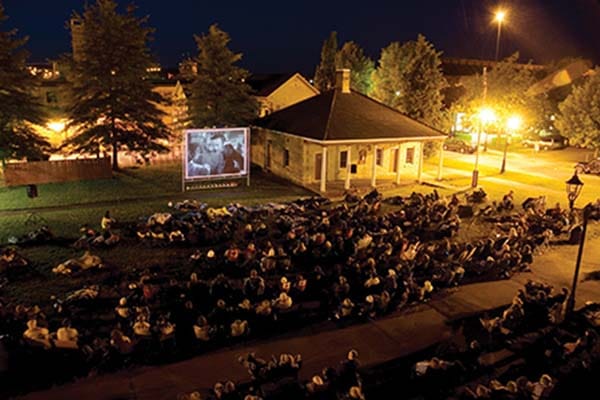 Few words are more welcome when it comes to travelling. And Fredericton, amazingly, offers many things to do that don't cost a dime.
Stacey Russell, assistant manager, Fredericton Tourism, says with more than 40 free experiences to enjoy, the city hopes it will encourage visitors to extend their visit to something they hadn't yet planned.
"For example, if they're enjoying a free outdoor concert or movie under the stars, they may stay downtown for supper as well. The free experiences also help tell Fredericton's story which is rich in heritage, culture and nature."
Many free events take place downtown.
Highlights include:
Under the Stars Classic Films. Curl up outdoors on Sunday nights as you catch a classic film in a National Historic Site. Complimentary chairs are available within the Historic Garrison District, and concessions are available for purchase.
More movies. New this year, the city has added a Saturday night movie series to its offerings, featuring recent films, all screened in Barracks Square.
Changing of the Guard Ceremony. Scarlet-clad 19th century guards rock pomp and ceremony, re-enacting a drill to the beat of piper and drummer, seven days a week in July and August in Officers' Square.
Free concerts. Top New Brunswick artists free in concert? You betcha. Concerts go Tuesdays and Thursdays in the Historic Garrison District, with some special Saturday performances. Also look for Wednesday night concerts on Fredericton's north side.
Outdoor theatre. Humourous, historical, and fun, don't miss the popular noontime performances by the Calithumpians theatre company, a local favourite.
Guided Heritage Walking Tours. Will you walk the Garrison Gait tour or take the River Route? Let costumed Calithumpians squire you around downtown on three different free hour-long tours.
Free parking. How's this for fab? Out-of-province visitors receive three days of free parking, while in-province visitors receive one day at all parking meters and garages downtown. Passes are available at the City Hall visitor information centre in summer, and at Parking Service, City Hall any other time of year.
Keep connected. Fredericton was the first city in North America to offer free wi-fi throughout the downtown. The area has since expanded to many areas of the city.
Tour Government House. It's one of Canada's most visited government houses, and if you too want to see the official residence of New Brunswick's Lieutenant Governor (the third floor residence itself is closed to the public), tours can be arranged to see this national historic site on 11 acres on the banks of the Saint John River.
Christ Church Cathedral. For heavenly inspiration, do tour the first cathedral in North America (1845-1853) to adhere to the exacting standards of the mid-19th century Gothic Revival in church architecture. It's said to be one of the finest examples in North America.
New Brunswick Legislative Assembly Building. A provincial historic site, government business has been conducted here in this handsome three-story sandstone building since 1882. Visitors can book a tour of this seat and symbol of democracy.
City Hall Tapestries. Discover Fredericton's history by viewing the 27 impressive tapestries, on permanent display at City Hall.
The search is on. Home to Atlantic Canada's first bilingual geocaching tour, the Fredericton Geocaching Tour is a search for 30 caches that help tell Fredericton's story. Participants receive a locally made pewter geo-coin.
Frog Tours. Like the sound of a guided amphibian tour, or frog walk? Then plan to stroll the trails at Hyla Park, Canada's first amphibian sanctuary, set aside for the preservation of the gray tree frog (Hyla versicolor). The sanctuary is one of the few places in New Brunswick where this little frog can be found.
Beaver Pond Tours. For something special, take an interpretive guided walk, available by appointment, by a chain of beaver ponds (wheelchair accessible), learning loads about beavers and wildlife as you explore a nature reserve in Mactaquac Provincial Park.
For a complete list of free activities, visit: www.tourismfredericton.ca/en/thingstodo/FreeinFredericton.asp.