New ideas and history mix well in Saint John
The proof isn't so much in the pudding, as the saying goes, as it's in the tiramisu I'm making during a cooking class at Italian by Night, a.k.a. IbN, a trendy restaurant in Saint John, New Brunswick. I've never made tiramisu, a delicate dessert I've always assumed beyond my capabilities. The first step is to carefully separate eight egg yolks and whisk with sugar until smooth and creamy, so I fear this might be the first crunchy tiramisu in history.
Chef Conor Wilson is patiently talking me through the breaking of eggs as owner Liz Rowe relates with passion her love of Italian cuisine and New York style deli foods. She and her husband John have studied cooking in both places. I add mascarpone cheese and a teaspoon of Madagascar bourbon vanilla bean paste to the already rich mix for the filling of this typical Italian dessert to be served tonight at IbN.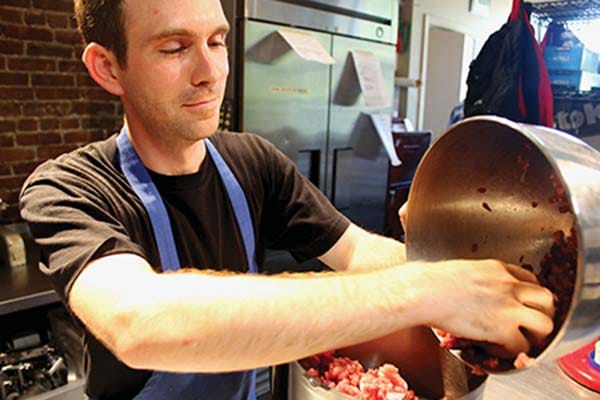 Actually, this place is two restaurants, a microcosm of Saint John as a city with deep working class roots and a contemporary cosmopolitan flair. Each morning, the romantic Italian atmosphere of IbN transforms into a practical lunch counter serving sandwiches, many invented by working families in other cities—the Detroit burger, Cuban panini, Philly steak, Montreal smoked meat and the substantial New Orleans muffuletta, a stack of smoked turkey, corned beef, ham, white cheddar and housemade olive tapenade, all stuffed into an Italian round loaf. "Not pretty to eat," says Liz, "but amazing flavour."
Renaissance City
The deli and IbN are at the centre of a culinary revolution sweeping Saint John, part of a city-wide renaissance. An enlightened political leadership here is riding this new wave. In 2015, Saint John Mayor Mel Norton was the 15th most mentioned Canadian mayor on Twitter, and no wonder. He created #renaissancecity to encourage citizen engagement in the rejuvenation and promotion of the city as an economically and culturally vibrant, caring place to live and work.
Signs of a renaissance are everywhere. New shipping traffic is calling on the port, as are many cruise ships, and in 2012, Saint John was named one of the world's Top Seven Intelligent Communities for its internet start-ups, public services and the use of high tech in schools. But it's in the culinary scene that the renaissance is most obvious.
Following my cooking class at IbN—during which I also helped whip up a batch of ravioli stuffed with sausage, spinach and cheese—I hit the streets with Uncorked Tours guide Anna Stackhouse for a survey of the culinary riches in this trending city. At the Saint John City Market where a bell is still rung daily by the deputy market clerk to signal opening and closing, we find tradition in aisles lined with tidy stalls of produce, fish, meats, take-away foods, art and flowers. A market has operated at this downtown location since 1785, though the current market was built nearly a century later in 1876. It's Canada's oldest continuous farmers market operating on the same site, a National Historic Site and, according to Mayor Norton, where the city's culinary renaissance began.
At Slocum and Ferris, founded in 1895, current owner and unofficial market historian Dave Forestell puts together hearty breakfast and lunch sandwiches. Taking time from his work, he pulls out a thick, ancient book and eases it open to reveal a beautifully scripted ledger with entries of transactions a century ago—a 20-pound slab of butter, a 60-pound carcass of veal, four pairs of chickens, two bushels of apples.
If the market is a sign of the city's deep culinary roots, the rest of the tour shows off its new growth. We stop at the Liquid Gold Tasting Bar to find out what makes a great olive oil. Down at the Saint John Ale House, a lively nightspot, we sample excellent housemade charcuterie for lunch that includes periwinkles and fiddleheads. At Big Tide Brewing Company, beers like Rhubarbarian and Benedict Arnold satisfy. The tour ends at Happinez Wine Bar where one of New Brunswick's early wine successes, Motts Landing Summer Solstice, is uncorked. International cuisine adds to the sense of a city come alive with cosmopolitan influences: Thai food at Lemongrass, East Indian at Thandi, Korean at Kim's, Latin American at Taco Pica. As Mayor Norton told me, "the new Saint John is as adventurous as the food culture is diverse."
In the evening, I return to Italian By Night to try my own cooking... prepared with a lot of help from a certain patient chef, Conor Wilson. The ravioli is a delicious pocket of flavour glazed in just enough rich mushroom sauce.
At last, it's time for dessert. Resting the tiramisu has allowed the flavours to permeate so it's equally decadent and refreshing with that creamy, cool coffee and vanilla finish, bringing to mind the soft Bay of Fundy fog that envelops Saint John so often. As Dave Forrestell from the market put it, "The fog here is like being kissed by clouds." A spoonful of IbN tiramisu is like being kissed by a newly awakened Saint John.
Recipes