Great spa getaways across Atlantic Canada
Atlantic spas are charting a new course for travellers seeking health, wellness, and relaxation through services that invoke salt, sea, nature and song.
Nova Scotia:
Pain and troubles drift away at The Floatation Centre in Halifax's North End, where clients come to float in shallow pools of water saturated with 800 to 900 pounds of salt, creating buoyancy greater than that of the Dead Sea. Each floatation pod facilitates sensory deprivation, creating a calm, meditative environment that makes you feel like you're floating in space.
An hour here is said to have the same impact as four to six hours of deep sleep. It's also used to treat jetlag, stress, anxiety, depression, insomnia and chronic pain, and is popular among pregnant women, both for the magnesium boost and because it is said to help create a feeling of connection to their babies.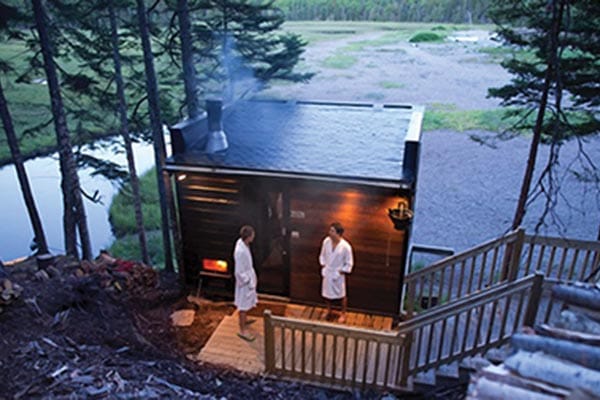 Take a deep breath at The Salt Room in Halifax, a small room covered floor-to-ceiling with thick layers of Dead Sea salt. Recline in an overstuffed chair with a blanket, select a soundtrack on the personal headset, and relax while crushed pharmaceutical-grade salt is filtered into the room. The Salt Room is the only place in Atlantic Canada offering halotherapy, a popular treatment in other parts of the world. It's believed to be beneficial for skin and respiratory conditions including acne, asthma, eczema and Chronic Obstructive Pulmonary Disease (COPD), and can reduce stress and increase energy.
Waterside relaxation awaits at Fox Harb'r Resort and Spa in Wallace, where you can indulge in an outdoor massage with a view of the Northumberland Strait. The spa features treatments like "The Awakening," a soak in a hydrotherapy tub or a full body exfoliation and wrap followed by a full body massage and hydro float. Leave time to relax before or after your services in the junior Olympic lap pool, mineral tub, and hot tub with a garden view.
Newfoundland & Labrador:
Set in a three-story lodge overlooking Conception Bay and Bell Island, Ocean Quest blends international influence with the comforts of Newfoundland. Indulge in a fireside manicure or pedicure, try the Thai herbal massage, or experience a hot stone massage with basalt rocks. Many of the skincare products are organic and locally made by St. John's Soap Works.
For an off-grid spa experience, head to The Wash House Spa. Situated on the remote island of Battle Harbour in a historic washhouse right on the dock, the small, unconventional space boasts breathtaking water views. Hand-carved Labradorite stones are used for full body massage and facial treatments. Labradorite is indigenous to Labrador and believed by some to have healing properties. It's one of many local ingredients used at the spa. Staff gather seaweed right off the rocks, preparing it fresh for each treatment. Local berries, seaweed, aloe, and other fresh native plants are used in treatments and in their spa line, Indigena, an all-natural home skincare line that spa owner Lisa Walsh created prior to opening The Wash House.
Prince Edward Island:
Learn to gather and prepare fresh seaweed at Rock Barra Retreat, a centre for creative and healing arts on a remote 20-acre beach in Souris. Each summer they host a series of health & wellness workshops, including a seaweed spa session where participants learn to create a home spa experience. The retreat is run by volunteers, including multi-award winning musician Teresa Doyle. Her workshop, Singing for Wellness, incorporates chanting, toning and yoga. It produces similar effects to meditation, and is great for stress reduction.
Grand Senses Spa, located in the Holman Grand Hotel, right in the heart of Charlottetown, is a two-story spa and is fully wheelchair accessible. In addition to traditional treatments like manicures, pedicures, and plant peels, the spa offers exclusive aquatherapy massage beds, a hands-off water massage. The treatment is said to increase blood supply and circulation and reduce muscle strain, particularly in the back, neck and shoulders.
Serenity Spa started as a mobile service, bringing massage directly to guests in hotels in Charlottetown, Dalvay and Cavendish. Their new permanent location in Grand Tracadie boasts a beautiful view of the bay. Indulge in Reiki, reflexology, or Thai, Swedish, aromatherapy, or hot stone massage. Serenity primarily operates from their day spa, however, mobile services are still available at local hotels and inns.
New Brunswick:
Waterfalls, saunas, and a dip in the Bay of Fundy are all part of the treatment at Chance Harbour Nature Spa. This 50-acre retreat near Saint John specializes in thermotherapy; heating, then rapidly cooling the body's core temperature. Sweat it out in the hot pool, wood fire sauna or vapor steam sauna (also called a hammam or Turkish bath), splash into a waterfall or the bay, and repeat. There are glamping (glamorous camping) options on-site, and live music, bonfires, and yoga at select times during the year. Massage, manicures, Reiki and pedicures are available, as well as a range of mini-treatments, a popular option for visiting groups.