Explore Prince Edward Island by bicycle
I lean my bicycle against a wooden railing, sink to my knees and lie back in the sand at Brackley Beach on Prince Edward Island's north shore. A weak sun breaks through heavy clouds as sea birds take flight from striking red dunes. It's the first day of a 250-kilometre cycling trip and my doubts about completing the route fade with the tide. PEI's car-free Confederation Trail, paved coastal paths and bike-friendly roads make the island an ideal destination for cyclists.
During a five-day bike trip my husband and I ride through rolling hills, visit tranquil fishing villages and coast along miles of empty beaches, riding 45 to 60 kilometres a day.
Easy riding
I'm just a casual cyclist and had worried how I'd manage a multi-day trip. "Just take it easy at the beginning," advises David Gregori, tour manager at MacQueen's Bike Shop in Charlottetown, where we rent hybrid bikes. "If you don't overdo it the first day, the second day is much nicer and by the third day you can almost cycle forever." We set off on a stone-dust path, part of the 435-kilometre Confederation Trail network. Built along an old railway track the length of the island, the trail courses through forests and fields and branch lines reach into cities, villages and seaside towns. The level track makes for easy cycling but the best scenery lies along the coast. We leave the trail near Royalty Junction and continue north on a quiet country road, one of many that crisscross the island offering easy links from one coast to another.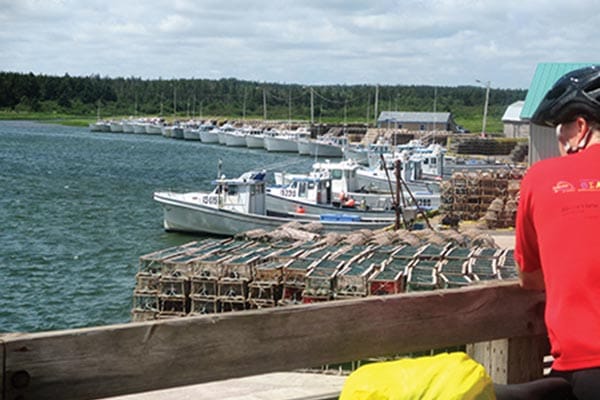 A sudden heavy rain beats down but it doesn't last long and by the time we reach Brackley in Prince Edward Island National Park the sun is bright. We cruise west along Robinsons Island, a long spit of land with calm Rustico Bay on one side and the wild Atlantic Ocean on the other. Doubling back we pedal east on a spectacular paved bike path that hugs the coastline, winding past a rustic red-and-white lighthouse, purple wildflowers and wind-sculpted dunescapes.
Tasty rest stops
Wooden lobster traps are piled high on the wharf at Covehead Wharf, Stanhope, where we tuck into massive lobster rolls paired with local Gahan beer at Richard's Fresh Seafood. In late afternoon we reach Dalvay by the Sea, an elaborate Victorian seaside retreat built in 1895 by a wealthy American businessman and now a historic inn. We clean up after our 50-kilometre ride and enjoy a delicious seafood dinner in Dalvay's stately, wood-paneled dining room.
The next morning we ride south through lush farmland—a patchwork quilt of red and green—and rejoin the Confederation Trail at Bedford Station. Turning east, the track leads through dense hardwood forests and traverses vast salt marshlands with eye-catching views of the Hillsborough River.
An 11-kilometre stretch skirts the shore of St. Peter's Bay, the most scenic section of the trail with wide-open views of the Gulf of St. Lawrence. We coast past hundreds of mussel buoy lines and startle a heron into flight. In the evening, the resident bald eagle swoops past our water-view suite at the Inn at St. Peters. I savour succulent scallops at the inn's award-winning restaurant, which serves inventive contemporary cuisine sourced from local farmers and fishermen and produce from its own vegetable gardens.
On day three we cycle a 60-kilometre loop, a combination of the trail and rural roads. Rugged fishing boats line the harbour at the tiny port of Naufrage, where we take a break over hearty bowls of seafood chowder at Shipwreck Point Café. Turning west, a heavy headwind makes cycling a slog but I'm entranced by the views of stunning red sandstone cliffs framed by blue sky and sea.
PEI National Park at Greenwich is deserted in the late afternoon as we speed through a forest stand and over an extensive floating wooden boardwalk, racing to beat the rain. The fragile coastal system is composed of massive mobile parabolic dunes. The sky clears on the now-deserted beach and after a dip in the ocean we wheel south, back to St. Peters and another sublime dinner at the inn.
The next day's ride begins with a climb up Cardigan Road as we head cross-country to the south coast. Few cars pass as the route rambles up and down, past miles of potatoes planted in the rich earth. Our host at Dewars Bed & Breakfast in Montague greets us with refreshing mint-sprinkled strawberries. Later, we dine on tender steamed lobster tails at Windows on the Water and then it's standing-room-only at a ceilidh in Pooles Corner.
On our final day, quiet roads run alongside the Montague River and past farms, woodlots and seaside communities on the Northumberland Strait. Traffic picks up on Highway 1 but paved shoulders make for easy cycling as we cross the Hillsborough Bridge and coast back into Charlottetown.
Tuckered out but satisfied, I trade in my bike for a patio seat at the Water-Prince Corner Shop in the city's historic centre, where I happily work my way through a well-earned, bib-splattering lobster dinner.