Romancing Newfoundland's Baccalieu Trail
If love begins with Cupid, then a couple's getaway to Newfoundland and Labrador is already a sweet step ahead.
It's hard not to feel starry-eyed in such idyllic and magically named towns as Cupids and the three "Hearts"—Heart's Content, Heart's Desire and Heart's Delight—and now these towns along with sister communities on the Baccalieu Trail, just an hour west of St. John's, are branding together as a romantic getaway destination.
The scenic route, running for 230 kilometres up the western half of Conception Bay, down the eastern side of Trinity Bay and back to the Trans Canada, is filled with coastal landscapes, outports and extraordinary history and oozes with possibilities to create your own love story.
The Baccalieu Trail is the most glorious scenic drive where there are many places you can get very close to the water and see icebergs and whales. It's great for romantic picnics sea side," says Kathi Stacey, executive director of the area's Legendary Coasts of Eastern Newfoundland. "Of course, the names along the route speak to romance, and it's quickly becoming known as a wedding destination."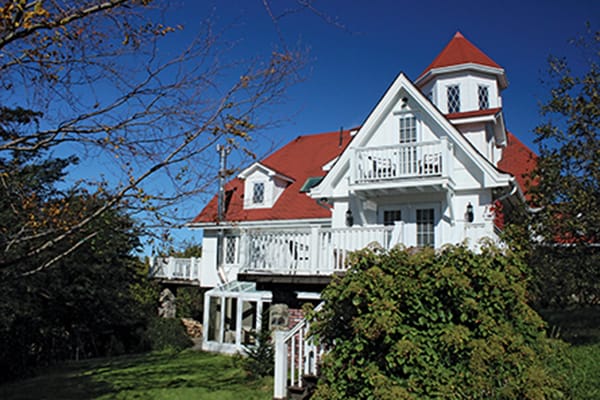 Romantic escapes
One charmer stealing hearts is the Doctor's House Inn & Spa in Green's Harbour, which woos guests with English gardens, an Aveda spa, and sunsets over Trinity Bay, all at an oceanfront Tudor mansion that an Irish doctor built for his bride more than 50 years ago. Today, the 10-room inn and four-room guest house is a top destination for romantic escapes, including many weddings, with its beautifully appointed rooms, talented executive chef, quiet tree-lined walking paths, rambling fields, and Newfoundland ponies, goats and birds roaming the grounds.
Another heavenly spot is found at Cupid's Haven Bed and Breakfast, housed in the restored former St. Augustine Church, in Cupids, a town that marks history as the first English settlement in Canada, founded in 1610. Cupid's Haven will provide picnics for hikers who want to explore its spectacular natural setting—a trail head to the Burnt Head Trail is just outside its doors.
Cultural connections
To add a poetic spin to the getaway, plan a night at Perchance Theatre, an outdoor theatre that is an adaptation of Shakespeare's Globe Theatre in London. Many of Newfoundland's top actors perform throughout the summer with this professional theatre company. Need dinner plans? Try Skipper Ben's B&B, also in Cupids.
The next day, explore some of the province's awe-inspiring landscape and cultural traditions on the Toutons and Tunes Tour, a guided coastal hike along the Shoreline Heritage Walk, just 15 minutes away in Bay Roberts. The tour stops in at a fisherman's shed for traditional tunes and toutons—fried bread dough deliciously slathered in molasses.
In Heart's Content, connection comes in many forms. The first permanent transatlantic telegraph cable connecting North America and Europe was hauled ashore here in 1866—this year is the 150th anniversary of that momentous event—while the town itself, with its fairytale name, has become a popular spot for engagements and weddings. The candy cane striped Heart's Content Lighthouse is a popular vantage for watching icebergs, and perhaps proposals.
Romantic hide-aways
For a romantic retreat, consider the award-winning Cable House, two Victorian 2nd Empire houses built in 1882 to house the British telegraph operators and their families. The houses have been completely restored and are designated national and provincial heritage sites. They hold the Southcott Award for design, and charm with private gardens, decks, and gazebo.
Nearby, Ocean Delight Cottages lend themselves to long, secluded shore walks, glorious sunsets and beachside marshmallow roasts.
The sunsets on the Trinity Bay side of the trail are breathtaking. Sit on a deck at the Dildo Dory Grill in the seaside community of Dildo and sip on a beverage and watch the sun go down. The beautiful, award-winning Inn by the Bay makes a great base to explore this historic outport.
In Harbour Grace, one of Newfoundland's oldest towns, visitors find a history of heroes, pirates and adventures, and a most welcoming base in the Rose Manor Inn.
If your idea of romance includes cottages close to the sea, where you can watch waves crash on shore and just breathe—you're in luck. Guests wake up to the smell of salt air and the call of seagulls at Salty Seas Cottages in Ochre Pit Cove, where icebergs come within feet of the shore and days are spent exploring the beach and shoreline. Blazing Horizon Cottages takes its name from the fiery sunsets viewed from the decks of the oceanfront cottages in Whiteway, taking in panoramic views of the bay and Shag Rocks.
The most northerly community on the Avalon Peninsula, Grates Cove is a dreamy spot. Watch the landscape change along the drive, as trees turn to rocky terrain and a small outport appears on ocean cliffs. Whales and icebergs are often spotted. At Grates Cove Studios, an artist studio and café, they'll pack picnics for a hike along kilometres of historic rock walls that were once used in the barren landscape to fence boundaries and protect gardens. Stroll hand-in-hand, knowing these stone walls have been rock solid here for centuries.