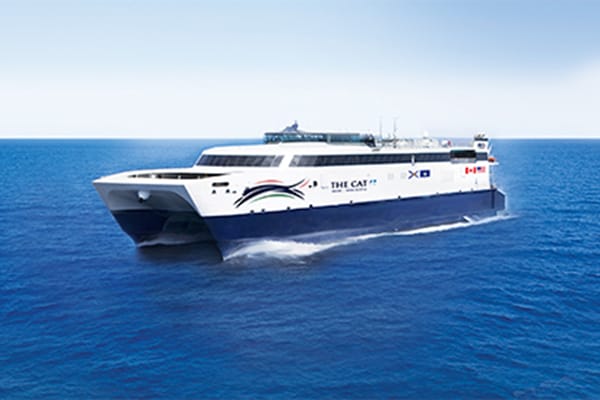 2016 marks an exciting year for Bay Ferries Limited and for vacationers in both Canada and the United States: The CAT is back!
After a six-year hiatus, a fast ferry will once again travel between our two nations, from Portland, Maine to Yarmouth, Nova Scotia and back again.
You'll be able to start your two-nation vacation half-a-day earlier by taking the ferry to Yarmouth; avoid 12 hours of driving while you relax and enjoy The CAT's amenities, and land in Yarmouth less than six hours after you leave Portland.
Bay Ferries CEO, Mark MacDonald, explains how the company settled on The CAT as its new vessel for the Portland-Yarmouth run. "We needed a certain size of vessel to accommodate the traffic requirements for the route. We wanted a fast ferry, one that would save travellers significant time on their travel to Canada, and we want people to be able to wake up in New York—or Boston—or Ottawa—or Allentown—and spend the night in Southwest Nova Scotia." he says.
An extensive search was carried out by brokers on behalf of Bay Ferries Limited, and a suitable vessel, a high-speed catamaran, was sourced and leased from US Military Sealift Command. "Because the two previous ships that we ran under The CAT brand had such positive and long-term recognition with travellers," MacDonald continues, "we chose to bring that name back to introduce our new ferry route."
While on board The CAT on route to Yarmouth, or travelling to Portland, you'll be able to enjoy food service, movie lounges, a kids play area for families, and a gift shop featuring choice items from local artisans. Cats and dogs can be transported on The CAT in the special kennel area; it's recommended that guests travelling with pets book as far in advance as possible to ensure availability.
With its proud nautical history, it seems only appropriate to arrive in Maritime Canada by sea, as you pass by the striking lighthouse at Cape Forchu and arrive in the historic town of Yarmouth.
Located on the southern tip of Nova Scotia, Yarmouth is the gateway to the province, well-known for its proud seafaring history and thriving seafood fisheries, especially Atlantic lobster. Stay in the town and sample the fantastic local seafood for yourself; get to know the natural history of the area via the hiking and cycling trails, and the human history of the area through the museums, artisan shops and galleries. There's a thriving farmers market year-round on Saturday mornings, and a host of unique shopping and dining opportunities just minutes from the ferry terminal.
You can then choose to travel through the Acadian region of Clare and into the fertile Annapolis Valley, following the Fundy shoreline of Nova Scotia, or take the South Shore route following the Atlantic side of the province. Both routes will lead you on scenic drives and through welcoming communities to the capital city of Halifax and beyond to further adventures in Cape Breton, New Brunswick or Prince Edward Island, or on to Newfoundland and Labrador.
And when you're ready, The CAT will speed you home again.