As you leave the long sandy beaches of Nova Scotia and head out into the waters of the Northumberland Strait you hear the cry of the gulls wheeling overhead; the water sparkles and the sun is warm across your shoulders on the 75-minute sail to the red shores of Prince Edward Island—one of the most charming and relaxing ways to travel. The crossing saves 100-kilometres worth of driving but what that short 75 minutes does for your wellbeing truly is magical.
Since the first trip across was made on June 28, 1941 by the MV Prince Nova, a total of six ferries in addition to the two presently running have been responsible for extending the Trans-Canada Highway across the open waters.
The two ferries presently servicing the two ports, the MV Holiday Island and her "big" sister, the MV Confederation, offer on-board cafeterias and lounges with plenty of seating, but it's the outdoor seating—located at the top of the Confederation and at the front of the Holiday Island—that is truly the best way to enjoy the sun and views, especially appealing when entering and leaving port.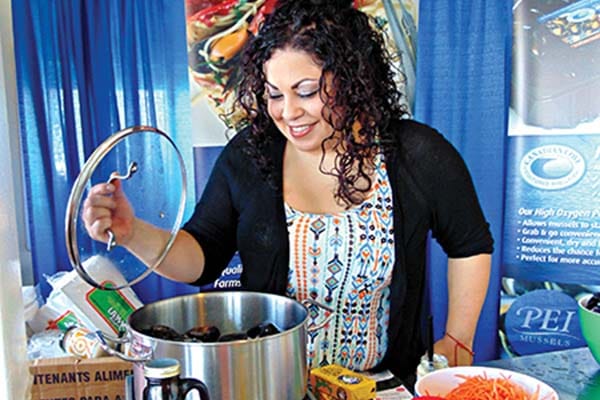 Culinary forces from both sides of the crossing have teamed up to introduce visitors to a taste of what makes the two regions so special. Northumberland Ferries Limited has partnered with local producers and processors to introduce passengers to a "wee taste" of what PEI and Nova Scotia have to offer, showcasing foods and libations as a small sampling of what be found upon disembarkation on either side.
During the months of July, August and September visitors can expect to find one of the area's many producers and processors set up for the day's crossings—vintners and brew masters, bakers and cooks, purveyors of jams and jellies, and sweet treat makers—all prepared to offer samples of their goods. Try delicious homemade shortbreads or sparkling frizzants made from grapes grown on rich fertile soil. Craft beer is fast becoming a major industry in both provinces and NS and PEI are equally represented on board. In addition to sampling, passengers can often purchase product to take with them to enjoy later.
As an extra special feature on some crossings, chefs will be on board, cooking and enticing guests to try dishes created with wild blueberries, mussels, oysters, scallops, lobster, and many more. Always happy to chat, the chefs can answer questions about culinary offerings in the region or offer up suggestions on their favourite restaurants.
In addition, Music on Deck shows how important the marriage of food and culture is to the two regions as musicians—from fiddlers to singers and songwriters—create a festive atmosphere for all to enjoy.
Come aboard and join the party!