A food-lover's tour of Newfoundland and Labrador.
What do fish and brewis, cod tongues, toutons, Jiggs' dinner and moose meatballs have in common? They are just a few of the delicious dishes served in Labrador and Newfoundland. My only complaint after spending two weeks driving across Labrador and down the west coast of Newfoundland with my husband, Barrie, is that I put on more pounds than I care to divulge.
For starters, we spent a couple of nights as guests of Cavell and Ned Burke at the Grande Hermine Campground about 40 kilometres past Labrador City. The first morning, Cavell and a friend made breakfast for us. Picture this: bacon and eggs, sausages, bologna (referred to as "Newfoundland steak"), beans, toutons and molasses. That was my introduction to toutons—oh my! Made with fresh bread dough, toutons are about the size of flat doughnuts and are pan-fried to a golden brown. They are downright deadly—and addictive.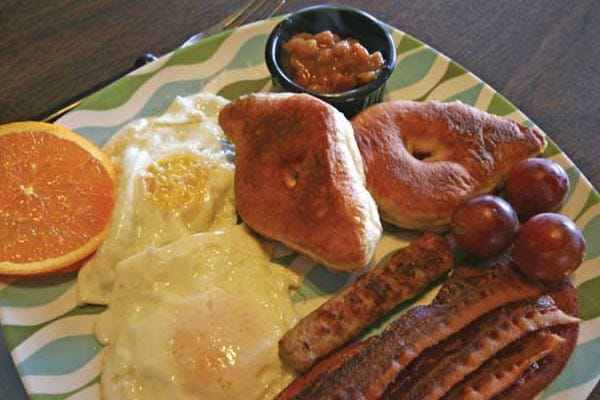 Farther along in our journey, we spent a morning with Pete and George Barrett, owners of Experience Labrador Tours in Cartwright. After a boat ride to the Wonderstrands (an impressive and historically significant stretch of more than 50 kilometres of sandy beach that juts from the mainland), we went to Packs Harbour where Pete proceeded to heat up stewed moose for lunch. Sopping up the moose juice with homemade rolls, the discussion turned to food and Pete asked if we'd ever eaten flummies. "Nope," I replied. Pete explained that a flummy is a thick mix of flour, baking powder, salt and water fried in margarine and topped with a brown sugar sauce that is frequently laced with rum (see recipe, below). You can add just about anything to flummies, including berries, mushrooms or leftover meat.
A few days later we were ferried over to Battle Harbour, a National Historic Site on a small island. The cook there, Myrtle Rumbolt, showed me how to make fish and brewis—pronounced "brews." Mushed bread and salt fish is not very appetizing to look at but topped up with pork scrunchions (fried cubes of pork fat) and sautéed onions, it's simply divine. And although I suspected that all the salt and fat was probably going straight to my heart, that didn't stop me from having seconds.
Once we crossed over to "The Rock" and headed to the northern part of western Newfoundland, I vowed to ease up on the food. I changed my mind, however, when we hunkered down to a "scoff," featuring a Jiggs' dinner (corned beef, root vegetables and thick gravy) with peas pudding (split peas tied into a bag and cooked with the dinner) at Tuckamore Lodge in Main Brook, NL. Nothing like eating yourself silly in the wilderness.
On our way south, we veered off the main drag into Codroy Valley where I'd rate the region's rolling hills, laid-back villages, Cape Anguille Lighthouse Inn and the Codroy Café with a "wow" factor of 10 out of 10. I can safely say that the fish cakes at the Café were so good I was tempted to have another order for dessert.
Our final dining destination was St. Christopher's Hotel in Port aux Basques where chef Pauline Gillam creates dishes like Figgy Duff, Cod au Gratin and Moose Meatball Pasta. She says, "All Newfoundland food is pretty simple and easy to cook. We just use what we have—fish, meat, potatoes and berries. We don't go by the book. A dash of this and a dash of that; that's what makes the taste!"
Recipe featured in this article: