—every which way but loose
Years ago, fishermen's kids were embarrassed to bring lobster sandwiches to school for lunch. The rest of us eagerly swapped our baloney or peanut butter sandwiches, knowing full well we were getting the best part of the deal. It wasn't until the late 50s that lobsters were featured in restaurants and garnered some respectability.
One of the popular dishes at that time, served in Yarmouth at Harris' Seafood Restaurant, was Nova Scotia-Style Creamed Lobster. It consisted of a generous portion of chunked up lobster served with thick cream, butter, a splash of vinegar, salt and pepper. One evening, a customer asked Clara Harris if she would serve this with toast. Voila! The Hot Lobster Sandwich was invented. It's still one of the best-selling menu items in Southwest Nova Scotia.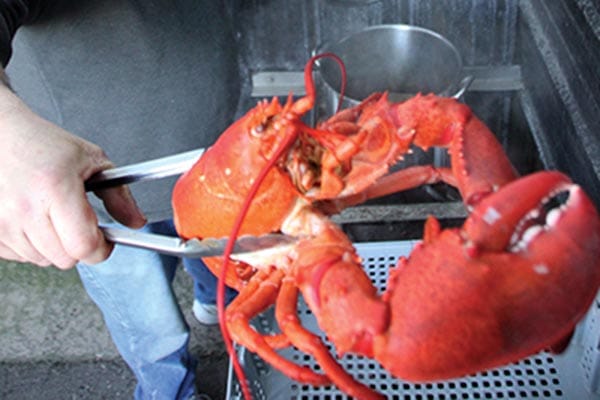 Lobster—the quintessential palate pleaser in Atlantic Canada—is not only synonymous with great taste, hospitality and good times, it's also downright good for you. Homarus americanus is low in carbohydrates, high in omega-3, B vitamins, minerals and protein. Bonus: Lobster is one of the most versatile foods on the planet.
So, what's the best way to cook these lovelies? For insider information I turned to Ernie and Brian Williams. They have the perfect outdoor set up at Stanley Lobster Co., a lobster pound on the Overton Road in Yarmouth. The brothers steam their lobsters using big pots, outfitted with grates about three inches from the bottom. "Put about two inches of salt water into your pot. If you don't have ocean water, add a handful of sea salt to the water," says Brian, adding that the important thing is for the water to be boiling hard. "That pot has to be steaming before you put lobsters into it. Then set your timer to 20 minutes for 1-pounders, and 24 minutes for 2-pounders. Guaranteed perfection!"
I once made the mistake of asking why they steamed the lobster instead of boiling them as it takes less time to boil them. Ernie quipped, "You don't boil your steaks do you?" So the next time I cooked lobsters at home, I steamed them. I'm now a convert. Steamed lobsters are juicier and have more flavour. Although, let's face it, lobster any-which-way is good. But I love going to Stanley's for a lobster feed because these guys are so entertaining.
Brian loves to explain the intricacies of a lobster trap. "See here," he says, "this is the kitchen. Over here is the bedroom and on the other side is the living room or parlour."
Inside the lobster pound, you'll see lobster tanks that can hold upwards of 70,000 pounds of lobsters in 100-pound crates. You'll also hear some of the lingo that's part of the trade like "chicks," "quarters," and "culls." By the time your lobster is cooked, you know how to tell the sex of a lobster, and how to grade them.
If it's chilly or misty, you can go inside a many-windowed building, and eat at tables overlooking the ocean, or sit on the beach if it's balmy. (You can also bring your own beer and wine; no corkage fee.) Be sure to spend time sitting on Neptune's Throne, a gigantic chair made from flotsam and jetsam. The vista is magnificent. Should you be inclined to stay for the sunset, there's a fire pit just a few feet away. Lingering is encouraged.
Recipe