Fabulous food abounds on Newfoundland and Labrador's Northern Peninsula
When we first traveled the Viking Trail (Highway 430) on the Great Northern Peninsula of Newfoundland in the summer of 1981, visitors and good restaurants were few and far between. We had just moved to Corner Brook that July and a few weeks later we were off exploring Gros Morne National Park then drove on to the historic Viking site L'Anse aux Meadows.
On that trip we camped, in part because that was all we could afford, but also because there were few places to eat along the way. Fast-forward 30-plus years to the present; visitor numbers have grown dramatically and first class restaurants have followed. Now visitors can get award-winning food to go with the world class UNESCO status of Gros Morne National Park and L'Anse aux Meadows. Last summer we embarked on a tasting tour of the Northern Peninsula and here is a sampling of what we found.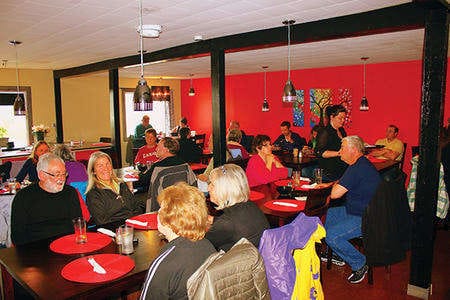 In Gros Morne National Park just about every community now has a restaurant serving fine local seafood as well as other memorable dishes. Let's start in Norris Point where Vince McCarthy of the Sugar Hill Inn told us he has always loved good food and wine and that he wanted to share that with his guests. When we visited the Sugar Hill Inn last September, we ordered two of their most popular entries—delicious crusted cod and slow roasted rack of lamb, and we even had locally-harvested chanterelle mushrooms on the side.
Another restaurant that has rapidly become very popular in Norris Point is the seasonally open Justin Thyme Bean and Bistro. It opened in 2013 "just in time" for the popular Trails, Tales and Tunes Festival and has quickly established itself as a reasonably priced restaurant with great food. (Be sure to have the fabulous pesto mussels.)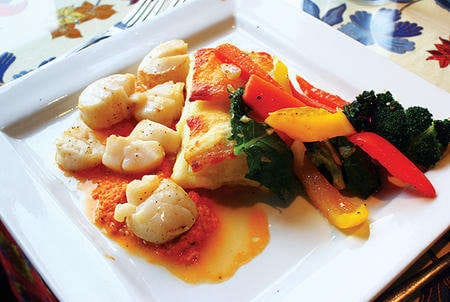 Rocky Harbour has the most restaurants of any community in the park and you can't go wrong with Java Jack's for a freshly brewed cup of coffee or an enjoyable meal. This establishment has a well-deserved reputation as one of the most popular places to eat in Gros Morne. Some of the fresh greens come from the garden in front of the restaurant. During our visit, we enjoyed mushroom soup as an appetizer and delectable local scallops with a fresh vegetable medley as our main course.
For fine food on the south side of Gros Morne National Park look no further than The Old Loft in Woody Point. The fisherman's platter seems to be one of their most requested dishes and the shrimp, scallops and cod were delicious when we ate there.
Seaside Restaurant in Trout River is well named; it pays to reserve a window table, as the ocean view is first class. On our visit here we enjoyed pan-seared scallops as an appetizer followed by grilled salmon and their yummy bakeapple cheesecake for dessert.
We can't leave great restaurants in Western Newfoundland without mentioning The Norseman Restaurant in L'Anse aux Meadows. On our most recent visit we had an absolutely delightful lobster gnocci and curried mussels for appetizers. This was followed by salmon with a bakeapple sauce and halibut with pesto and sundried tomatoes. We were too full for dessert but we couldn't leave without trying the Figgy Duff so we ordered one, with two spoons; yum! It's no wonder The Norseman is consistently ranked as one of the province's top restaurants.