Maine Wilderness Lodges in the White Mountains
Just after dawn one morning in Maine's 100-Mile Wilderness region, Rob Burbank was paddling across a pond to spend a morning fishing when he spotted a moose wading into the water.
"The sun had just come up. I postponed my fishing for a little bit so I could hang back and watch this moose. It was magic. That's a word I keeping coming back to," Mr. Burbank says as he describes time spent at one of three Maine Wilderness Lodges operated by the Appalachian Mountain Club (AMC).
"There's just something about that wilderness, I just get this sense of magic. For me, it feels welcoming, and relaxing, something you don't often find in other places. The forest surrounds you, you have mountain peaks around you, and the fishing—the Brook trout are very active."
The Appalachian Mountain Club, where Mr. Burbank is media and public affairs director and a hiker himself, has been helping people foster a closer connection with nature in the US northeast and mid-Atlantic regions since—wait for it—1876.
Just over the border from New Brunswick, this includes three Maine Wilderness Lodges and hut-to-hut hiking in New Hampshire's White Mountains.
The lodges—Gorman Chairback, Little Lyford and Medawisla, which opens July 1 after a complete rebuild—are all in the Maine Woods, a section of the 100-Mile Wilderness region, also known as the Moosehead Lake Region. Greenville is the closest main town.
They're all connected through a 130-mile trail network built and maintained by AMC. These trails are open to guests and the general public, and offer a range of lodge-to-lodge hiking, biking, and skiing adventures.
"It's a comfortable, calming place where you can really feel at home in the Maine Woods," Mr. Burbank says.
"It's a wonderful wooded landscape that leads to great lookouts, paddling opportunities, and there are about two dozen ponds, popular for fly-fishing. Visitors often spot moose, they're a real icon of the Maine Woods, and see bald eagles flying or perched in a tall tree. They hear loons at night. It gives you a real wilderness feel.
"It's a great place for families to bond and enjoy the outdoors."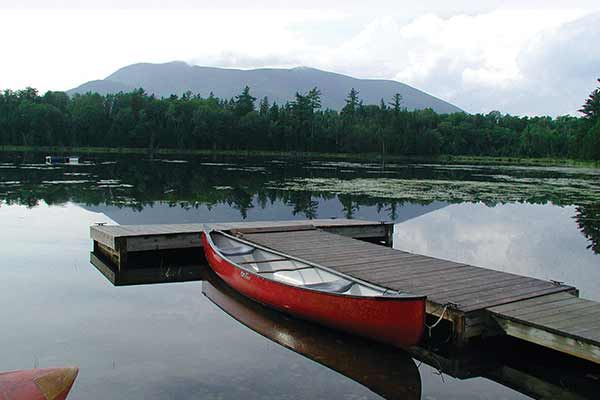 Stay on site
There is a variety of accommodation options, including cabins (some on the shoreline) as well as single camp sites, shelter sites, and paddle-to-camp sites.
A truly off-the-grid venture destination awaits just steps from the cabin doors, where guests can end the day with home-cooked meals and screened-in porches and woodstove.
There are many guided programs (or guests and the public can venture out on their own) to enjoy hiking, mountain biking, swimming canoeing, kayaking, wildlife watching, and fly-fishing for wild brook trout. Options range from multi-day paddling trips to hiking day outings.
In winter, AMC offers cross-country skiing, including lodge-to-lodge skiing on groomed trails, with accommodations in private cabins, home-cooked dinners and breakfasts and packed lunches.
Mr. Burbank says AMC now owns about 75,000 acres in the 100-Miles Wilderness region and it's open to the public for recreational use. Anyone is welcome to visit, whether they are staying at the lodge or not. He says staff, available by calling 207-358-5187, can help detail programs offered.
Hut to hut hiking
AMC built its first hut in the White Mountains of New Hampshire in 1888 and today has eight huts, each paced about a day's hike apart on the Appalachian Trail in the White Mountains.
Visitors can choose a guided hut-to-hut experience, or set out on their own, with reservations for the huts made ahead of time.
"AMC's White Mountain huts are known for their spectacular locations," Mr. Burbank says. "A hut stay in full-service season includes dinner and breakfast, so you can travel light without the need to carry a cook stove or large amounts of food. And because you have a roof over your head, you don't need to carry a tent. The trails vary in their level of challenge, so hikers, families, and other groups can choose a destination suited to their abilities."
Guided hikes include natural history interpretation along the way, with perhaps an interpretation program again after dinner. Hikers typically spend their evenings reading, playing cards or board games.
The word huts, he says, is a local term. The buildings are more like cabins, typically with a kitchen and sitting area and bunk rooms. Each of the huts is configured a little differently.
The terrain experienced en route changes with the elevation. Hikers begin in a mixed hardwood forest with a green leafy landscape filled with maple and birch. As they gain elevation, the landscape changes to a boreal forest with conifers such as spruce and fir. Some huts are located above the tree line, where the terrain changes yet again to an alpine zone. This area typically has 360-degree views and is exposed to the weather, an important reality to which hikers need to pay attention. Mr. Burbank says staff at the information centre can help hikers with preparations for the peculiarities of the mountain environment.
"You have spectacular views, if the weather is clear, you can see waves of mountains in the distance, you can look down in nearby ravines.
"It gives people a chance to get into these wonderful locations. And it's a great way to introduce kids to the outdoors."
At their White Mountain huts and Maine Wilderness Lodges, he says guests consistently comment on the friendliness they enjoy when meeting other hikers and interacting with staff members at the huts.
"People really value the camaraderie they feel at the hut, sharing a meal family style, chatting, passing the plates.
"And you know that you sort of earned it, there's still that sense of accomplishment once you reach the hut."
Guests can tailor their trips to suit quick getaway options like long weekends, or plan on longer stays.
You can stay for one night or several nights, making one lodge or hut your sole destination, or visiting other lodges or huts over multiple days," Mr. Burbank says. "Our reservations staff can help you plan an itinerary by calling 603-466-2727. We offer lower rates for three-night and five-night stays."
He says interest in these types of experiences, in people wanting to have a nature or outdoor-focused vacation, has been on the rise for a number of years.
"We believe these resources have intrinsic worth and also provide recreational opportunities, spiritual renewal, and ecological and economic health for the region. Because successful conservation depends on active engagement with the outdoors, we encourage people to experience, learn about, and appreciate the natural world."
For more information, visit the website at outdoors.org.