Those who love East Coast oysters love them a lot
From the bow of an old dory she's sawn in half and fitted with shelves, Hana Nelson runs her mobile oyster bar. "It introduces a lot of people to oysters for the first time," she says. "People see a bed of ice and open oysters and say, 'I've never had one before. What's it taste like?'"
Her boat-bar painted white with blue and red stripes at the gunwales and draped with fresh rockweed as a serving bed is also a pretty exciting sight for oyster lovers at festivals, weddings or corporate events. Whether her customers are connoisseurs or first-timers, Nelson is always eager to share her passion for oysters.
Nelson is the founder of Afishionado's, an independent fish market in Halifax's north end. "Going to a restaurant might be intimidating to order this thing you've never tried before." Instead, she says, "Go to somebody reputable with oyster knowledge. Ask questions about where they came from." When people ask, Nelson takes the opportunity to talk to them about oyster farmers and the unique qualities of their oysters, as well as how to eat oysters. "It helps us grow that culture and awareness."
Where it all began
"These have a cleaner taste than the oysters grown past the bridge," says James Power after slurping one of his signature PEI "Lucky Lime" brand oysters. He's the manager of Raspberry Point Oysters in Bayview. I've travelled here to taste oysters from one of the world's historically renowned growing locations. As long ago as 1900 at the World's Fair in Paris, the Malpeque was named the best in the world. PEI has been a major producer ever since, harvesting 3,422 metric tonnes of oysters in 2015 with a shore value of $12,820,000.
Before us lie the calm waters of the New London Bay estuary, protected from the open Gulf of St. Lawrence by a string of barrier sand dunes, part of PEI National Park. Cages loaded with oysters ready for packaging are visible through the clear water. Dozens of lines of floating oyster cages take up a good part of the estuary. Past the bridge, the waters of this tidal stream open up into the Gulf, resulting in a saltier mix of water.
The short road to the Raspberry Point processing plant is a mix of red PEI stone and white oyster shells. They're piled up along the edge of the road and spill into the water. A lot of oysters have come through here. Raspberry Point is one of the largest oyster producers in the region, selling 10 million oysters a year in six varieties, including Lucky Lime. Power deftly shucks an oyster that was grown past the bridge and hands it to me. I slurp it with its liquor from the half shell. The shells of these oysters are coated a soft green with the abundant algae they feed upon. Some speak of an oyster's "merroir," referring to the flavour creating by the influence of the particular growing conditions. Chewing, I savour the extra brininess that comes with closer proximity to the flow of ocean water, then a light creaminess, perhaps a result of the abundant food supply.
Raspberry Point is one of the suppliers to the Canadian Oyster Shucking Championship, held every August in nearby Tyne Valley. The dynamic contest has been spicing up this local festival for 54 years. It's the only official qualifier for the world championship, so it attracts the country's best. In fact, a team of Canada's top shuckers got together here in 2014 and set an official Guinness world record, shucking 8,800 oysters in an hour.
As the influence of fishmongers like Hana Nelson and producers like Raspberry Point develops that culture and awareness Nelson was talking about, more growers are entering the industry and new events are popping up. At the end of September last year, the Halifax Oyster Festival hosted competitions and chef presentations while 16 local oyster farms sold 57,000 oysters. It's at events like these that growers, chefs and sellers like Hana and her mobile oyster bar can educate and delight, always with the goal of developing oyster fans.
Expert advice on oysters
Nelson says that the shelf life of oysters is much longer than many other seafoods. In the past when oysters were more commonly eaten in rural areas, Nelson says, "People used to store them in their cold storage like they would potatoes and squash. From harvest, they will store for a couple of weeks in the fridge." She also has a tip specific to oysters. "We recommend people store them in the fridge with the cup down so the juices don't leak out."
"Oysters, mussels and clams—people should be eating these several times a week," Nelson continues. "It's the most sustainable food source we can eat. They filter water. They don't require any input. It's a perfect food source. It takes so much less energy to produce shellfish than it does beef, chicken or pork. Plus, we're getting lots of nutrients we wouldn't get otherwise."
At home, Nelson and her partner Philip Docker, who grows oysters at Big Island under the name Shandaph, eat a lot of oysters, sometimes cooked. "I really love them lightly fried in panko. Lately, I've been craving that as my only seafood. Four oysters is a meal. That's a lot of protein. Dip them in flour, egg whites and panko, then fry them in butter."
When Nelson sells from her mobile bar, she says the most popular way to eat oysters is with lemon. She adds, "And we always have mignonette sauce, which is super easy to make and does complement the oyster taste." For the best experience with a raw oyster, Nelson suggests avoiding a common mistake. "Don't just swallow it. It's not like a shot—you've got to savour it. I encourage people to chew it a couple times so they get that flavour. Try it naked first so you get that taste of the oyster—it's like a kiss from the ocean."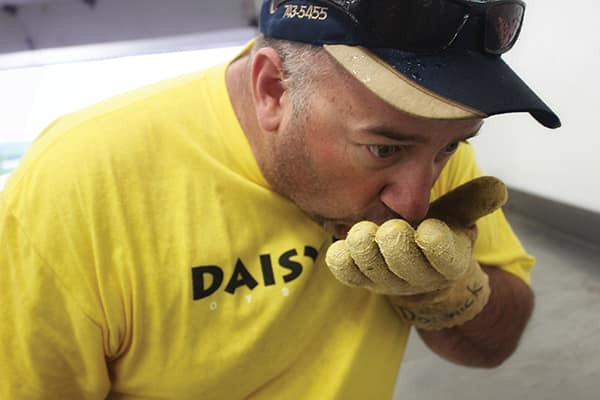 Recipes