Impressions of Atlantic Canada from the perspective of a bicycle seat
Kristian and I began riding east on June 18th, along a heavily improvised line connecting Vancouver with St. John's. On August 17th we picked up our friend Alex in Quebec City. Then, 75 days and almost 6,000 kilometres into our ride, we hit New Brunswick.
Aside from Toronto, Montreal and the space between them, my knowledge of Canada before the ride was limited. Expectations were based on vague stereotypes. The geography would be rugged and tree-heavy, except for the anomalous Prairies. The people would be uniformly kind and regionally dressed: check shirts and beards in Quebec and westward, sou'westers and galoshes to the east.
Such stereotypes are good if you allow them to be challenged, because they leave so much to be built upon. And nowhere did this happen more than in Atlantic Canada.
It was the place that most highlighted the tapestry nature of this country. Distinct sprawling communities and cultures joined by common threads created a beautiful, colourful whole. Acadie gave nuance to the rivalry between the Quebecois and their Anglophone neighbours that had flavoured the previous weeks of our ride. The variety in accents between Cape Breton villages was stronger than between entire westerly provinces, and the Gaelic undertones were especially surreal when combined with the transplanted aspects of Scottish and Irish culture. Throughout these provinces I enjoyed being able to gauge people's allegiances by the size and arrangement of the flags in their gardens.
Curated trails like the Acadian Coastal Drive in New Brunswick, or the Confederation Trail on PEI were adept tour guides, combining pleasant cycling with history and culture. The former led us through tranquil towns and past sleepy beaches; the latter taught us about Canada's origins and its hare-brained train infrastructure.
Away from curated trails, I couldn't have predicted what Atlantic Canada offered, like the simple pleasure of spending nights on private beaches, bolstered by ever-dwindling numbers of mosquitoes. I hadn't expected place names on PEI to provide a microcosm of the UK, nor the strange type of homesickness this created. The tiny unincorporated area of Margate, where the 104 meets highway 6, shares its name with the bustling beach-side town I call home.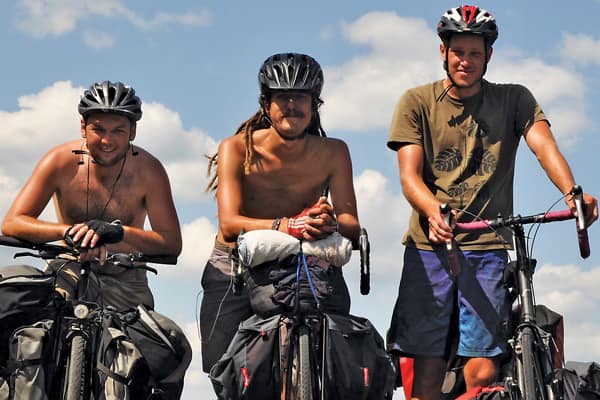 Perhaps predictably, the real highlight was the Cabot Trail. This was by far the most beautiful and rewarding riding of the trip, giving us challenging hills at the time our legs were strongest, and providing authentic maritime landscapes in every direction—often back-dropped by authentic Maritime drizzle.
The trail was also the setting of one of our more stressful moments, just past Skir Dhu. We lost the bag containing our passports and by the time we realized, the diner where they'd been left had closed. Attempts to call them from the phone in Colouratura Art Gallery were futile, so Kristian considered cycling the two-hour round trip back. Alex and I considered logistics for where we should wait: ideally somewhere with Wi-Fi so we could keep in touch (and beer so we could keep entertained). Then Penny, the proprietor of Colouratura, came out and said she'd called one of the diner's neighbours and asked them to check for the passports. "If they find them, they'll drive them down".
A few minutes later they'd found them and driven them down.
Reunited, we allowed ourselves to examine the rigmarole that would've ensued if they'd been permanently lost. Presumably involving going to the embassy in Ottawa for replacements at huge expense, Kristian missing his flight and having to book another one at huge expense, and Alex and I having to cancel our post-ride road trip in Newfoundland to fly home from Ottawa, at huge expense.
We felt buoyed once again by the kindness of Canadians, which had been unending. Earlier on the ride separate well-wishers on PEI had given us $20 for groceries and another $20 for pizza, "because my son did a similar ride, and I have a lot of respect for people like you." Attempts to return these windfalls were always rejected.
The final mild stress of the ride came from the knowledge that only one more ferry crossing would run from North Sydney to Argentia this season. "No injuries or accidents" we agreed on the morning we set off to ride to the ferry. The fates decreed that a pounding migraine and a near-wipe-out occurred in the interim miles.
On board, the ferry lounge was the setting for much reflection. We were at the end of the mainland but not quite the end of Canada, and the strange sensation of flirting with the close of tourist season gave Newfoundland the feeling of an epilogue. The ratio of open campsites had been dropping, the temperature was falling, and leaves were turning on the trees.
"This is the last weekend of summer," we were told on PEI around 26th August, "so we're out to enjoy it." I resigned myself to no longer being able to ride shirtless after this point, but the sun surprised us a few more times, including on the iconic final day from St. John's to Cape Spear. Arriving at Canada's most easterly point in sunshine and wearing my preferred cycling attire—just shoes, shorts and helmet—was a welcome treat.
Proper (meaning British-like) pubs in St. John's provided the perfect place for collective reminiscences on the ride. Their authentic atmospheres and ambience were panacea for British boys who had been obliged to grow accustomed to tacky sports bars in Western Canada. Atlantic vibes and memorabilia, combined with numerous cheap and varied beers, were enjoyed with gusto.
On the first night in New Brunswick, in my tent at a roadside overlook near Tide Head, (which is near Campbellton), I wrote in my journal that "we've left behind ice-capped mountains, long flat prairies, undulating and forested lake shores, imposing escarpments, and the endless grey sprawl of big cities." At that point Atlantic Canada was still an inviting but unknown entity.
On the last night in Newfoundland—also the last night in Canada and of the tour—I wrote again, "A point came in each province where the subconscious, [preconceived] image I brought with me was replaced by a snapshot that perfectly captured the place. In Saskatchewan the transition happened without me noticing. The definitive image seared into my mind is a lone gas station on a desolate plain, heat lines rising off a silvery gas tank in the sweltering sun."
"But New Brunswick was the first province I caught this transition taking place. On the wharf at Stonehaven a subconscious image of sou'westers, galoshes, rickety rowboats and fighting Scotsmen was replaced by the image that persists of Atlantic Canada: fishing boats, salty sea air, bright but bleached colours and sea-worn jetsam; gradated rocks coloured by the tide. seabirds, and pure endless blue on the horizon, through the summer haze."
Then I looked out from my tent at our final camp on Signal Hill, overlooking Cape Spear and the Atlantic Ocean. Somewhere beyond that horizon was home.
Riding the Railyard
Truro's Victoria Park has an exciting
 new cycling area
Over the past 20 years, local cycling enthusiasts in the town of Truro, NS have put a lot of volunteer effort into developing an excellent system of cycling trails and tracks around the natural jewel that is Victoria Park. Now there's a challenging new area to entice mountain bikers, known as The Railyard.
Located at the top of Victoria Park, the trail takes its name from a former railway boxcar that was located in the area, and of course is also a nod to Truro's role as an important railway hub to this day.
Cyclists will find the trails of the Railyard are rated green, blue or black to indicate the levels of difficulty, and the trails are all linked and near one another. If a family is out for a session of mountain biking, the more inexperienced riders can follow the easier trails, while the more skilled bikers take the more challenging routes.
"Mountain biking enthusiasts tend to travel with great cycling routes in mind," says Ashley Simms, director of parks, recreation and culture with the Town of Truro. "With more than 50 km of trails over the 1,000-acre park, there's plenty to attract riders to the Railyard." The Railyard holds four-season appeal for those who have embraced the craze for winter cycling using so-called fat bikes (named for their extra wide tires, which work very well in snow).
Biking enthusiasts can get supplies and service at two downtown businesses dedicated to the sport, Hub Cycle and Bike Monkey, plus enjoy the many downtown cafés and restaurants when they need to fuel up. - Jodi DeLong