The tallest sea cliffs in the maritime provinces can only be fully appreciated from the water.
Money Point got its name from the old-timers who used to live around here, more than 100 years ago. They used to say that you could stick a piece of tar on the bottom of a long stick, and pick up gold and silver coins along the shoreline!"
We were just leaving the snug little harbour in Bay St. Lawrence, and Ray MacKinnon was pointing out the massive headland off to our immediate right. A fisherman, with more than 30 years experience in the often stormy waters off northern Cape Breton, he explained that at least 200 ships have been wrecked off Money Point over the last three centuries.
As we entered the broad expanse of the Cabot Strait (separating Cape Breton Island from Newfoundland), Captain Ray went on to explain that Money Point is located at the northern tip of Cape North Mountain. Perhaps the most impressive promontory in Nova Scotia, this precipitous headland towers over the surrounding countryside, and reaches heights easily more than 1,000 feet!
The tides and currents that swirl around Cape North have the potential to make this a very dangerous spot, especially under adverse weather conditions. Nor'easters can sweep in from the North Atlantic, while vicious fall and winter storms can quickly develop over the vast open expanse of the Gulf of St. Lawrence-not to mention thick fogs, especially in the spring and summer months.
On this particular Sunday, however, conditions were just about perfect. It was early September, the day was sunny and warm, and a light southerly breeze created a gentle swell that only added to the seagoing experience. We were eagerly looking forward to spending this day on the water. After all, how often do you get a chance to catch a few mackerel or cod, and sail under the highest ocean cliffs in the Maritime provinces?
Our boat was the Mercator 2, a 42-foot fishing vessel with a 275-horsepower Volvo Diesel engine. Built in Port Hood, on the west coast of Cape Breton, she has been based in Bay St. Lawrence for most of the last 25 years, and easily survived more than her fair share of rough weather conditions.
In addition to Captain Ray MacKinnon and his friend Wanda Fraser, our complement consisted of six individuals, all from the Sydney area. With the exception of Ray and Wanda, none had any previous experience on a working fishing boat.
Ann MacLean was a retired flight attendant, who had returned to Cape Breton after a 25-year career in the United States. Her brother Allan, a retired plumber and steamfitter, and his lovely wife Mae, had also returned home after more than 30 years in Hamilton, Ontario.  Rounding out the crew were my brother Malcolm, and his friend Rick McCready, who are both planners with the Cape Breton Regional Municipality.
Our plan was to follow the coast, in a northwesterly direction, from Bay St. Lawrence to Capstick, and on to Meat Cove. Here we would try our hands at "jigging" for mackerel, or perhaps a few cod. Then we would continue on to Cape St. Lawrence, the northwestern tip of Cape Breton Island, and the spot that marks the end of the Cabot Strait and the beginning of the Gulf of St. Lawrence.
We would then head south, for Lowland Cove, Sailor Cove, and Pollet's Cove. Along the way we would pass under the "High Capes", at more than 1,400 feet the highest sea cliffs in the Maritime Provinces. This wild and remote region, one of the few truly wilderness areas left in the province, would be the highlight of our day on the water. Our return trip would take about five or six hours.
Of the eight people on board, only Ray MacKinnon and Wanda Fraser, both from northern Cape Breton, had any experience with in-shore fishing or "jigging" for mackerel. The rest of us, however, were more than willing to learn.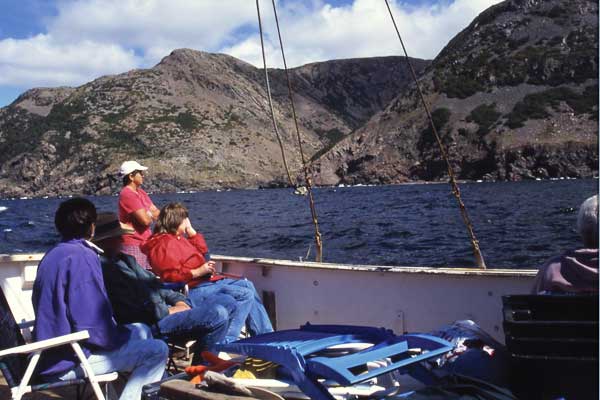 Less than 30 minutes after leaving Bay St. Lawrence, Captain Ray put the engine in neutral, and we drifted to a stop. We were just offshore from Meat Cove, a tiny community of less than 75 souls, and the end of the road in northern Nova Scotia. According to local legend, this village got its name because coastal schooners and fishing vessels would often stop to hunt moose and other animals in the surrounding mountains.
While passing around our fishing gear, Ray explained that the fish-finder had indicated a large number of fish directly beneath the boat. He was quite sure that they were mackerel, as they often frequent this picturesque little cove. He also informed us that there was no limit to the number of mackerel we could catch. However, we could not take more than five cod each, should we be lucky enough to hook any.
It was not long before Ray hauled in his line, winding it carefully around the small wooden frame that he held in his left hand. Attached to the line were several shiny mackerel. We were impressed!
Wanda was the next to record a strike, bringing up five frantic mackerel from the depths below. Then, in rapid succession, each of the rookies started to get lucky. Allan got seven, while his wife Mae got three. Although his sister Ann only caught one, she was nevertheless just as excited as any of the others. Malcolm and Rick, after several tries, were also successful, while I busied myself trying to obtain a good selection of photographs.
In less than 40 minutes of frantic jigging, we brought on board enough mackerel to fill an industrial size fish tub. Ray estimated that at least 200lbs of glistening fish were in that container, and there would be more than enough for each of us to take a good portion home.
As we recovered our composure, Ray started the engine, and pointed our bow in the direction of Cape St. Lawrence. It was now getting close to lunch hour, and while the ladies distributed the sandwiches and soft drinks, Allan and I set up the lawn chairs we had brought along.
By the time we reached the cliffs at Blackrock Point, Malcolm had retrieved his topographical maps from his knapsack, and was starting to orient the boat with the relevant onshore features. With the help of his good buddy Rick, and their combined expertise with regard to maps, it was not very long before he knew exactly where we were, and what we would find just around the next point.
"Cape St. Lawrence coming up", he called out, as Allan and Captain Ray looked back from the small wheelhouse. "Once we reach the Cape, we turn southwest, and head for the High Capes. I can't wait to see them from the water!"
As we rounded the cape, the red stripes of the automated light tower that replaced the old manned lighthouse came into view. According to Captain Ray, there has been an operational light here at least since the 1880s. It seems that at one time there were two lighthouse families at this very isolated spot, along with at least one farm, and a small school. Today, however, nothing remains except some concrete foundations, and rusting pieces of machinery from an old foghorn.
At this point in our journey, the steep cliffs of Blackrock Point and Frasers Beach had given way to a low-lying coastal meadow, with the thickly wooded 700-foot slopes of Bear Hill rising behind the light. This undulating grassy terrain continued for the better part of a mile, with gently sloping 30 or 40-foot cliffs leading the way to Tittle Point.
As we approached the point a magnificent panorama came into view, with our first glimpse of secluded Lowland Cove, backed by the massive western flank of the Cape Breton Highlands. The setting was so impressive that Captain Ray swung the boat around, so that all on board could appreciate the splendour of what lay just ahead.
To our immediate left, the gently sloping northern side of this cove appeared to be covered in stunted trees and brush, of a type that you would expect to see in Labrador. The central and southern parts of this isolated inlet, however, presented a much more gentle appearance, with a grassy meadow extending almost to the base of the surrounding mountains.
Lowland Cove has no history of settlement, although it has been used over the last century and a half as a summer pasture for sheep and cattle from Meat Cove and Capstick. In fact, a four-mile long primitive road exists that makes its way up and over the mountains from Meat Cove to Lowland Cove, with a branch leading down to the lighthouse at Cape St. Lawrence. The best, however, was yet to come.
After a short run along the coast, the elevation of the mountains on our port side suddenly started to increase dramatically. When Captain Ray said that we were getting close to our main objective, the High Capes, brother Malcolm retrieved his large-scale topographic map from inside the boat, and pulled up his lawn chair close to the rail. He then started to call out the elevation readings, in relation to our position at sea level.
"See that point up there", he indicated, "that's about the 800 foot contour level. Coming up on 900 feet, 950, 1,000 feet. Wow!"
Sailing past the pristine little waterfall in Sailor Cove, the full majesty of the High Capes suddenly appeared on our port side. This was what we were waiting for.
By this time all our heads were tilted backwards, as we each strained to catch a glimpse of the magnificent panorama that was quickly unfolding high above us. A hush fell over the boat, broken only by the updated height information that Malcolm continued to relay.
"That looks like the 1,100 foot contour line, and I'm sure that spot is about 1,200 feet. We're close to the 1,300 foot mark."
A few minutes later, he asked Captain Ray to put the boat in neutral, while he and Rick took a closer look at the topographical map. Then came the announcement we had all been waiting for.
"That peak, directly above us, seems to be "The Chimney", the highest point on the High Capes. According to this map, it is exactly 1443 feet above sea level!"
A spontaneous round of applause rang out from the passengers and crew on the Mercator 2. We had reached our objective.
This was really something special, an extraordinary sight that very few people had ever seen. For there are no roads or hiking trails that lead to this splendid location, and the only way to experience it is from the water.
However, whale watching cruises from Cheticamp and Pleasant Bay do not come this far up the coast. So, unless you are one of those hardy individuals who travel by kayak, the only other people who have witnessed this magnificent spectacle are those men and women who fish off this remote, rugged, and potentially dangerous coast.