Wallpaper is making a serious comeback.
Banish those disagreeable memories of grandma's kitsch, kitchen roses; aunt Matilda's priggish, Victorian hallway treatment; or cousin Jamie's far-out, metallic bachelor pad.
Instead, open your eyes to a new generation of wallpapers now flooding the interior design market and taking home decorating to new heights. Whether your vision for a room is a calm and tranquilizing effect or you seek to stimulate and electrify, there is a wallpaper out there to suit you.
Elegant and refined silk linens; earthy, natural fibred grass cloth and bamboo; stills from old documentary films; or bold and glamorous art deco-just a few of the new options available to the adventurous homeowner looking for an alternative to the tired old design choices.
"Wallpaper has a warmth and texture. Even if there's no pattern at all, wallpaper has texture, so immediately, you get depth. It is just so much nicer."
She says people will often simply choose to change paint colour, especially if they can't afford major changes. Knowing how to choose the right paper with all the options available can be a challenge for the inexperienced decorator, so Doucet recommends you ask yourself some staple questions as a starting point.
First, consider the style and colour of the furniture and drapery you'll be keeping in the room in question, then come up with a list of colours you love and negotiate that with the colours that are going to work with what you already have. Second, consider the scale of the design. With very large-scale wallpaper, for example, one must limit the colouration. Doucet also recommends putting bolder, dramatic paper on just one focalizing wall.
"Not all walls need to be covered to make an impact, but the paper should have impact either in colour or design. When you do this, you have to be careful to balance that boldness throughout the rest of the room and you would do that by adding colour in some of your furniture, accessories, toss cushions, and drapery."
Generally speaking, however, she advocates using neutral colours with texture as they are classic and will stand the test of time. The rule of thumb when hanging anything of design in your home is that it should last easily 15 to 20 years. If you choose something trendy, it is not going to give you the longevity, but it can be fun in the short term. If you really want to go with something trendy, Doucet advises putting it in a small space like a power room, or a ceiling.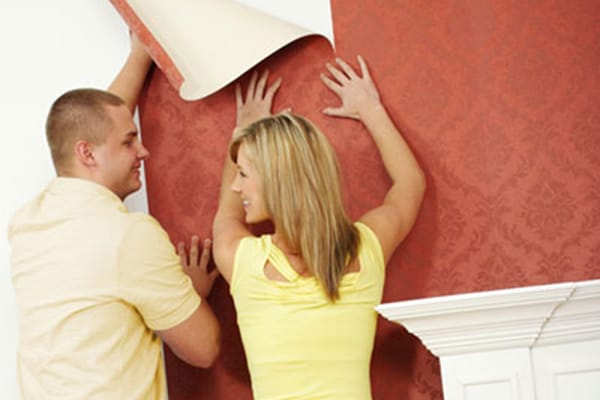 "Wallpapered ceilings are absolutely smashing! If you are going to wallpaper a ceiling, you have to be selective in your choices. Geometrics work beautifully, but not florals. Usually if I wallpaper a ceiling, I would use a crown moulding because that separates it (from the walls). If you wallpaper a ceiling and put in moulding and paint the walls, that's a glorious look. Circles are also wonderful on a ceiling."
Two old designs that are making a resurgence are flocked wallpaper, and metallic finishes. She advises those choosing metallics to be cautious, especially when the entire wallpaper is metallic as it might be overkill. The very reflective quality can take the room beyond where it should, much too much jewellery or a too-loud tie. Many of the new metallics, however have only a subdued touch of metallic in the paper.
Warm greys and purples, and light ice blues are now very popular, but she advises folks to use colours they are comfortable with and then add doses of the trendy colours. Black and white and neutrals are timeless, as long as they are textured but it's always fun to throw in splashes of bold colour.
Although some styles can enhance artwork if they have a very subtle pattern, other, more elaborate papers might eliminate the requirement for artwork entirely. The prestigious fabric and wallpaper company of Brunschwig & Fils take their designs from historic archives (at left) and offer a vast repertoire of elegant and classic designs, which are timeless.
Brunschwig & Fils archivist, Judith Straeten says the integrity of design and the appeal of classic patterns have long been typical of Brunschwig wallpaper and fabric designs and that the company have an extensive archive of antique fabrics and wallpapers in addition to the samples of discontinued patterns of fabrics and wallpapers they have produced since WW II.
The majority of the antique wallpapers in the Archives are 18th to mid 19th C., says Straeten, and a number of them have been used as the basis of Brunschwig & Fils wallpaper, reproduced exactly or adapted to varying degrees in order to respond to current tastes.
"The fox and the rooster [late 18th century French with animal vignettes], introduced in 1965 and GALLIER DIAMOND [ca. 1800, possibly American, with leafy lattice design] have remained popular enough that each has been recoloured at least once. More recently, we have added Cone flower [stylized flowers that are based in a cone-shaped spiral] and Pandora [a small-scale leafy trellis], which are reproduced from the early 19th century American covering and lining papers of a small wooden trunk," says Straeten. She adds that the Brunschwig & Fils archives are supplemented by designs from other collections such as The Winterthur Museum, the Musée des Arts Décoratifs in Paris, the Cooper-Hewitt Museum, the Victoria and Albert Museum and the Royal Ontario Museum.
Tips for applying
Pre-pasted wallpaper already has glue attached and is activated by wetting the wallpaper. You'll need a wallpaper tray with a metal rod, which helps submerge wallpaper into the water to activate the glue. Make sure you get 100 per cent submersion because the dry spots won't stick. A vinyl smoother will release your air bubbles. Seam rollers are an optional tool, which can be rolled up the seams to tighten adhesion. A sponge is a helpful tool when smoothing out air bubbles and is used to wipe up the excess glue. Make sure to use a light hand and smooth at a 45-degree angle, up and down, and then straight across at a 90-degree angle. It helps to have a trim guide. Place guide at 45-degree angle at edges to trim excess wallpaper evenly. Make sure to overhang wallpaper at ceiling and floor and trim the excess as not all walls are 90 degrees or "plumb".