Add personality to your home with murals and faux finishes.
Walls. Most of us take them for granted in our homes, though we know that structurally, they're essential. They also protect us from the elements and help us divide our home into its necessary rooms. But they're more than that. Being so flat, square and true, they're also empty canvases. They offer so much potential in terms of home decor; the options go beyond flat paint. Just take a look at some older houses around the province and let our forbears be your guide.
Take trompe l'oeil (literally meaning "trick of the eye") for example. It can transform a room without piercing a wall. Imagine adding a window with a view of a lush meadow sweeping down to a sparkling lake, or turning a bathroom into a sun-dappled grotto in the woods without adding a single potted fern. Trompe l'oeil is a playful style where perspective and composition are employed to smudge the line between illusion and reality.
Although it was not so common in Nova Scotia's interior decorative past, the examples that do exist are breathtaking. In Cora Greenaway's study, Interior Decorative Painting in Nova Scotia, there is an early example of a trompe l'oeil lily pond in which you can just smell the moisture in the air and hear the frogs croaking. Painted in 1910 for the Mounce family in Newport Landing, Hants County, it remains as a legacy to one of the area's leading decorative painters of the time, George Lyons.
Although trompe l'oeil is French in origin, the Acadians favoured the simpler styles of murals and stencils still evident in some of the beautiful old churches in the Annapolis Valley. The earliest existing mural in the province however, is not Acadian; it is found in an old courthouse, now St. John's Parish Hall, in Lunenburg. Painted in 1810, it is a mural bearing the Hanoverian shield, the lion and unicorn, and crown of the Royal family. It would have originally hung behind the judge's bench, declaring to all in Latin: "Let justice be done though the heavens may fall."
Murals come in all shapes and sizes. Some are painted directly onto walls and are framed in wood, as this early example was, but some more recent ones have been done on canvas, or gyprock, which is then framed and hung. This is the case with Lunenburg painter, Joseph Purcell, for St. Patrick's Roman Catholic Church on Brunswick Street in Halifax. Others are building-sized community projects, like the depiction of Dartmouth that spans the inside walls of Alderney Gate. Painted free hand, murals, similar to trompe l'oeil, move beyond the purely decorative and into the narrative. However, where trompe l'oeil employs illusion, murals are more straightforward, designed simply to please the eye, not trick it.
Generally, people used to favour more elaborate interior decoration than we do today. Elegant stencilled scrolls, swags with tassels, or flowering branches once adorned ceilings, whole rooms, or walls upon which the family portraits might be hung. They were used as broad framing devices for murals or other freehand design. Yet, even in this comparative profusion of decoration, the inherent reserve that marks the people of the Maritimes was evident; there was little of the opulence of the wealthy European, or American, in the decorations. Only a few private homes could be said to rival the lavishness of homes in those countries. There may be a marbleized hallway wall or painted room to be found occasionally. Indeed one such, the Croscup Room with scenes from London and Leningrad, is now in the National Gallery of Canada, but overall, modesty prevailed.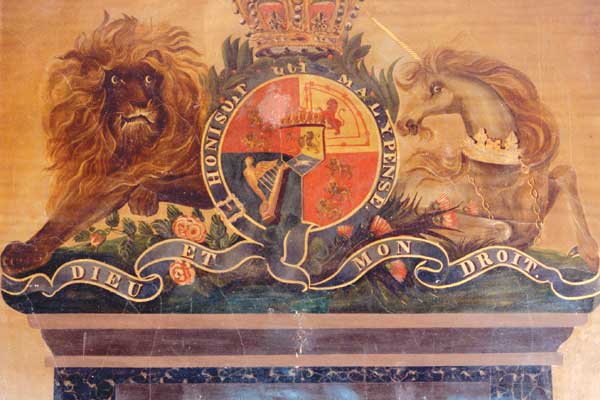 Marbleizing, combing, sponging and wood graining were used in many homes to different degrees. Each is a variation on a theme, a technique of over painting an opaque base coat with a translucent paint or glaze and then working the surface until the desired effect is achieved. A further variation is called faux finishing, which adds a textural surface layer either with or without colour. Stucco is one example in this category. This results in a richness that paint or glaze alone cannot furnish both by the opportunity for lustre and the subtle shadowing added by the three dimensional surface.
The richest decoration was reserved for public buildings, churches, and theatres. St. Patrick's is a prime example of abundant decoration; with wall-covering geometric stencilling, gold leaf topped marbleized columns, sponging, and murals. Sadly, the fire that consumed St. John's Anglican Church in Lunenburg, destroyed another example of beautiful 19th century wall stencilling and marbleizing. However, like a phoenix from the ashes, the restoration will be complete and the ceiling of the chancel will once again be a dark blue with golden stars, and the walls stencilled and gold leafed in the original designs.
Province House in Halifax is an example of a different fashion; it is decorated in the neo-classical style of Robert Adams, a Scottish born architect who studied in Italy. With its elaborate plaster friezes and delicate paintwork it was called the "gem of all public buildings in Canada," by the late Arthur W. Wallace, a well-known restoration architect.
James Barrow was perhaps the earliest "Painter, Gilder and Glazier," to place an advertisement, in the Halifax Journal, on October 28, 1785. And Greenaway found, at the conclusion of her study, that the economic highs and lows of the province or community could be traced by the paint on the walls, never completely dying away as happened in other parts of the continent. In times of hardship however, many artists traded their decorative talents for room and board, leaving their legacies: their tromp l'oeil, their stencils, murals, and friezes, scattered on walls from the Annapolis Valley to Yarmouth, from Lunenburg to Cape Breton and many points in between.
Andréanne Champagne-MacNeill and Annemarie Johnson are just two of the interior decorative artists who continue to add to this rich inheritance. After receiving her Bachelor of Fine Arts, Andréanne studied faux finishing at the Toronto Decorative Painting Studio.
"I can simulate a centuries-old Italian villa, or a 10-year-old brick wall, or marble, rare stone, fine woods, textiles, tiles, parquet-many things," she says. "I love doing Old World European plasters and textured wall finishes." One of her recent walls included the lyrics from a song as one of the undercoats; the words appearing shadowy beneath the textured, translucent finish on top. "I have done lots of pieces with embedded pictures surrounded by the faux finish too," she says. They are artworks in themselves, with Grecian urns or ancient globes reminiscent of Christopher Columbus, skillfully incorporated into the fresco finish.
Annemarie is self-taught. A talented decorative painter, she is often called upon by interior designer Pam Tower to add details to rooms. But perhaps Annemarie's imagination, natural talent and inspiration are most obvious when she is designing her bold, colourful murals. One such work is of Siamese fighting fish swimming in a strong aqua, turquoise and royal blue sea.
"I like people to look at my work and feel like it is a breath of fresh air," she says. "I want them to stop in their tracks, and stare, and feel rested."