Is hiring underground contractors worth the risk to save money?
Lately it seems at every dinner or brunch I attend, the talk inevitably turns to home renovations. One set of friends is enjoying a new designer kitchen-a culinary haven with stainless steel appliances and radiant-heated floors built to battle chilly mornings. Of course they had to endure months of drywall dust, incessant hammering and a gaping hole in the back of their house in order to get it. Another couple I know is struggling with how to go about undoing some messy renovations in their newly purchased north-end Halifax home.
They have the usual complaints: renovations are stressful. They worry about costs being higher than anticipated. They wonder whether the job will be completed on time. And most importantly, of course: they hope the contractors they hired will do a good job. Though in Nova Scotia most people hire licensed professionals to work on their homes, some choose not to. Despite the possible negative consequences of using "underground" contractors, it seems it is hard to resist the allure of, in some cases, the cheapest quote.
According to a March 2004 report, "Current Impact of the Underground Economy," prepared by the Atlantic Home Building & Renovation Sector Council (AHB&RSC), a joint Human Resources Development Canada and industry group, approximately 21 per cent of new home construction and 36 per cent of residential renovations in Nova Scotia take place in the underground sector. This represents an astonishing $350 million in unregulated and untaxed new home construction and renovation activities in the province.
Halifax homeowner Stacey* would fall into those statistics. Lately her life has been dominated by a long and daunting list of home repairs. It all began 18 months ago, when the young professional and her fiancé had their bathroom renovated. This meant installing a new wood floor, new lights, a toilet and sink, as well as drywall and plumbing repairs. Then last summer, they had an old bathroom ripped out and new pine floors laid in the living room and new kitchen. In the fall, contractors insulated and re-shingled the front of the house. They later built a new porch. Most recently, tradespeople moved the kitchen from the back of the house to the middle, where the old dining room once was. This massive job involved electrical work, plumbing, painting, and more.
Most industry advocacy groups like the Nova Scotia Home Builders' Association (NSHBA)supply names of registered members on their websites. But Stacey found most of her contractors through word-of-mouth, as do many others who have embarked on home renovation journeys. Though there were some rough patches along the way, Stacey has kept her sense of humour about it all. Her tale covers both the good and bad of underground home renovations.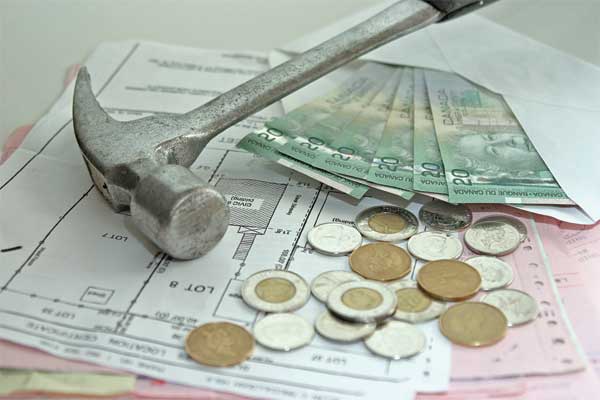 "The bathroom guy I found through a friend," Stacey says. "He had done some simple work at her place, and it looked good, and she gave him a good review.
He did some floors over there, and redid something she wasn't happy with."
But Stacey's experience with the contractor wasn't what she had anticipated. "The job took three times as long as he said it would," she says. "He and his guys drank all my coffee, sat in my backyard smoking cigarettes, hit on my friends and bothered my neighbours." However, she does admit that the work itself was adequate. "I am mostly happy with the bathroom, but not totally, and it cost three times what he said it would-a totally low-ball quote in the first place, so I should have known-and the annoyance factor was sky high."
Stacey had better luck with the kitchen and flooring contractor she hired-a co-worker's husband with glowing references. "His crew is hardworking and respectful, they were on schedule and on budget, or close to it, anyhow," she says. "Their work is fantastic, really clean and simple and exactly what I wanted. I would not hesitate to use them again, or recommend them." She's still not sure whether he was a licensed carpenter, but she was happy with the quality of his work and reasonable price-he agreed to do the work for cash, without tax.
She did use a licensed contractor for the exterior of the house, however, including the re-shingling. One of her neighbours had used him for the same job the year before. Although it was far from a bargain deal, Stacey says she is thrilled with the quality of his work. "He did a great job and I have no complaints. It was super-expensive, and that part I didn't love, but it looks good, my house is warmer, and if I sold it tomorrow, I would certainly recoup what I spent."
The latter positive story is exactly what industry professional associations want to hear. Although many homeowners are tempted to save money by hiring either unlicensed contractors or licensed professionals willing to work under the table, there is a concerted effort to put a stop to this trend through public awareness marketing and contractor certification programs. For instance, the NSHBA promotes its Certified Residential Builder program to consumers as a means of "building confidence and peace of mind." The Canadian Home Builders' Association's (CHBA) is promoting its "Get it in Writing" consumer awareness campaign, designed to reduce underground residential construction. The campaign is backed by the Canada Revenue Agency (CRA), looking for ways to curb contractor tax evasion. Citing issues such as minimal adherence to municipal inspections and building codes, poor materials, little or no regard for worker compensation and safety, a lack of liability insurance, and the necessity for written warranties and contracts that determine schedule, payment and scope of work, the CRA is trying to shift the focus away from tax evasion (saving GST costs are one of the biggest motivators for underground work) and onto the need for paperwork and records to protect both homeowners and contractors.
On paper, the risks of under-the-table renovations are certainly dramatic - but is it enough to convince homeowners to pay more money upfront for licensed plumbers, electricians or carpenters? If Stacey is any indication, the AHB&RSC, the CRA and the provincial builders' associations may have a long public relations battle ahead of them.
As a homeowner with an eye on future renovations, Stacey isn't sure any campaigns will change how she approaches renovations, although real-life experience has taught her a few lessons.
"I wasn't a very diligent consumer," she says. "I didn't ask to see examples of their work, and did not shop around. So I probably got what I deserved."
If she had to do her renovations over again, Stacey says she would do things a little differently - but it may not be what the CRA wants to hear. She says she would hire her kitchen and floors contractor to do all the work. For cash, no taxes.
More work, fewer workers?
There are concerns in the construction industry that in the future, finding licensed contractors will become more of a challenge as the diminishing labour force, based on an aging population and lack of qualified young tradespeople, takes its toll.
After extensive research, the Atlantic Home Building & Renovation Sector Council (AHB&RSC) has developed a proposal aimed at improving the level of professionalism among its workers, which the council hopes will reduce underground activity. They plan to establish a Residential Construction Commission, which would call for all homebuilders and renovators to register annually as well as attend workshops on topics including foundations, doors and windows, and building codes. It would also ensure all contractors have warranties and sufficient insurance to cover safety and consumer protection liabilities.
In addition, the commission will introduce trade specializations to increase the number of qualified professional carpentry tradespeople available. It hopes to introduce mandatory employment of certified carpenters on certain residential projects by 2009.
*Stacey is a pseudonym