Homeowners comfortable and fit enough to climb a ladder should do a series of simple checks on their roof before winter's arrival, suggests Andrew Lodge, Technical Director for Canadian roofing specialists IKO Industries Ltd.
The annual pre-winter house check.
Homeowners comfortable and fit enough to climb a ladder should do a series of simple checks on their roof before winter's arrival, suggests Andrew Lodge, Technical Director for Canadian roofing specialists IKO Industries Ltd.
Before you bound up that ladder, however, do a web-surf for sites like www.casma.ca (Canadian Asphalt Shingles Manufacturer's Association) or review a roofing book to see what a healthy roof looks like, so you have an informed point of reference. Alternatively, crossing the street and standing on a neighbour's porch can give you a view of your own roof but might be too far away to see fissures or cracks in your shingles up close.
"I think the saying is that seven out of 10 people don't even know the colour of their roofs," jokes Lodge, who suggests following this simple checklist as a preventative measure which could save you a lot of money and aggravation down the road.
Keep the roof tidy, checking for fallen branches or overgrowth of surrounding trees. Cut back any branches, which are loose or are grazing the roof.
Make sure your valleys are clean for good water flow.
Check gutters and clear if necessary.
Check for an abundance of roofing granules-but don't panic if there is only a minimal amount. It could be excess used in the manufacturing process or just part of the natural ageing process. If you're concerned, check the shingles for bare spots and lack of granules: it might be time for that new roof!
If you've had strong winds over the summer, check for blown off or loose shingles as they should be replaced or repaired right away. Simply buy replacement shingles, making sure they match, and asphalt cement to glue down loose shingles. When in doubt, call a contractor-but get a second or even third opinion if you're told you need a new roof. Try and find someone you know and trust or get a reliable recommendation in order to minimize your risk of shoddy work.

For some, it might be tricky distinguishing between natural weathering from shingles which are near the end of their life. A few curled edges or small fissures or hairline cracks aren't serious but may seem so for someone with no intimate knowledge of their roof. If you're unsure, it is best to get a second opinion.
Unfortunately for some, the best defense for good roof performance in winter is done during the design and installation stage where you or your contractor (hopefully) allowed for proper ventilation.
"With good ventilation, the shingles are the same temperature all over-all cold. With a well ventilated roof, the snow doesn't really melt," says Lodge.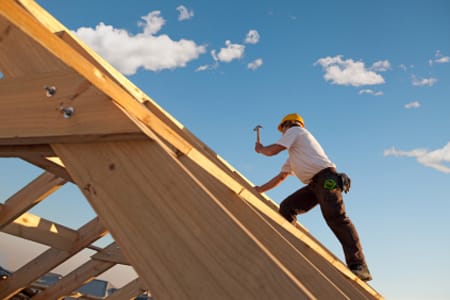 Conversely, with poor ventilation, he says, heat from the interior migrating up to the roof structure will melt snow, which then goes down to the eave. With poor ventilation, there is a temperature differential where the eave is cold and the rest of the roof isn't, so the water freezes at the eave and the cycles repeats itself until it builds up and eventually forms an ice dam. The ice will then force the water backwards up under the shingles, which can cause water damage/leakage.
For those well-meaning homeowners who want to add extra insulation to their attic to save on energy costs, Lodge warns of a possible blockage of vents, particularly at the soffits. "Usually good contractors will leave the soffits open so that air can get up. If you're doing it yourself, you can put a baffle (a piece of bent cardboard or plastic) that will keep the airspace open so that insulation doesn't accidentally get blown or laid in the vents," he says.
Insulation
Doing a pre-winter inspection can be as easy as participating in your province's energy efficiency program and getting an energy audit done to assess your insulation and other energy efficiency needs.
With the province of Nova Scotia's new minimum insulation standards for residential housing, Nova Scotia Building Code Co-ordinator, Ted Ross advises those doing renovations to follow recent prescriptive standards or an acceptable audited program like the R2000 or the EnerGuide Program. New residential construction is currently obligated to follow these code regulations. Although PEI, New Brunswick and Newfoundland have not yet followed Nova Scotia's lead on this issue, the recommended upgrades are a good reference point for anyone wishing to top up their insulation. (See below for complete Atlantic Canada list of provincial agencies and energy efficiency programs.)
"Get an energy audit done and that will tell you how best to spend your money to make your home more energy efficient. You can spend a lot of money that really won't be very effective. If you don't have an audit, how do you know where to spend your money?" says Ross, who also suggests calling or getting on the www.itstartswithme.ca website for information before you start a project. Under Energy Information, the site provides instructional videos on topics like installing insulation, testing windows for efficiency, weather-stripping around windows and doors, finding attic air-leaks, and other helpful energy saving how-tos.
If you're not planning to do extensive renovation requiring drywall removal, you can still make insulation upgrades to areas like the basement, attic and windows as well as any unsealed holes in the walls of your house, like an old gas line that has been removed. Make sure you have a nice tight fit in the wall cavity to avoid cold spots.
Roxul Inc., Residential Product Manager, Mark Bromiley says if you have plans to renovate a basement before the winter, this is a great opportunity to increase your energy efficiency.
"Whenever you renovate, you should insulate. Alternately, if you're not ready to renovate, you can simply stud the wall up and put insulation in with the vapour barrier," says Bromiley, who says his company's stone wool product is a friction fit product with a higher density than traditional insulations so it really fills the wall cavity and is very easy to cut around electrical boxes or in and around wires. It is also ideal for basements because it is water repellent and doesn't sustain the growth of mold, mildew or bacteria.
When checking attic insulation, look on the insulation itself or for a sticker which an installer would have left to indicate your insulation's R value. If insulation is discoloured or compressed, it might need to be replaced. Once you've determined your needs, you can either add more to what you already have and bring your R value up to code and/or replace weathered or damaged product. Get a professional or do your research before administering any spray foam insulation.
If you are not participating in one of the provincial energy programs and want to assess your windows for efficiency, simply look for signs of condensation, mold or mildew around windows, which can be a sign that there is moisture coming through. Also feel for drafts. A blow test will tell you where you need to caulk or replace old windows but often leakage is obvious and can be assessed with your hand.
Make sure to check out all the available government rebates before you start, including programs available for low-to-modest incomes. For Newfoundland call 866-990-3444 or surf their energy efficiency program, Take Charge at www.takechargenl.ca. PEI's Office of Energy Efficiency can be reached at 877-734-6336. The PEI Energy Efficiency Program is www.gov.pe.ca/oee. New Brunswick's Efficiency NB or its program, The Existing Homes Energy Efficiency Upgrades Program can be reached through www.efficiencynb.ca or by phone at 866-643-8833.