Choosing the right barbecue for you.
The white months have ended for another year and cooking outdoors is hotter than ever. "Barbecue sales are skyrocketing," says Mark Goobie, a manager at the Kent store in Halifax.
Goobie's customers are asking for high quality grills that will last for more than a few years. Some are looking for innovative models that will go from 0 to 1,600 degrees Fahrenheit in three minutes. Others want a Canadian brand like Broil King or Sterling that are built for the Canadian climate. Very few are willing to pay as much for a barbecue as they did for their first car.
The happy news, according to Ted Mealing, is that even at lower price ranges, you don't have to sacrifice high quality materials and design-engineered cooking systems. Mealing should know; he's the marketing manager for a Canadian company that either manufactures or distributes almost every barbecue grill on the market. Onward Manufacturing is the Canadian distributor for Weber and Ducane, and the manufacturer for Broil King, Broil-mate, Sterling, Barbecue Genius and GrillPro.
With so many choices, the search for a barbecue starts with size, a factor that's best determined by a realistic assessment of your grilling needs. Ask yourself whether you want to cook entire meals or simply sear a few steaks. Consider the maximum number of mouths you intend to feed. Cooking surfaces are measured in either primary square inches or total square inches.
Primary cooking space refers to the size of the main grilling area; total cooking space includes side burners and warming racks. An easy formula for determining the amount of space required is 50 to 1. In other words, 50 square inches of primary cooking space is required to grill a single portion of food. If you never grill for more than eight people, 400 square inches of primary cooking space will suffice. There's no need to purchase the biggest barbecue on the block if you never cook for crowds.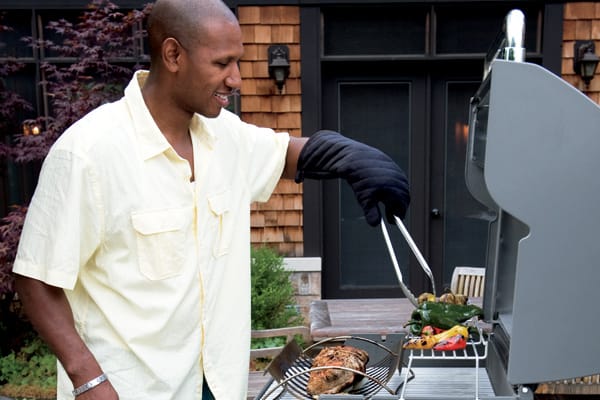 Once you've selected the appropriate size, it's time to consider materials. A sturdy stainless steel outer shell will go a long way in assuring longevity. Heavy cast iron cooking grates are also long-lasting and will retain heat. Die cast aluminum cook boxes will resist rust and distribute heat almost as evenly as an oven.
Some grills are more stylish than others and come in trendier colours, but appearances can be deceiving. "It's worth taking the time to understand what's under the lid," says Ted Mealing. Some of the things under the lid are essential; others are just nice-to-have. One critical feature in multiple-burner barbecues is a separate control knob for each burner. This will allow you to light only as much of the cooking surface as is needed. Another key option is a heat medium that completely covers the cook box under the grids. This will maintain an even heat, protect the burners, reduce flare-ups and enhance flavour. Supplementary chef pleasers include side burners, back burners, rotisseries, smoker drawers, deep fryers and storage cabinets.
Heat measuring British Thermal Units (BTUs) are a bit of a mystery. Although high BTUs are often equated with the performance of a grill, the number of BTUs is simply one factor in grill performance. The best way to steer clear of BTUs is by purchasing a charcoal grill. Pay less than $300 for a top-of-the-line unit, or purchase a basic model for as little as $50. The major disadvantage to charcoal is that it can take as long as 45 minutes to reach the desired temperature so opt for one that gets a head start from a built-in ignition system.
Some barbecue purists reject the convenience of gas grills, arguing that charcoal imparts a better flavour. "The flavour doesn't come from the charcoal," says Ted Mealing. "Charcoal is tasteless and odourless." According to Mealing the flavour in barbecued food comes from the vaporizing of juices and fats that drip on to hot coals. He says you can get the same great barbecue flavour with Broil King and Weber models that have a specialized stainless steel surface.
Whether charcoal or gas, a good brand will usually come with a good warranty. Mark Goobie points to the Weber Genesis. At about $900 it's more than most of us would like to pay, but it comes with a limited 25-year warranty, an in-house customer service department, and a well-stocked parts division.
You get what you pay for.
Recipe featured in this article: